The current pandemic has put a significant damper on business. However, some savvy professionals are taking the opportunity to upskill as the world awaits some hint of new normalcy.  The construction industry is still being affected. However, as a result, some forward-thinking contractors are taking the time to enhance their professional skills with online training. In this spirit, Rubi Tools has released a series of highly beneficial webinars.  To learn how Rubi Tools webinars can develop and refine your professional skills, read on.
The Impact of COVID-19 on Construction

Around the world, construction firms of all sizes are feeling the impact of the pandemic. To some extent, public construction continues.  For now, that will most likely continue. Not all countries are in complete lockdown. As a result, tradesmen can continue to execute their contracts.
However, the situation is different in the private construction sector. For example, many clients are facing acute revenue losses due to the pandemic. As a result, they cannot pay for construction to continue.
In the residential sector, new safety regulations and consumer concerns are slowing down construction projects considerably. While profit is still important, safety is now also a top concern.
Some companies are forced to restructure their organizations to stay in business. They're making every effort to perform as much work as possible remotely.
For example, some roofing companies now conduct surveys using drones. Others arrange to work on projects in the absence of property owners to promote social distancing. Still, new construction projects starts have dropped considerably.

Now, companies must rethink their supply chains. They must also figure out how to manage emerging risks. Companies that face these problems are leveraging technology in every way possible.
Moving Forward During the Pandemic
The coronavirus may have potential long-term effects on the construction industry. Once the pandemic lifts, construction companies will face a steep demand for services.  At the same time, the government will face deficits. Furthermore, residential and business property owners will still face the task of rebounding from a sluggish economy.
Some companies will move forward successfully by executing backlogged contracts. However, the pipeline for new projects will remain weak for the foreseeable future, according to a report published by Deloitte.  As a result, construction companies with high debt and little cash may find themselves struggling with cash flow. Meanwhile, smaller firms that do not plan for the reopening of the economy may end up closing their doors completely.
In the recovery stage of the pandemic, construction companies will be defined by their actions. In general, there are three actions that firms should take in response to the pandemic crisis. Those acts are to respond, recover, and thrive.
Construction firms must find ways to increase liquidity. In part, they might manage this task by upskilling.  Meanwhile, companies must restructure to survive the current pandemic. If you own a construction company or are a contractor, this means adjusting your strategy to serve a different market maybe?  As a business owner, you may wonder how to weather the storm. The answer is to use it as an opportunity to rethink the way that you work.
The Rubi Tools Advantage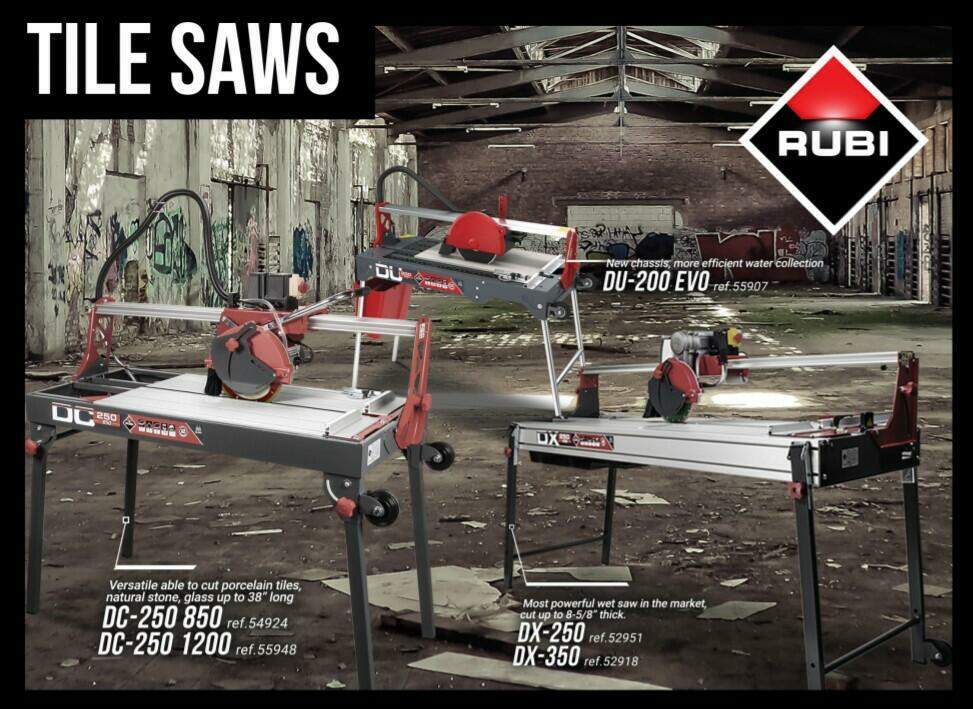 If you lay tile for living, now is a good time to invest in a RUBI electric wet tile saw. It can save you time and money compared to hiring someone who has the necessary machinery for large format tiling jobs, for example.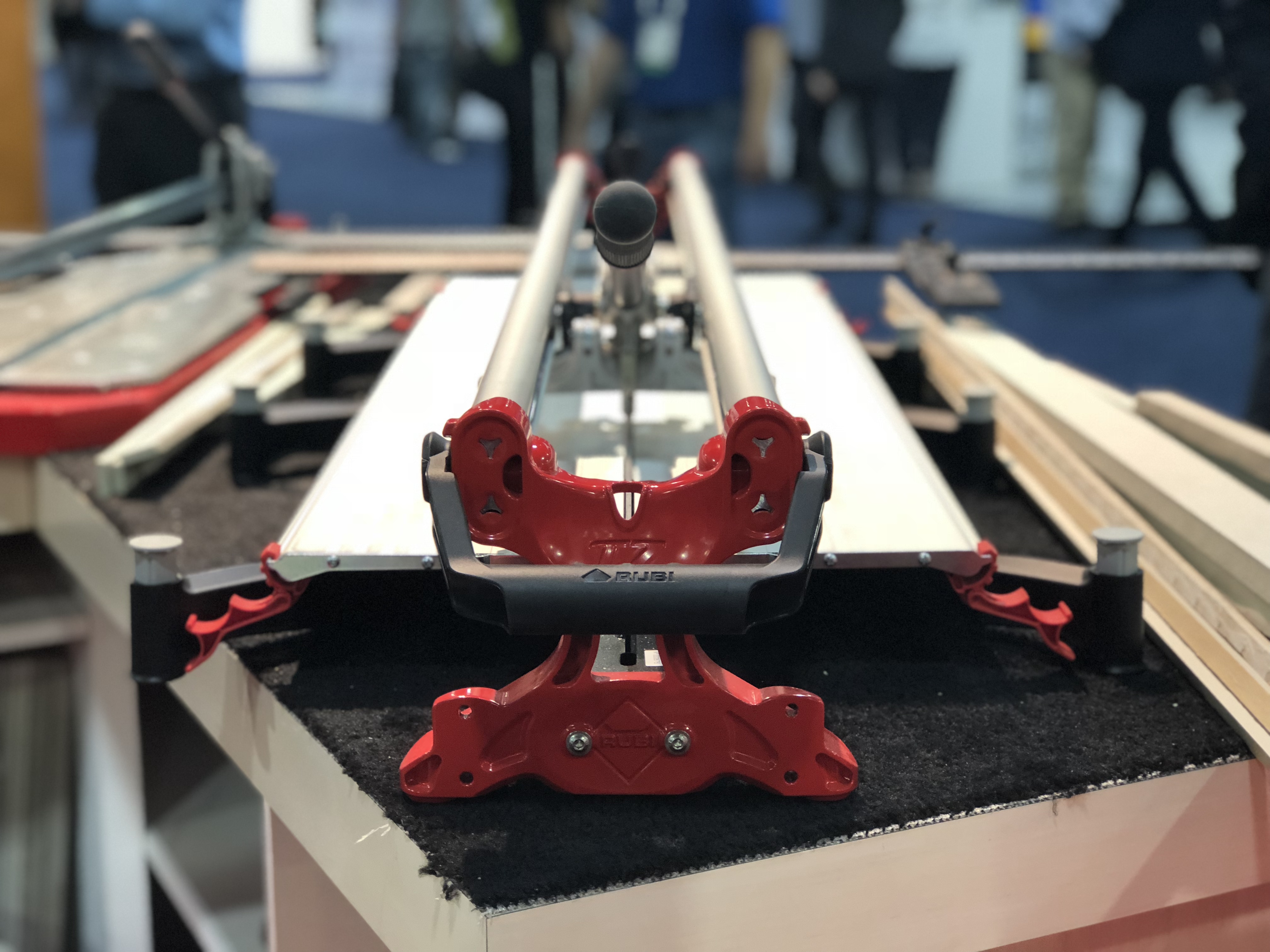 Rubi Tools offers both manual cutters and electric saws. RUBI manual cutters function with a few exchangeable scoring wheels, so you can adapt it depending on the material you need to cut. With a wet tile electric saw, you can provide much more accuracy during the cutting process. Some of our newest models with Zero Dust technology today.  We have developed the ZERO DUST system in collaboration with TNO (The Netherlands Organization for applied scientific research) as part of the DUST FREE WORKING program. The ZERO DUST system reduces the amount of breathable quartz dust particles, providing a clean and safe working environment. You can find out our line of tile saws with the zero dust system in our website.
Just keep in mind a wet tile saw requires some practice and more skills to work with. Nevertheless, they're excellent for projects of all sizes. Furthermore, you can get more done with electricity than you can with human power.
A Rubi wet tile saw is the perfect solution for the jobs that required cutting tile and our latest models are compact, practical and easy to carry.  By investing in a tile saw, you can expand your business, so we strongly suggest to keep an eye on the latest news about our new electric saws coming out this 2021.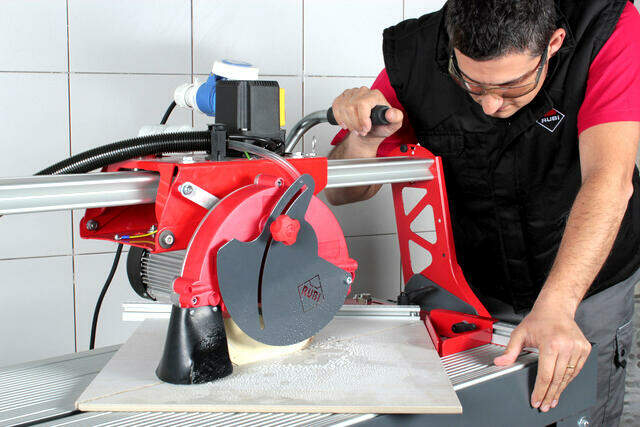 RUBI's tile installation tools are ideal for expanding your construction business in preparation for the coming rebound from the coronavirus.
Preparing for a Post-Pandemic World
Currently, the COVID-19 pandemic is making things tough for everyone. However, it's possible to turn the downside of this unfortunate event into an opportunity for growth.  Accordingly, many contractors are using their newfound free time to take advantage of remote and online learning opportunities.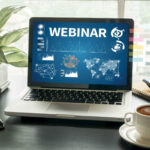 Turning your attention to training is an excellent strategy for coming out ahead of the pandemic. Your new skills can help you attract the kind of work that you'd like to execute. Once the pandemic and social distancing rules relax, you'll have positioned yourself to increase your productivity.
Accordingly, now is a good time to train in areas that can help you to boost your post-pandemic income. It makes good sense to improve your technical skills during this time of social distancing. As such, many companies have turned to online training and live training events to upskill in the interim.
Some manufacturers, such as Rubi Tools, are even offering free online webinars. The knowledge you can gain through this type of resource is invaluable for coming out of the pandemic on top of your field.
Manufacturer training is an excellent way to gain the tool skills needed to perform renovation projects with mastery. After training, you'll have the expertise required to capture new work opportunities.
Now, many businesses are in hibernation during the lockdown. However, forward-thinking business owners are using this time to prepare for success in the future.
Get Things Done With Rubi Tools Webinars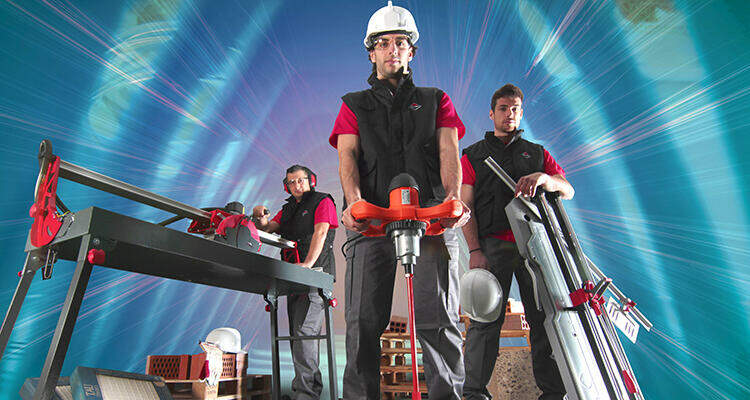 Rubi webinars are ideal for learning advanced tile cutting skills. Topic experts lead the webinars. The experts discuss the common challenges of construction and tile installation.
Over the next year, most construction professionals will attend webinars. In fact, many craftsmen are already using the current downtime to advance their skill sets.
Today, accessing a webinar is as easy as logging onto a webinar site using your mobile device. They're a great midweek opportunity to expand your skills.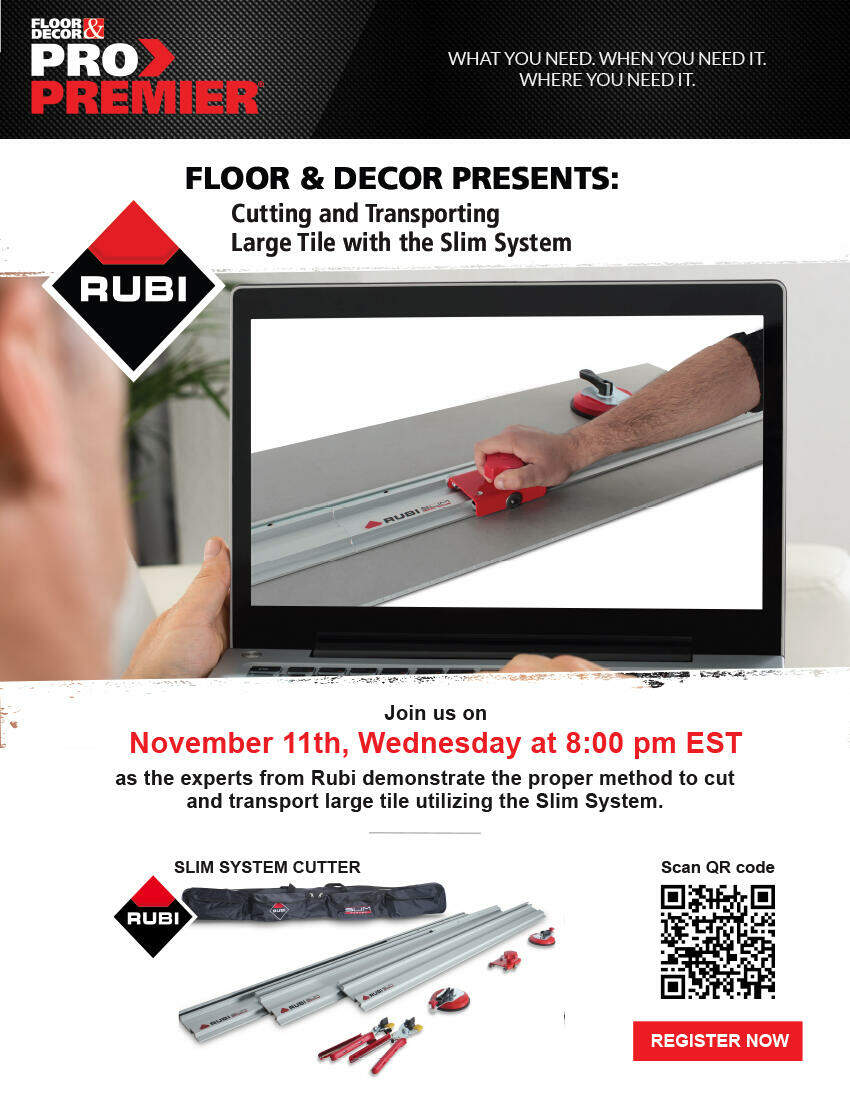 Rubi Tools developed its webinars to help construction professionals continue to train during the pandemic. The webinars are Rubi Tool's way of providing assistance to the construction community.
In this time of social distancing, the company is making the most of videoconferencing and other media technology. It's enabling the manufacturer to maintain a human connection with professionals in the field.
Future Rubi Tools Webinars will take place in several formats. For instance, some webinars will include expert interviews.  Meanwhile, others will include group or roundtable panels. The company also plans to offer live, on-site, moderated virtual workshops for construction professionals so our RUBI representatives can help on the spot.
Training on Demand for Construction Professionals
In addition, Rubi Tools plans to offer tutorial classes with a single presenter. The company will also publish group demonstrations. These kinds of personalized demonstrations are ideal for training several construction staff members at once.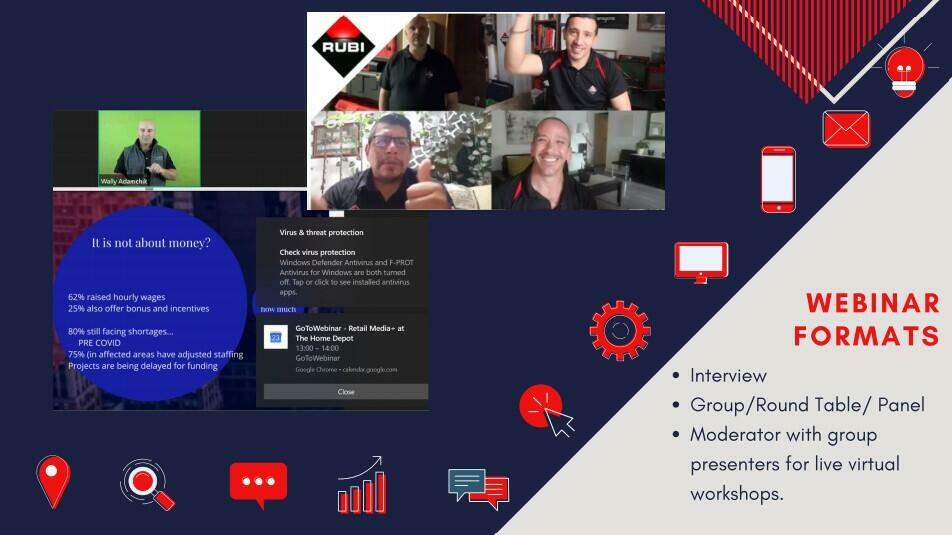 Rubi Tools will conduct its webinars in several formats. These formats will include slides and video demonstrations. They'll also include group presentations.
Rubi Tool's moderators will also offer virtual demonstrations. The manufacturer will record the demonstrations as they take place. Accordingly, you can access the webinars at your convenience on-demand directly from our YouTube channel. 
A considerable number of construction specialists want to pursue professional development. Webinars are a valuable resource for most construction professionals. They provide craftsmen with the educational and technical information needed to expand their trade as the economy rebounds.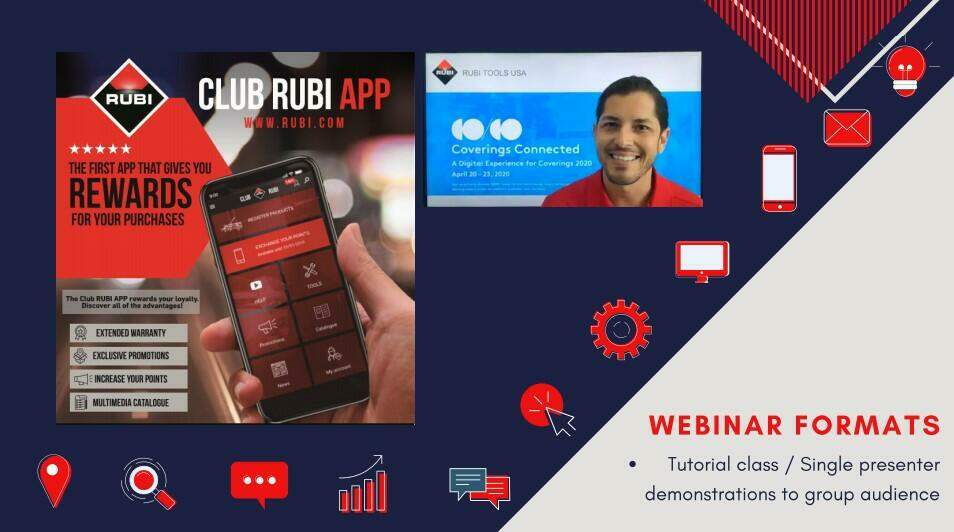 The Rubi Tools webinars are moderated by well-known industry experts and our very own RUBI technicians. With the webinars, you can ride the wave of the recovering economy. What's more, you'll learn new skills that empower you to deliver high-quality work for residential and commercial clients.
Add Rubi Tools Training to Your Toolkit for Superior Results
Now that you know more about Rubi Tools Webinars, all you need to do is take the first step.
For nearly 70 years, Rubi Tools has led the ceramics industry. During that time, we've worked hard to innovate while at the same time supporting the construction community.
At Rubi Tools, we create accessories, products, and tools that enable you to perform tile work with maximum efficiency. More importantly, our tools make your work profitable and safe.
It's our mission to improve and transform the ceramics industry continually. We work hard to add value and excellence to the field.
We invite you to join us on our mission. Take in your first Rubi Tools professional tile installation webinar today.