Tiling or retiling your bathroom walls can be a great way to refresh a room or go for a new look or design. There are a myriad of tiles and materials you can use. You may choose to employ a professional to do the work, but in this blog we will take you through all you need to know on how to tile a bathroom if you feel you would like to try it yourself.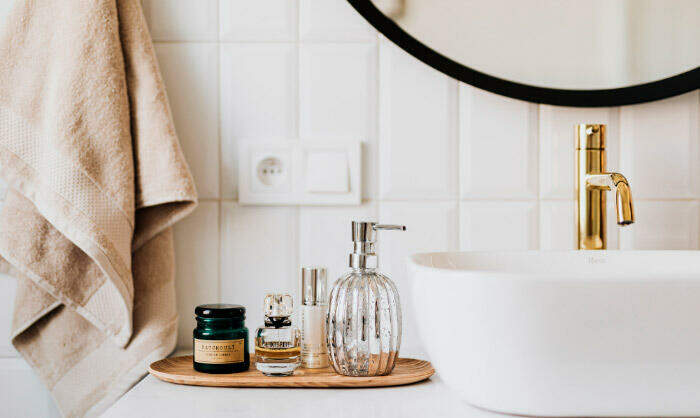 How to Tile a Bathroom step by step
To tile your bathroom walls, you can split the work down into 5 different stages, these are:
Surface Preparation.
Setting out.
Fixing the Tiles.
Grouting.
Cleaning.
1. SURFACE PREPERATION
In this case, when deciding on the surface of your existing bathroom walls, you may have a number of options. You may want to remove existing tiles; you may want to tile over existing tiles or you may have a plain wall you wish to tile for the first time.
If you currently have good, well fixed existing tiles you can use a specialist primer to prepare the surface and use a specialist adhesive to stick the tiles.
If you are removing old tiles, make sure you remove any of the old adhesive previously used and try to make the surface as even as possible. If you are struggling to make the surface flat and even, you may want to use a tile backerboard over the wall to ensure a good, even surface to tile on.  
Plain walls may seem the easiest option, but if you have paint on the walls, when applying your adhesive, the paint can reactivate your adhesive when coming into contact, leaving you with a weak bond. To achieve a strong bond, we recommend removing the paint first, or using a tile backer board to tile onto.
With any of the options above, please make sure the surface is clean and free from dust. It's also important to note that PVA must never be used as a primer for tiling.
2. Setting out
The setting out may be the most important part with regards to how the project will look. You will need to consider the size of the tiles you've chosen as well as the grout joint (i.e. the size of your spacers).
You also need to take into account any features, windows etc. and decide where the focus point of the room and try to allow for equal sized cuts.
There's a lot to it so take your time and get it right, a scaled drawing may help you in this.
3. Fixing the tiles
If you are happy with the setting out it's now time to start tiling. You need to pick the correct adhesive for the tiles you have chosen. This may be a powdered adhesive which you will need to mix with an electric mixer or a ready-mix adhesive.
You will need the correct sized notched trowel and may want to use a levelling system to eliminate lippage if the tiles are large.
Spacers should be used to make sure all of the grout lines are uniform. You will also need to cut the tiles where needed and drill any holes for putting up fixtures and fittings.
4. GROUTING
Once the tiles have been fixed and the adhesive has dried it is now time to grout your tiles. Mix the grout according to the manufacturer's instructions with a mixing paddle to ensure the colour you have chosen is uniform.
Apply the grout into the grout joints using a grout float, after a few minutes you can do your initial clean with a sponge but be careful not to remove the grout from the joints as it will still be wet.
5. CLEANING
Once the grout has dried you can do the final clean with a sponge. If necessary, you can give a final polish using a cloth to remove any residue left on the tiles.
At this point you can apply a grout sealer to protect your grout from staining.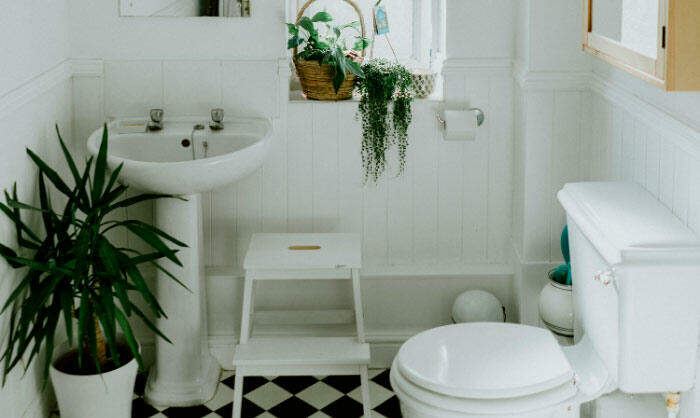 WHAT TOOLS WILL I NEED?
Below is a list of the most important tools you will need to tile your bathroom. All of which you can find details of on the Rubi website:
Manual tile cutter (Or Electric tile cutter, depending on the materials) for cutting the tiles.
Electric mixer and bucket to mix the adhesive.

Discover the best way to mix adhesive with our guide.

Notched trowel to spread the adhesive.
Bucket trowel to help with spreading the adhesive and also when grouting.
Grout float to grout the tiles.
Diamond drill bits for drilling holes.
Levelling system for eliminating lippage in the tiles.

Find out everything you need to know in our levelling systems guide.

Installation accessories: Rubber mallet, tape measure, spirit level, spacers, tile nippers amongst others
Cleaning accessories: Sponge, float, Rubiclean Washboy, bucket, cloth.
We hope you've found our blog on how to tile a bathroom useful!
We'd love to hear from you, if you have any questions, please contact us or comment below.