The kitchen is a very important room in our daily life, and can even become the centre of our home. So it deserves special attention to all of the details. Installing beautiful and original tiles can be a very interesting option to protect the wall and at the same time, decorate this space. In today's how to tile blog, we will give you 8 kitchen tile ideas and tips for achieving a great look!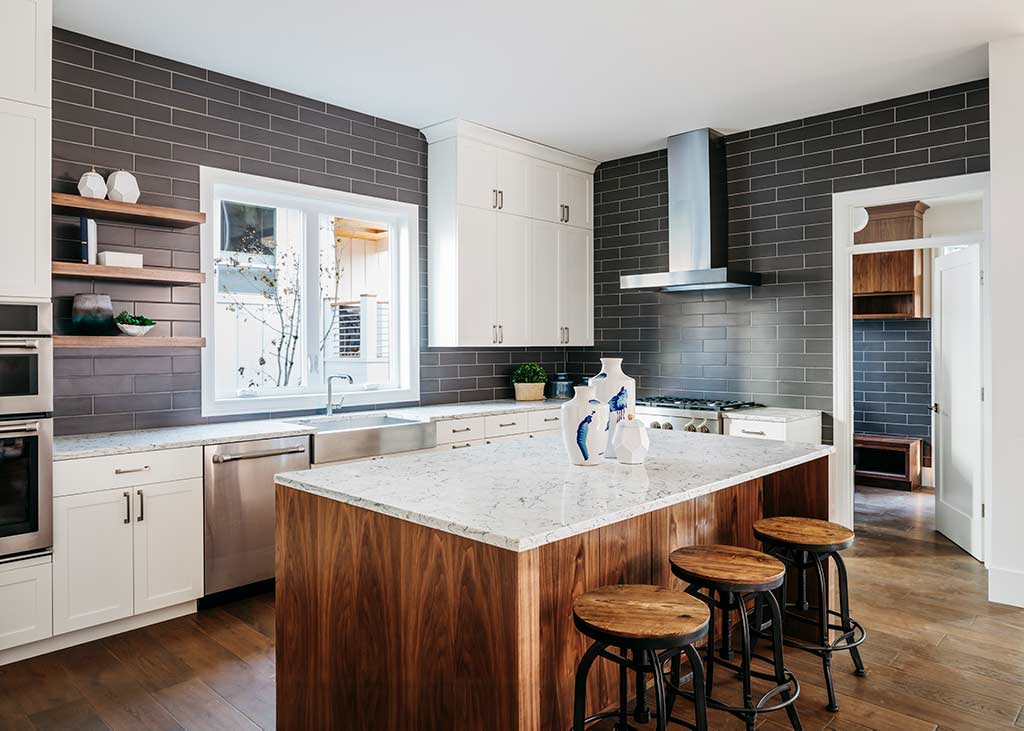 The whole room has to maintain a harmony and a consistency of tones and colours. The choice of furniture, the style, its colour and its installation, are factors that will influence your decision on the correct kitchen tiles. Once the layout of the furniture is clear, we can start to consider the different material options:
1. PORCELAIN FOR FLOOR TILES
For the flooring, it is advisable to choose porcelain tiles as they are the most resistant and hardwearing choice. However, the strength of porcelain is not its only virtue. Among many others the non-absorption quality stands out.
As we all know, all kinds of liquids and substances frequently fall on the kitchen floor such as: oils, soaps, bleach, orange or lemon juice. As porcelain is non-absorbent, all these products will not leave a stain, as would happen with other tiling options on the market.
Therefore, as part of our kitchen tile ideas, we will obtain a resistant flooring, which will not stain and is easy to clean, something very important if we take into account that we are going to be cleaning the surfaces on a regular basis.
2. WORKTOP FORMATS
Once we have chosen the colour and format of the furniture and the format of the flooring, it is time to think about the worktop. This can be made of wood, porcelain, marble or granite.
Current trends are focused on large format porcelain, which can maintain the presence of marble or granite, but with a wide range of advantages in daily use. Thanks to digital printing we can achieve any colour, pattern or tone we want, even those of the most expensive marble in the world.
3. SMALL FORMAT KITCHEN TILING
Now it is time for the kitchen tiling itself, which has to be in accordance with what has been chosen so far. We can keep the same colour tone or we can go in the opposite direction and find a colour that is radically different, creating a more modern and personalised mood.
Within ceramic kitchen tiling, we can choose from a wide variety of formats, textures and shapes.
One kitchen tile idea that never goes out of fashion is small format ceramics. Ideal for small kitchens, where a smaller format helps us to create the illusion of having a larger surface area than the one we have.
Knowing the measurements and adjusting them to the formats we choose is crucial to get the most out of any room, however small it may be.
We can talk about the classic 20×10 or 10×10 gloss or matt, with a wide variety of colours to even mix them and have a unique kitchen tiling.
4. HALF-HEIGHT KITCHEN TILING
Half-height kitchen tiling is a possibility that has been growing in popularity in recent years.
This involves, tiling up to a medium height, about 1.60m, and then painting up to the ceiling. Here we can play with the contrast between the ceramic and a classic painting on the one hand, or a more modern and extravagant one on the other hand.
Years ago this option was the most popular, where economic resources were not very plentiful and it was necessary to find a way to cut down on square metres of tiles. This has been left behind and is now used even in the most exclusive designs, using imitation slate paints, washable paints, etc. It is important to bear in mind that a kitchen is for use and the work area has to be easy to clean, whether it is tile or paint.
5. METRO" CERAMICS
Classic "METRO" ceramics are one of today's most popular choices. In a nutshell, they are traditional 10x20cm bevelled ceramics that are laid brick bond with a 2mm joint.
In this type of kitchen tiling we play with a mortar joint that is radically different from the colour of the ceramic. In this way, we achieve a contrast and a matching atmosphere in the whole kitchen once it is finished.
6. EMBOSSED TILES
Kitchen tiling using tiles with a lot of relief is one of the most strident and modern options, but it can achieve very personalised and unique combinations.
We can go from the most neutral colour to the brightest, with stronger or lighter reliefs. We can use mosaic like the ones traditionally used in swimming pools. We can dare to use round, square, octagonal or any other shape that suits us.
The idea is to make the chosen kitchen tiling the centre of attention, should you want to go along this route.
7. LARGE FORMAT
Kitchen tiling with large format tiles is the latest trend. By installing this type of tiling, we will obtain a wall with very few joints and with all the virtues of a porcelain tile such as those mentioned above.
Among them: it does not stain, it is easy to clean, with whatever design you love and it does not lose colour over time or in the sun, among many other advantages.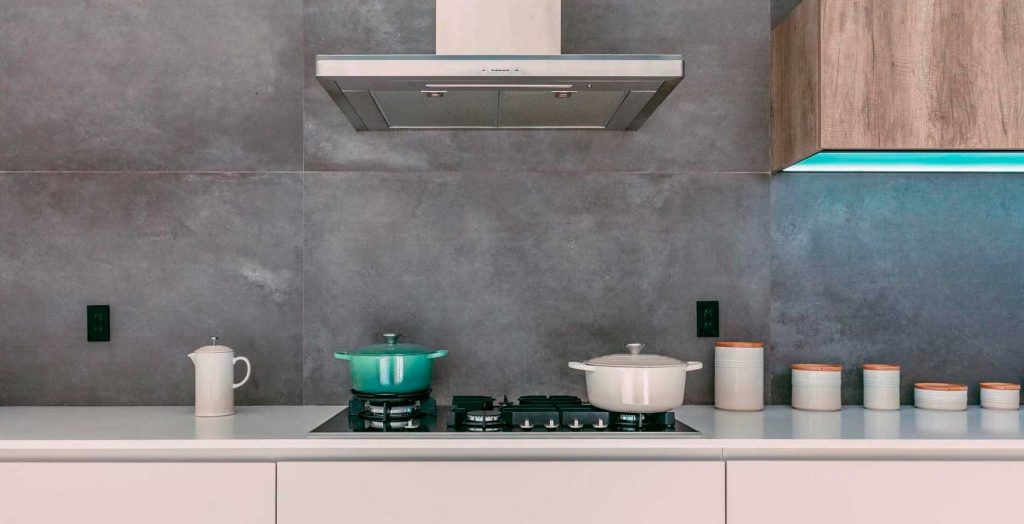 8. TILING ABOVE THE WORKTOP AND FRONT OF WORKTOP
Last but not least, for kitchen tile ideas, we also have the option of tiling over the worktop and worktop front.
In other words, we are going to lay the chosen tiles after laying the worktop, and then we will lay the front of the work area with a tile that is the same as the worktop.
This is the most expensive option of all, but with the inclusion of the large format, the cost of kitchen tiling can be reduced.
These are just a few kitchen tiling formats, there are many more and there will be even more in the future!
We look forward to your comments, letting us know which one you chose at the time of your project or which one you are currently thinking about for a future kitchen.
For more tiling tips and tricks on how to tile, please check out more of our blog articles here.