If there are two places in the home in which a tiler works most often, it would be the bathroom and the kitchen. But what are the kitchen wall tiles ideas and trends for 2022 that you should be following? Keep reading this blog for tips on how to tile these ideas to wow your customers.
Teal Is In
One of the first things you will notice for kitchen tile trends this year is that teal is in. It doesn't matter what shape or size, this earthy shade has made a statement and is here to stay. It's a bold colour that works so well with everything.
If you have stainless steel features, they will shine against the colour, gold accents compliment it well too, and black makes the teal pop. It doesn't really matter where or how you use it, as long as it makes a feature in your next kitchen tiling project, it will be on trend for 2022.
Texture
If adding colour to the kitchen wall isn't what the client wants, then how about some texture? White or subtle coloured tiles work best for this as part of their allure and charm is the shadows they cast throughout the day, making this feature constantly evolving as the sun rises and sets.
This simple idea can have a huge impact, especially in a more minimalist style. As the shadows are cast it creates depth and interest that you can't get from coloured tiles.
Bold and Daring
However, if you and your client are feeling more adventurous why not go for something with shine? These beautiful pink diamond tiles are the perfect accent to the gold and copper features, and the gloss they have reflects the sunlight, making the entire kitchen space seem bright and airy. When paired with a simple Calacatta or Carrara quartz worktop the tiles stand out and take on a jewel aspect.
Meet them Halfway
Half wall cladding is becoming more and more popular, and we foresee this becoming a larger trend in 2022. Taking your tiles hallway up the wall, or starting the pattern hallway up, creates interest without having to paint the wall or add wallpaper.
To really bring the project together, try to use the same colours on the cabinets and walls, and use a similar shade of grout to anchor the colour scheme.
Subtle yet Distinct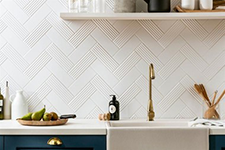 If your client leans towards a more minimalist style, then consider a subtle pattern interspersed within your classic tiling. Here we see a simple textured white tile in-between layers of a simple white tile, all laid in a herringbone pattern. The design creates the illusion of the space being bigger and wider, all while being a new take on a classic tiling pattern.
Kitchen Islands
In larger kitchen spaces its common to have a kitchen island or breakfast bar, these additions to the space can make a statement by being an accent piece, but for a more subtle approach try blending them in.
Consider using the same tiles from your kitchen walls as the backing to add cohesion in this space, or use contrasting colours to make more of a statement.
As everything changes with time, so will these kitchen wall tiles ideas, so make sure you come back to read blog on all the trends for 2022.