The combination of landscaping and hardscaping delivers an expertly designed outdoor area for domestic and commercial sites. Hardscaping complements landscaping and enhances the whole decorative project. The two combine to provide an aesthetically pleasing and harmonious result, whether for a residential garden or commercial premises.
To achieve a professional finish that can improve the appearance of the property, it's essential to use quality tools and materials.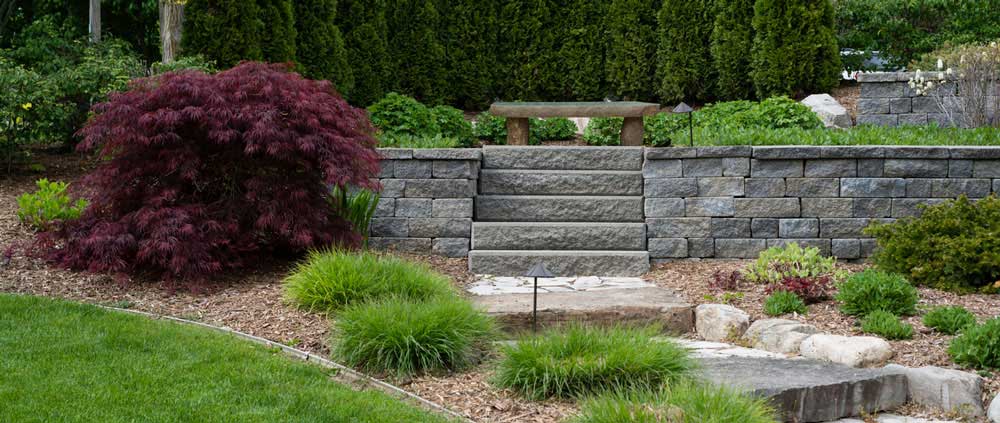 INDEX
WHAT IS LANDSCAPING?
Landscaping can transform a whole property or an unused space and bring an outdoor area to life. It involves the architectural design of a garden or outside space to create an attractive and functional setting. Landscaping is all about creating and planning the final area and considers: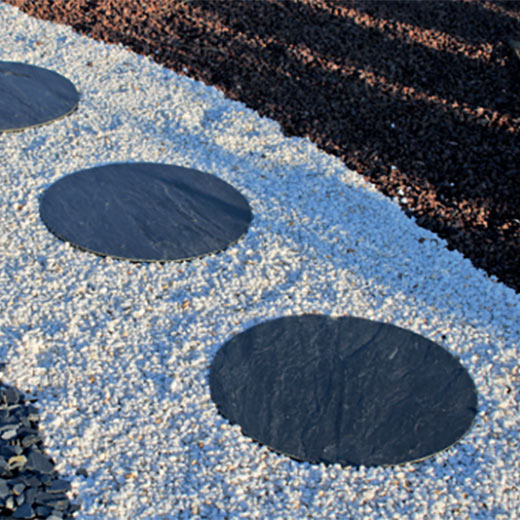 SHAPE
of plants, buildings and structures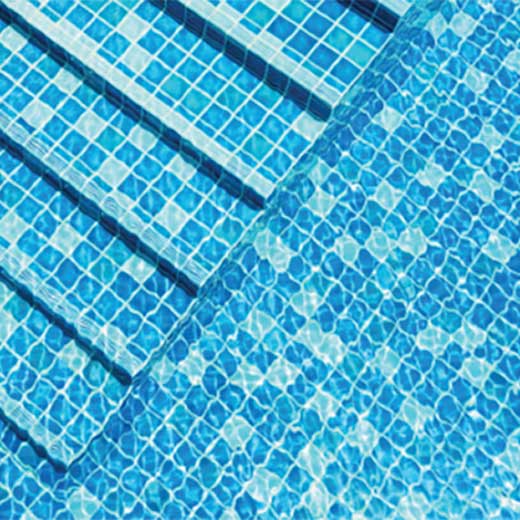 COLOUR
to introduce a theme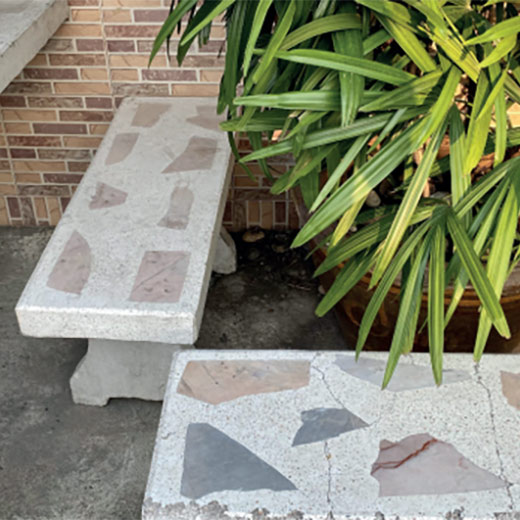 TEXTURE
materials and plants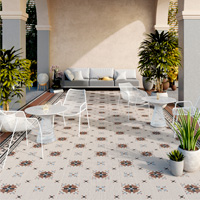 VISUAL EFFECT
for balance and flow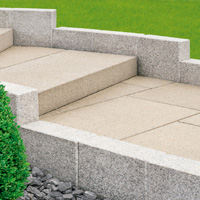 FEATURES
ponds, fountains, patios, paths, etc.
These principles all work together to achieve a sense of harmony. For example, a stone wall can break up a large area, a water feature adds tranquillity, or a patio can create a dining area.
What Is Hardscaping?
Hardscaping refers to any 'non-live' components that are part of landscaping. These can include a variety of practical features such as driveways, tiles, decorative stones and outdoor kitchens.
To achieve a quality finish, it's essential to use the best materials and tools to craft a long-lasting effect to please the customer. It's important for professional landscapers and hardscapers to understand the land they're working on and what will be practical for the property, in particular:
Drainage – to avoid flooding and sinking
Functionality – how often the area will be used and how much traffic it will receive to ensure the area doesn't erode
Climate – whether the materials will be long-lasting if used in a rainy or damp location or if the heat of the sun will affect them
Hardscaping should be long-lasting, permanent and serve its purpose, whether decorative or practical.
Types of Hardscaping Services Within Landscaping
A well-designed landscape incorporates hardscaping. This gives balance and creates a pleasant environment. Various types of hardscaping can add texture and character to a 'soft' landscape (the living element) and include:
Tiled patios or swimming pool surrounds
Paved driveways
Stone paths
Stone or brick walls
Gazebos
Outdoor kitchens
The combination of the two connects the overall space and allows more practical use of outdoor areas. Outdoor tiling is a particularly popular way to transform an outdoor space as it's durable and comes in many colours and designs. Specialist design and installation can turn a boring concrete area into an eye-catching zone that complements the theme of the property.
Spring and Autumn Outdoor Tile Maintenance
Cleaning outdoor tiles and tiled surfaces is essential to keep them in good condition. The elements can take their toll on outdoor tiles, causing dirt, mould and staining. A deep clean in the spring, before the outside space is used, and again at the end of the summer will get the tiles ready for summer barbecues and outdoor living.
A jet washer is ideal to shift the dirt and debris that builds up over the winter months. Or you can use cleaning products designed especially for outdoor tiles that won't damage them.
Installation Services
Outdoor living is becoming more popular as people see the patio or garden as an extension of the indoors. Even the smallest garden or office space can benefit from a tiled patio that can be laid in a variety of creative designs (herringbone, square, circular, etc.). Tile walkways are another hardscaping feature and add structure and style to an outdoor space. Stone tiles or paving stones are ideal to create a walkway through a landscaped zone, either for a residential garden or a public building.
Outdoor Kitchens
An outdoor kitchen can add a whole new context to outdoor entertaining. Popular in the Mediterranean, outdoor kitchens are a practical and stylish addition to homes with a garden. The benefits are clear – no need to transport dishes from the kitchen, the chance to talk to guests while cooking and added value for the property. An outdoor kitchen should be built on solid foundations and have any relevant planning permission. It can be constructed from several materials – brick, wood, stone, cement – depending on the theme. Non-slip tile flooring and tiled walls add a touch of sophistication to an outdoor kitchen and make it feel like an extra room. The countertops should be made of durable materials that will withstand the elements such as stone or concrete.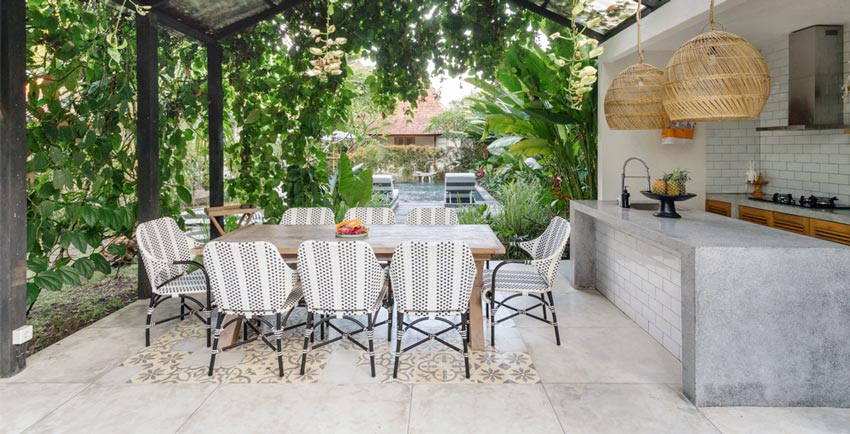 Driveways
A new driveway can make a major difference to a property, in terms of appearance and value. Concrete paving is a popular choice due to the many different colours, shapes and styles. Paving adds interest and can be laid in a variety of ways to complement the landscaping style. Traditional stone paving is the crème de la crème of driveway materials and is ideal for older properties. On the other hand, modern properties will benefit from contemporary concrete tiles and are much more eye-catching than plain tarmac.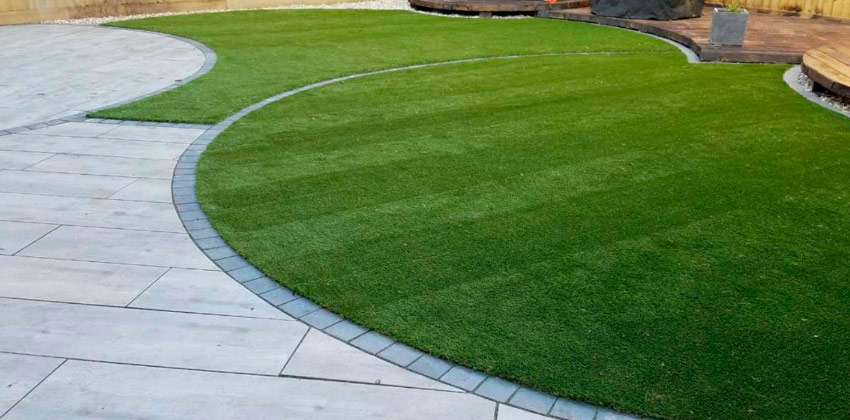 Landscaping and Hardscaping Materials: How to Use and Install Them
When considering the types of materials in landscaping and hardscaping, the project as a whole should be pictured. The choice of material will depend on several questions:
Is the area large or small?
What's the style of the property (rustic, modern, formal, informal)?
What features already exist or are to be fitted (patio, deck, pool, paths, walls, edging)?
Landscape design takes into account the combination of materials and how they will work together to achieve an overall effect. This is where professional knowledge comes in, by understanding which materials combine to achieve the desired result.
Different Types of Hardscaping Materials
Different materials need different installation techniques and tools for a professional finish.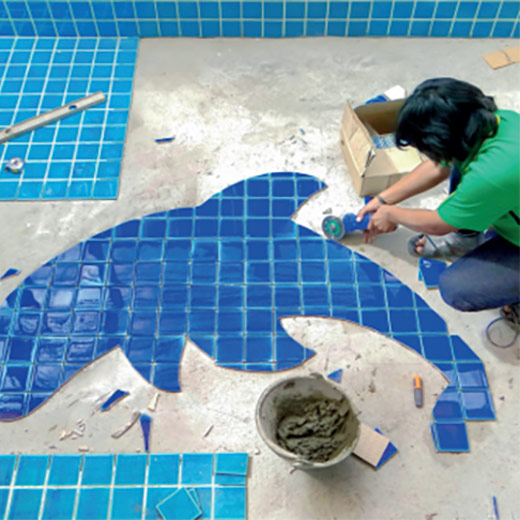 Porcelain
This contemporary design material is ideal for patios and driveways and has to be laid on the right surface to ensure stability.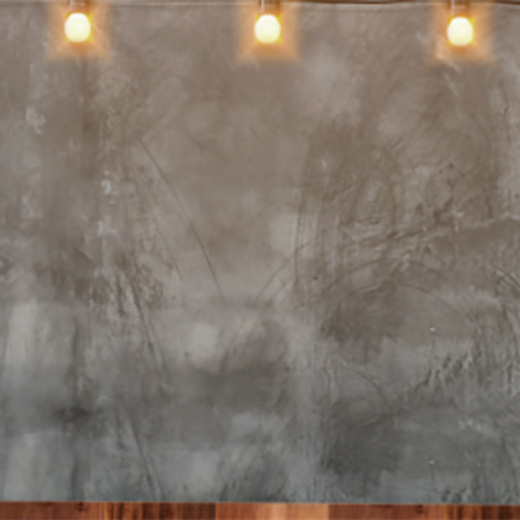 Sandstone
This material is often used in commercial projects as it's durable and resistant and can be cut to size by specialists.
Concrete
Concrete can be used for floors, walls and seating and has to be poured into a mould to ensure a smooth and even finish.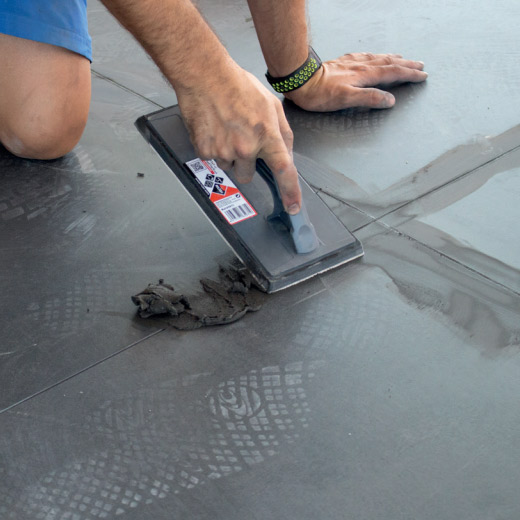 Slate
Is used for paving, walls and even worksurfaces in outdoor kitchens and can be laid as small or large tiles or slabs.
The type of material and the way it's installed makes a big difference to the aesthetic of the landscape when using hardscaping materials.
Paving: How to Cut and Lay Different Types
There is a wide range of paving available to suit all kinds of outdoor landscapes. Paving is more natural looking than tiles and can be cut in a variety of different ways.
Paving Slabs
An economical and easy solution for patios, sheds and greenhouse bases. The most common paving slabs are large squares that come in a variety of colours. The best tool for cutting paving slabs is an  angle grinder or bridge saw, fitted with a blade designed to cut masonry.
Porcelain Paving
This form of paving comes in different designs and colours and often with a smooth, non-slip finish. This is a popular alternative to decking for patios and garden furniture areas. It is best cut with a bridge saw and a specialist porcelain blade. 
Block Paving
The perfect paving for driveways that can combine different style blocks to create interest. This material comes in a wide range of colours and complements most styles of property. An angle  grinder or bridge saw can also be used to cut the blocks, or the traditional hammer and chisel method.
Paving Stones
These are ideal for older properties where the customer wants the outdoor space to complement the style of their home. They can be of different textures and stronger in certain raw materials, depending on where they are quarried from, for example, limestone or granite. Paving stones are ideal for an outside patio, giving it an authentic feel. Paving stones are best cut with an angle grinder to achieve the required shape.
Flagstones
Flagstones are heavier than other types of paving and are laid randomly to create a unique design. They offer a variety of colour combinations and shapes and are great for patios and paths. Flagstones can be cut by hand with a hammer and chisel as the cuts don't have to be exact. Alternatively, you can use an angle grinder or bridge saw. 
Tiles: How to Use Them in Landscaping
Tiles can be used in many ways to landscape a garden and can be a good way to renovate a patio. Outdoor tiles need to be strong and durable to ensure they last for years and can take the wear and tear they'll undergo. Tiles can be used to blend with the landscape (subtle colours) or create a contrast (Mediterranean tiles).
Tiles are also used as swimming pool surrounds and can be used to cover an outdoor shower wall, giving protection and blending with the style of the garden.
For a more creative space, tiles can be used to cover a feature such as a fountain, well or barbecue surround.
Tools: Which Ones Do You Need for Your Hardscaping Project?
you're a professional landscaper or an amateur, having the right tools for the hardscaping part of the project means the job will be much easier.
Electric bridge Saw
A powerful electric saw for fast and accurate cutting is an essential hardscaping tool.
Drills
A cordless drill is the best option in terms of safety and convenience. Choose a drill with a selection of different sized bits to cover every kind of project.
Trowels
Ideal for filling in details of smaller surfaces where larger tools are too bulky.
Cleaning Equipment
One of the most useful pieces of kit is a pressure washer, which can be used to clean stone and other surfaces affected by mould or layers of dirt.
Spades and Shovels
These are essential landscaping tools for digging and moving soil. Choose a strong, quality spade with a square blade for easy cutting and a shovel with a maximum size blade to handle as much earth as possible.
Manual Cutter
This can be useful for cutting tiles and paving blocks and achieving a clean, sharp line.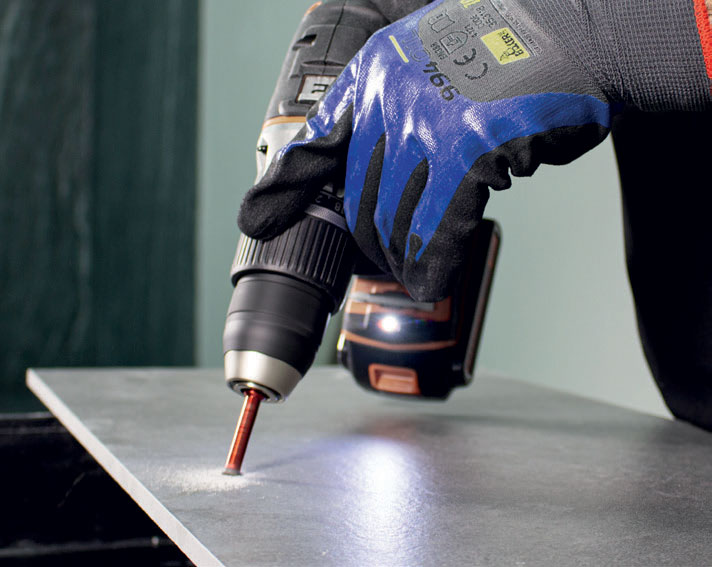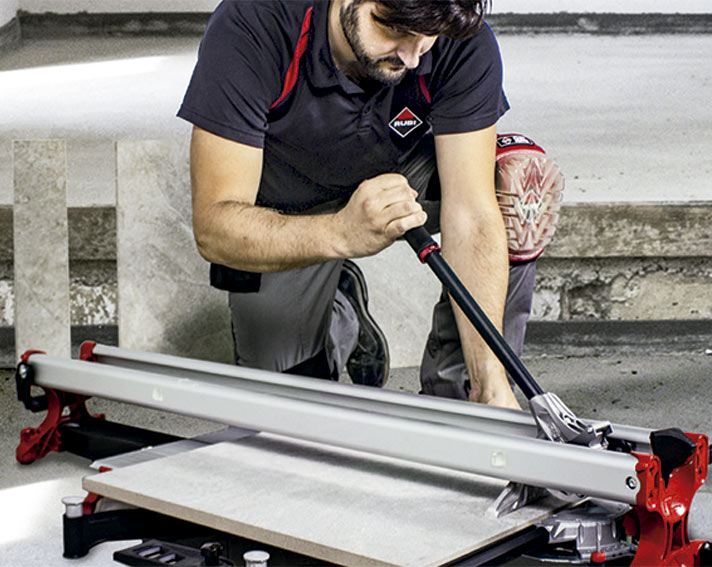 Installation Methods: Best Practices
Different methods can be used for various hardscaping projects. Something important to consider is any local regulations that exist regarding drainage and planning permission.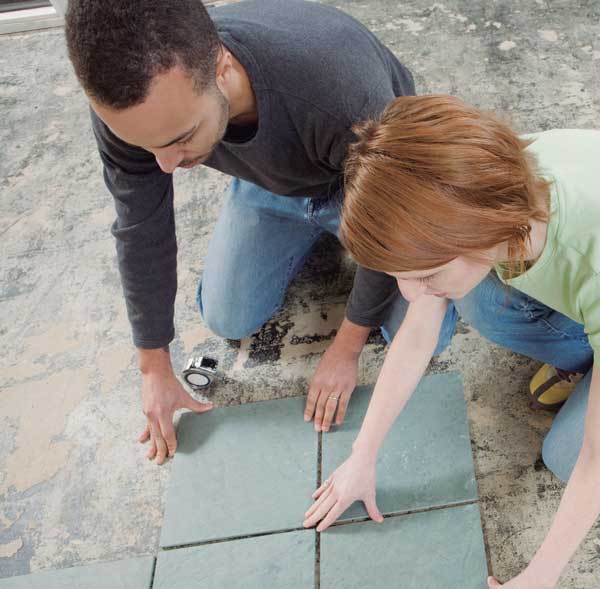 Sub-base
A solid sub-base is important as it bears the weight of the patio or driveway and should spread the load evenly, whether it's a vehicle or garden furniture. It is essential to use the right materials, dig to the correct depth and install correctly.
Hardcore is often used for the sub-base as it's a way to recycle old material, but it must be broken down correctly. The type of soil must be considered, for example, sandy soil is more absorbent than clay.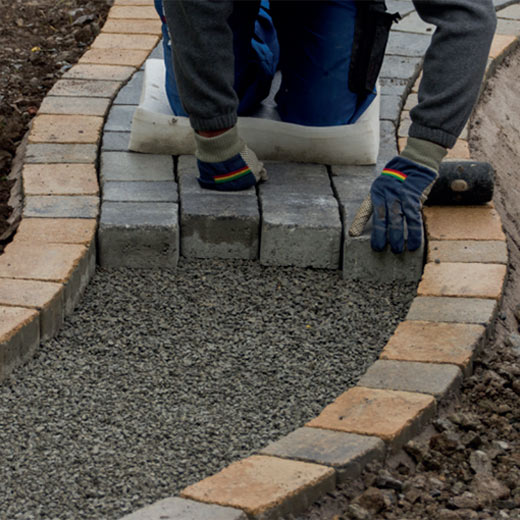 Concrete Base
Concrete base is essential for sheds, greenhouses, and other garden buildings to sit on. A small concrete base is ideal for a rubbish bin or storage area. Mixing, laying and levelling a concrete base is a specialist job that is best left to professionals who will ensure the correct installation with the right drainage.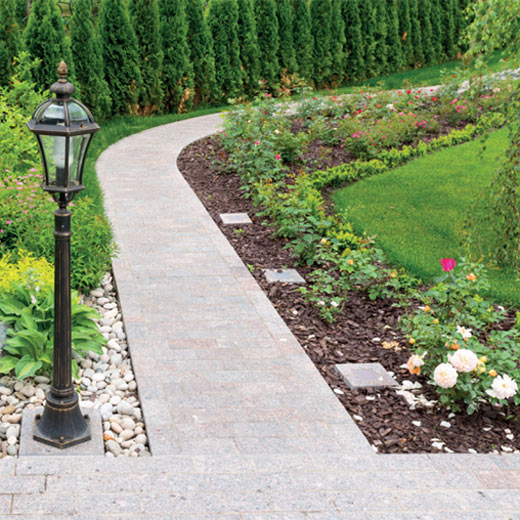 Adjustable Pedestal Supports
An easy way to lay large outdoor tiles is with adjustable pedestal supports. These are an alternative to permanent fixing with adhesive and grout and offer a flexible and labour-saving solution. They sit on the ground and allow a gap under the flooring, to assist drainage. Perfect for tiles, paving or decking, these supports are simple to install and adjust manually to achieve a flat surface. The flooring is laid on top of the pedestal and the height can be adjusted as necessary.
One of the most time-consuming parts of laying outdoor flooring is creating the frame or base. Adjustable pedestal supports are a time-saving option that can be used in standard or awkward spaces to deliver a professional finish.
From brick patios to stone pathways and paved driveways, hardscaping gives extra charm to any landscaping project. Carried out the right way with quality materials, hardscaping should last for many years to come.