Porcelain paving is the quality choice for outdoor paving and is a cost-effective alternative to the now old-fashioned look of wooden decking. Using porcelain paving for a patio or landscaping project adds a sophisticated feel to any outdoor area and is the latest trend in outdoor paving design.
This article considers the porcelain paving pros and cons so you can make the right decision and create a stunning outdoor area.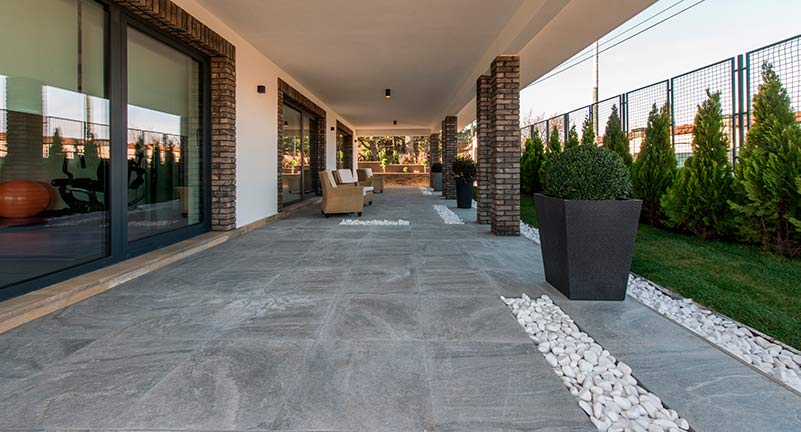 Why is porcelain paving a good choice?
Porcelain paving is a low-maintenance material that has a long life and provides a quality and upmarket feel to any landscaping project. Whilst a relatively new material for outdoor spaces, porcelain is becoming one of the most popular choices for durable patios and outdoor areas.
Porcelain paving is available in a wide range of colours and designs so it can complement an existing outdoor design. For example, grey porcelain combines with contemporary designs to give a modern feel, while aged-effect porcelain gives a more traditional look.
Porcelain was often associated with white bathroom suites or farmhouse kitchen sinks – but not any longer. The uses of porcelain for outdoor landscaping are numerous, from metallic finishes to classic industrial concrete designs.
Is porcelain paving slippery?
It is assumed that porcelain paving is slippery because of its smooth appearance, but this is not the case. Outdoor porcelain slabs are anti-slip, which makes them an excellent choice for any outdoor area, including swimming pool surrounds. The surface texture is smooth and slip-resistant. In fact, porcelain tiles are much less slippery than ceramic or stone outdoor tiles.
This is because the unique manufacturing process combines dense clay with non-porous granite. Therefore, any surface water evaporates, leaving a non-slip exterior. This makes porcelain paving ideal for the UK climate, where rain and condensation are common factors.
The slipperiness of porcelain tiles can be checked using the 'skip skid rating' that rates the tiles in 'R' values. The values range from R9 to R13, with R9 being for dry locations and R13 for wet zones, such as swimming pools.
Porcelain paving is a safe and durable option for outdoor spaces and looks good year-round.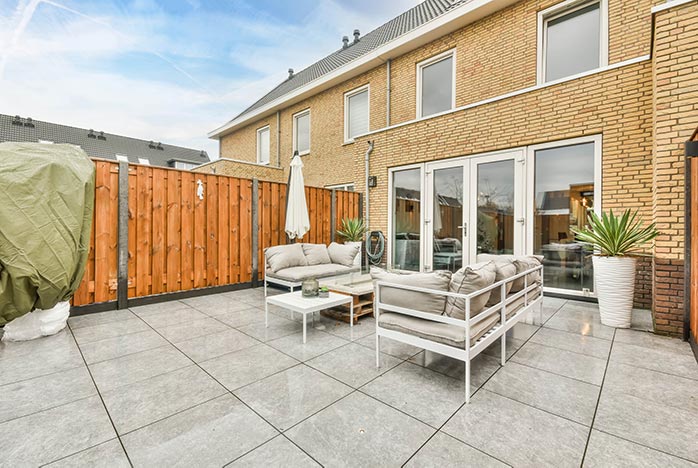 The benefits of porcelain paving
Porcelain paving pros and cons include a number of factors.
Durability
Porcelain paving is a wear-resistant, durable material that will last for many years. The low water absorption gives it a longer life, due to the special clay it's made from.
Easy to maintain
Porcelain doesn't need sealing due to its low water absorption. It's also easy to clean as being non-porous it doesn't absorb dirt or spills, for example around a barbecue or high-traffic zone.
Fade-resistant
Porcelain can withstand the heat of the sun, the driving rain, and winter weather without fading. It will look as good as new for years and won't need replacing.
Lightweight
Porcelain is not as heavy as other paving materials (such as stone) making it easy to transport and install.
Strength
A strong material, porcelain is suitable for driveways and commonly used areas of the garden.
Frost resistant
Unlike some materials, such as concrete, porcelain is frost resistant so it is suitable for colder climates.
Easy to use
Porcelain tiles are manufactured in several thicknesses. The thinner tiles are suitable for laying on top of existing outdoor flooring, such as wooden decking or stone slabs. This saves time and cost when considering an outdoor landscaping project.
Fireproof
With fire pits becoming an increasing trend in landscaping design, porcelain tiles are a much better option than wooden decking since they are fireproof.
Another benefit of porcelain paving is its superior aesthetic quality. Concrete or wooden decking can age and look tired very quickly, especially when mildew forms, (which can be inevitable) in shady zones. Porcelain remains looking new and is easy to clean.
Porcelain is man-made, so it offers many design options, from light-catching flecks to a traditional 'old' stone feel. It is also manufactured in several colour options, so it can be used to blend in with the background or contrast and make a statement.
Porcelain paving is an ideal choice for an outdoor area and is becoming an increasingly popular choice for landscaping projects. It's not as expensive as perceived and offers a suitable long-term solution for outdoor living spaces.