Choosing and using a manual tile cutter can be a complicated task. Since a manual tile cutter is one of the fundamental tools in our daily work, in today's how to tile blog, we want to help facilitate so that all tiling professionals who will have to face this decision sooner or later can make the best choice for their business.
In addition to the wide range of models and styles, there are particular needs of each project we have to consider such as the type of tile we are cutting & how they going to be laid (herringbone, brick bond, crosshatch etc.), and not just to focus on price or cutting length.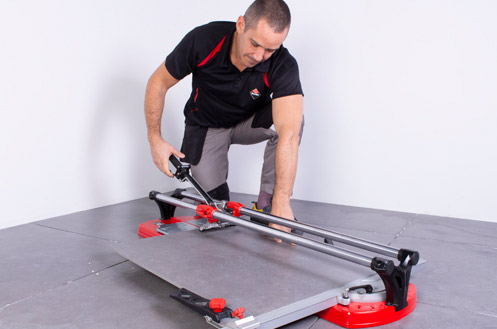 WHY CHOOSE A MANUAL CUTTER
Having a good quality manual tile cutter is essential to be able to make precise cuts in the different types of ceramic and porcelain tiles, used in construction.
There are different types of tiles on the market and each of them have different characteristics, whether it be the material, shape or hardness.
Similarly, the same applies to the types and models of manual tile cutting tools: there is a wide range on offer, and this can make it difficult to choose a specific cutter best suited for the project. Today, the most popular and most widely used types of tiles are glazed ceramics and porcelain.
To cut these tiles and carry out a correct installation, we must consider that, we will require a different type of manual tile cutter, depending on the material to be installed.
In this video you can see the RUBI Speed Magnet manual cutter in full operation:
BASIC FACTORS FOR CHOOSING A MANUAL TILE CUTTER
Of course, the budget we've reserved for this investment will be one aspect to take into account, but from a more technical perspective there are other factors to take into account are:
1) The maximum length of the tile we are going to work with.
2) The level of use that we are going to give to our new tile cutter:
Occasional: infrequent use such as repairs and/or small sporadic revamps.
Professional: for daily use in both new works and renovations. This is the minimum level we recommend to a specialized installer.
Intensive: a higher than normal use. Such as the use of the tile cutter by several professionals or exclusive and uninterrupted cutting work.
3) Knowing which is the hardest material we will likely have to work with.
Depending on this, we will have to choose a manual tile cutter with a maximum breaking power.
If we try to work with a hard material that needs more breaking power than our tile cutter has, it will be our machine that will suffer the consequences and likely break. In addition, this factor will also influence the maximum thickness of tile that we can work with.
4) Knowing what type of cut we are going to make, most often in our day-to-day work with our tile cutter.
Within what we consider to be "common cuts" there are 3 types that are the most common to make with a manual tile cutter. These are: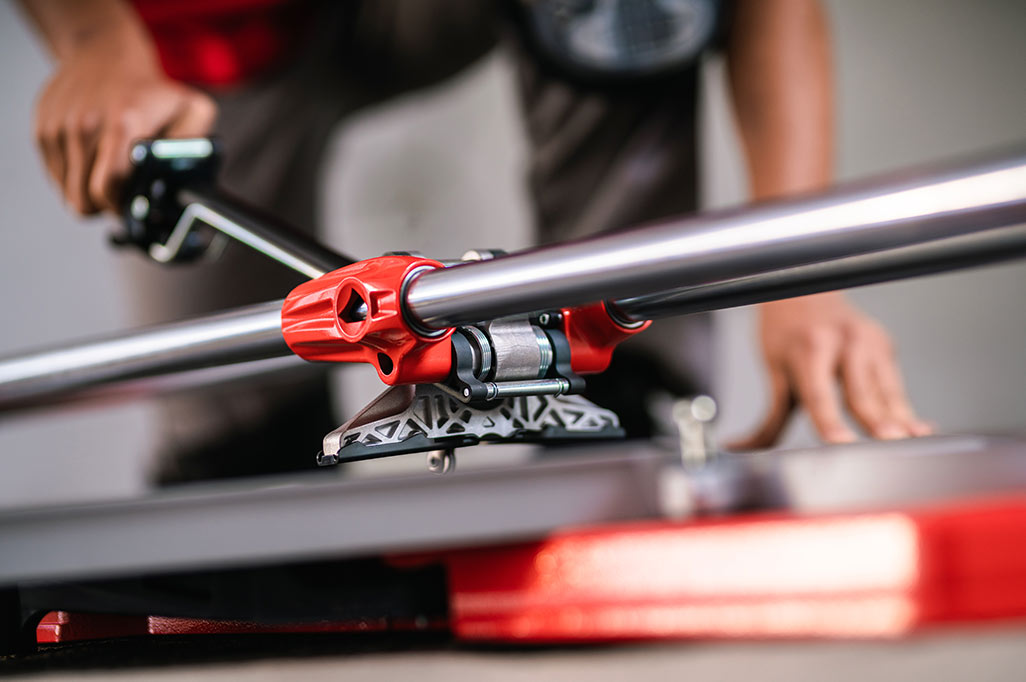 Straight cut (90º): this can be made by any manual tile cutter and is the most common type of cut.
Diagonal cut (45º): this can also be carried out with all manual cutters, although it is less common.
Angular cut (0 to 45º): only available if our manual ceramic cutter has a rotating square.
Other types of cuts, such as mitres or mitre cuts, are best carried out with an electric tile cutter.
Once we have determined these parameters, it will be much easier to select the tile cutter that best suits your needs.
In addition, we must not forget that using a manual tile cutting machine has many other advantages. They are lighter and smaller than most electric cutting machines. They are comfortable, fast, easy to use and move, practical, very versatile and (as they do not require electricity), they can be used at any time and place. They even produce less noise when cutting tiles and emit hardly any dust.
See how our TX MAX manual cutter works in this video:
TRAINING RESOURCES FOR THE CORRECT USE OF A MANUAL TILE CUTTER
Now you know all the aspects to take into account when choosing your next manual tile cutter!
However, you must keep in mind that the construction sector and tile materials are constantly evolving, and with it the RUBI tools that facilitate their cutting and installing are also evolving.
We hope you found this blog on how to use a manual tile cutter! To get up to date information on future blogs and product releases, sign up to our mailing list!