Why the RUBI TX MAX is one of the best and most advanced manual tile cutters currently on the market.
The TX MAX is a high-performance professional manual cutter that makes the job of tilers much easier thanks to its patented breaker mechanism, which locks the pressure pad by means of a ratchet mechanism and unlocks it by means of a trigger.
This mechanism provides greater performance and efficiency in both thinner and thicker materials, as well as greater speed of use, allowing scoring and breaking with one hand. Yes, you read that right… with one hand!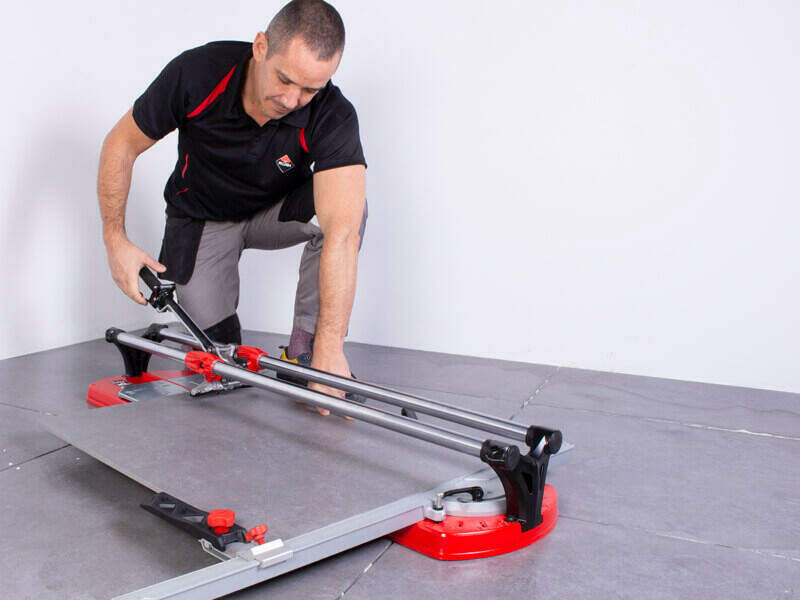 The TX MAX manual cutter provides a maximum breaking power of up to 1,200 kg for cutting materials up to a maximum thickness of 21 mm with minimal effort, allowing the power to be applied anywhere on the length of tile thanks to the multipoint system.
In the case of materials over 15 mm thick, however, it is advisable to make some test cuts to determine the compatibility of the product, since, due to the physical characteristics of these materials, it is possible that there are internal tensions or finishes that present difficulties for manual cutting. If that is the case, one of the electric cutters should be used from the extensive range available from RUBI.
The robustness of the new TX MAX manual tile cutter is achieved through its cast aluminium base reinforced with a central rib, as well as its double guide system with a 30 mm diameter, which facilitates perfect visibility during scoring.
If we have to make angular cuts, its rotating square with a central pivot point and lateral end stop makes it very easy. In addition, the scale of the square is laser-engraved so that it never gets erased or loses visibility.
MORE INFO
X
Do you need more info?
We appreciate your interest! We will contact you as soon as possible!
Logically, with these features the included scoring wheel (in addition to the 8 mm) could be none other than the RUBI EXTREME 22 mm, specially designed for scoring hard tiles with rough and/or structured surfaces.
However, the cutter is compatible with the entire range of PLUS scoring wheels. We must bear in mind that scoring is extremely important in materials with these finishes. That's why the EXTREME scoring wheel has a Tungsten Carbide roller with a Titanium surface treatment, in addition to being mounted on a bearing for longer life and greater smoothness when scoring.
The head with extra-long aluminium sliders and "self-lubricating" friction bearings also contributes to this smooth scoring. The scoring wheel shaft has a patented geometry for high-precision scoring and minimal vibration.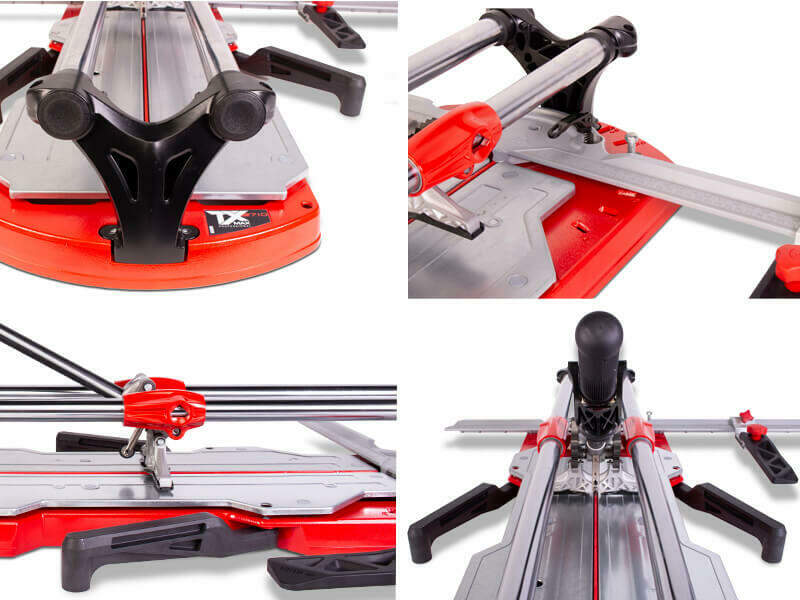 Given all the characteristics and qualities we have described, we can consider the TX-MAX manual cutter to be a professional cutter for intensive use on any type of ceramic or porcelain tile, making it ideal for porcelain stoneware and extruded stoneware, which will exceed the expectations of any professional tiler.
We have to bear in mind that today's large tiles with a thickness of 20 mm are the ultimate challenge for tilers. This thickness is becoming the latest market trend, as we saw last year at CEVISAMA 2018, where the presence of large tiles and ceramic sheets was already increasing, and where greater thickness tiles were also beginning to appear.
These 20 mm thick tiles are made of porcelain stoneware (BIa type), so we are faced with a material that is already very hard in nature, and if we add the extra thickness the breaking load that they can withstand is something extraordinary for a porcelain tile.
The vast majority of 20 mm thick porcelain stoneware tiles have a MINIMUM breaking load of 10,000N, or approximately 1,000 kg. This aspect will cause a large majority of installers to automatically opt for power cutting. We all know, however, that if professional tilers are given a choice they will always prefer manual cutting: it's faster, cleaner, and much more economical.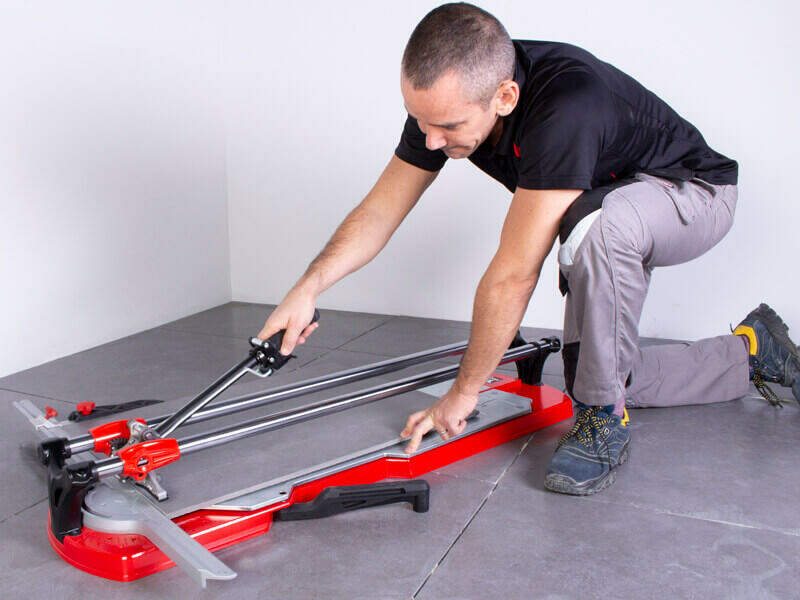 That's why the TX MAX has a fully full re-engineered reinforced chassis that gives it high robustness, thicker bars, and a new portable breaker with an aluminium pressure pad, equipped with a plastic protector to avoid marking on the most delicate surfaces, which delivers the separation power progressively according to our cutting needs, reaching up to 1,200 kg of power as mentioned above. The handle is made with a soft grip for better ergonomics and comfort. And for greater cutting stability, the TX MAX incorporates floating tables and additional arms for large tiles.
All this enables the TX MAX to cut thicker materials with high reliability, where other cutters face real difficulties. That's why the TX MAX has become increasingly popular among professionals.
The available models in the range are:
TX-710 MAX
TX-1020 MAX
TX-1250 MAX
These models enable cuts of up to 71 cm, 102 cm and 125 cm respectively, or equivalent to the diagonal cutting of 50×50 cm, 70×70 cm, and 85×85 cm tiles.
When it comes to transporting the machine, you can be worry-free as it includes a carrying case; the TX-1250 MAX model even includes wheels for much easier transportation.
As you can see, at RUBI we have thought of everything down to the smallest detail to provide an exceptional user experience because, at the end of the day, it is the small details that make the difference between a standard product and a premium one.
And finally, we would like to highlight the unbeatable RUBI warranty for the TX MAX, which is 2 years + 3 additional years, just for registering the product or joining the RUBI CLUB for construction professionals. Remember that through the RUBI CLUB APP you receive rewards for your purchases and we reward your loyalty with great advantages and exclusive promotions.
If you have any questions, queries or would like to see a demonstration in person, do not hesitate to contact our team via social networks or through our website.