Bathroom tiling is a staple in the tiler's job description, and in todays blog we discuss unique bathroom tile ideas for your next project. Keep reading for for tips on how to tile these ideas that will not only wow your client but yourself too.
Be Artistic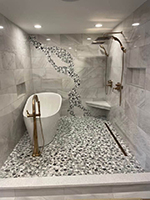 As a tiler you've got to have a keen sense of style and an eye for design. Why not test your creative artistic abilities and include some artwork with mosaic tiles?
While these tiny tiles can be frustrating to work with, they can also produce the most rewarding results. These tiles allow for the addition of colour by working with a select colour pallet and a completely unique experience when you enter the room.
What's better than leaving a lasting impression with everyone who views your work?
Different Shapes
The most common option for bathroom tiles is a subway tile, whether its lain in a herringbone or offset, these tiles can be simplistic but an effective way to tile the space.
But if you're after something unique then we need to look outside the box. By combining different shapes together you can add personality and offer another layer to the project.
A good choice with this can be either the hexagonal tiles that seem to be popping up everywhere or the classic fish scale.
It's a simple concept, but when done right can make a massive difference.
Storage is Key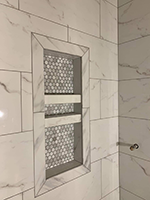 Including storage such as niches into the shower and bath area is always a good idea, it just makes everything look much more sophisticated and thought out.
It's common to continue whatever tile pattern you're working with into these storage spaces, but let's take it a step further. Make these areas stand out by including a different pattern.
Go bold with colour or use a completely different shape altogether to give these often-overlooked areas a bit of personality.
The Dark Side of the Room
Not all bathrooms are the created same, some come with large windows that let in heaps of natural light, others have a small window that let in next to none.
It can be your first instinct in the latter to use lighter tiles to make the space seem brighter, but we're here to tell you to embrace the dark side.
By using deep green or blue tiles and embracing the low light aspect of the room you can make something that promotes relaxation and serenity, or use black tiles to create a monotone colour scheme. These bathroom tile ideas will leave a statement.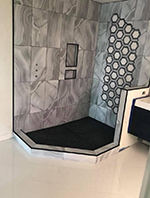 Separation
A growing trend in bathroom tiling is to use different shapes, colours, and patterns to separate different areas of the room.
You can do this by creating a statement wall with highly decorative tiles in the shower or bath, or by simply using different tiles altogether in different areas.
By visually separating out the areas of the room you can make it appear bigger, brighter, and more appealing.
Texture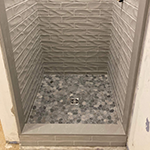 Incorporating different textures into the project can make a massive difference.
Pebble tiles don't only add a unique feature visually, but can also add a natural texture, especially when used in the shower floor.
By including this textural element to the room, you add the earthy look and feel of nature to your indoor environment that can be relaxing and massaging to the feet.
And there you have it; these are our tips for making unique and unforgettable bathroom spaces that will leave your clients wanting more.