The bathroom is the unsung hero of your home. It doesn't get a lot of praise when it comes to interior design, but we use our bathrooms every single day. It's where we begin our mornings and end our nights. That's why coming up with a beautiful bathroom design is the best way to enjoy all of the time you spend there. To create a cohesive look, you'll want to start with the walls. It's what draws the eye from the first moment you step inside the room so the walls need to be the focus of your design efforts. It's not always easy to come up with bathroom wall tiles ideas, which is why we're here to help you. We've collected the top 5 ideas that are sure to spark inspiration for your next tile installation. Check them out down below!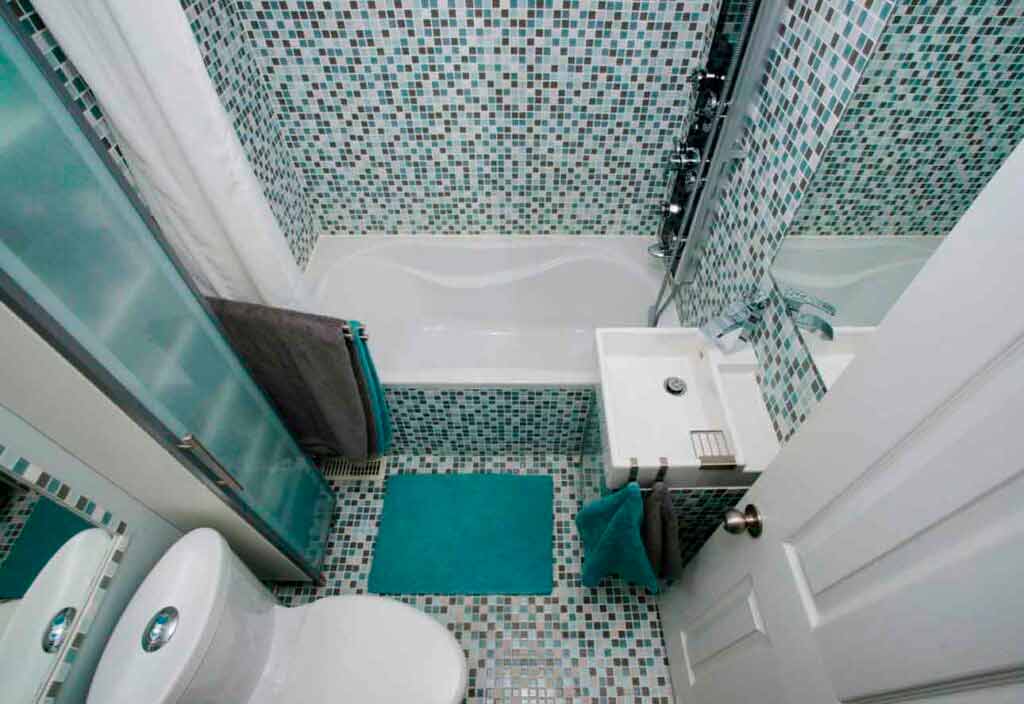 1. Stark Contrast
Have you ever stepped inside a room and had your breath taken away? Have you felt the need to stop and stare at the design because it's hard to take your eyes away from it?
This feeling is often the result of a design that uses a lot of contrast.
In art and photography, the use of different sizes, colors, and textures create the kind of eye-catching contrast artists want in their work. When it comes to wall tile ideas for the bathroom, you'll want to use a similar theme when installing your tiles.
Instead of using tiles of all the same size, use different sizes to build the walls. If you use a lot of bigger tiles, smaller tiles work great as a contrasting accent.
Use those smaller tiles to guide the eye around the room. Focus them on the areas of the bathroom that you like the most, such as the bathtub or the vanity. This lets you decide which areas of the room become the star of the show.
The same goes for different colored and textured tiles. When you have a lot of one type, use the opposite type to contrast against the first.
A good rule of thumb is to pick a single style as your base, and then use the opposite to create the contrast. This way the design doesn't end up looking too busy with too many things going on at once. Feel free to mix up the types of tiles you use as well. You don't have to stick with contrasting sizes. Use different textures and colors within the size differences to make something unique and beautiful.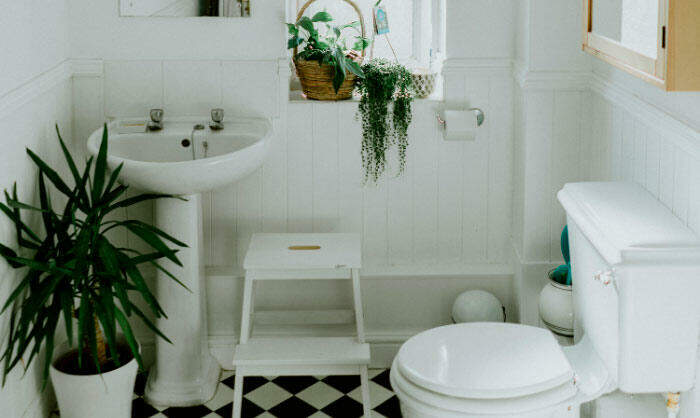 2. Accent Walls
Another great way to create contrast in your bathroom is by making use of an accent wall.
The key to a good accent wall is to make sure the other walls of the room are less defined. Make them plain and more of a side character in the design. This way your accent wall gets all of the excitement and draws attention to itself.
If you're uncertain where to put your accent wall, an easy solution is to use the wall opposite the entrance. Since it's one of the first things a person will see when entering the bathroom, that accent wall will always be the focus. It helps set the tone for the rest of the bathroom design.
Accent walls are also good for sectioning off the bathroom and highlighting certain areas. Instead of having a single accent wall in the design, have one for each of the sections of your bathroom.
For instance, a darker wall behind the toilet and a lighter one at the sink can make your bathroom feel bigger. If you have a smaller bathroom, this creates extra dimension and makes it feel as though there's a lot more room in the area.
When you want to create a subconscious mood in your bathroom, accent walls work well.
If you have trouble getting your energy up in the morning, try adding a yellow accent wall. Yellow is a peppy color, bringing about the idea of sunlight and happiness. It's a great way to boost your energy before a long work day.
On the other hand, using blues and greens is a classic combo since they have a natural calming effect. These colors make us think about oceans and forests. A calming effect in a bathroom can make a luxurious bath feel even better!
3. Seamless Transition
Sometimes tile ideas for bathroom walls don't end at the walls. Creating a design that has no difference between the wall tiles and the floor tiles makes the design feel cohesive and cozy. It makes the entire space feel as though it's embracing you as you step inside.
Creating a seamless transition between wall and flooring doesn't mean you have to choose only one type of tile throughout the entire bathroom. You can still design beautiful patterns or pops of color that start on the walls and continues to the flooring.
If you want an even more seamless bathroom design, use the same tiles on the ceiling as well. It'll make the effect stronger.
The thing to remember when you have so many of the same design elements in the bathroom is that you'll want to break up the monotony with other things. Paintings, plants, trinkets, mirrors, and other decorations go a long way in making your bathroom feel lively.
Without these extra decorations, seamless wall tile bathroom ideas tend to feel dull.
The good news is that it makes the designing process exciting. The seamless tiles provide a beautiful foundation that will look great with all of your favorite decorations no matter what.
One of the best ways to create a luxurious and seamless bathroom design is to use marble tiles. The natural texture of marble leads the eye from one area to the next without needing to worry about lining up one tile to the other. The darker tendrils of the marble can meld into one another and still feel like they're a part of the same whole. Marble is one of the most luxurious types of tiles because it feels expensive without needing to break the bank. When you have these tiles installed in both the walls and the flooring, it enhances that feeling of pure luxury.
4. Color Gradients
If you're looking for the most trendy of bathroom wall tiles ideas, then color gradients are the right answer. They take more work than most other tile designs, but they're worth the extra effort.
The benefit of using gradients in your bathroom design is that gradients always look beautiful. Whether you go from a pale shade to a darker shade or from one color mixing into another, it looks artistic. It feels gentle and relaxing since there are no harsh transitions.
Gradients give you a lot of room to play around with color and other design elements. You're not stuck using only one or two shades. Instead, you can use any of the shades created within the gradient.
This works great if you're someone who loves a lot of colors.
The main thing to keep in mind is that gradients take a lot of focus in a design, so you'll want to tone down other areas of the bathroom. This lets the gradient tiles stand out without making the room feel too busy or cluttered.
5. Combining Multiple Ideas
Renovations are always a stressful part of being a homeowner, but that doesn't mean you need to stress about choosing the right bathroom wall tile ideas. There are plenty of ways to mix up different design elements to create a unique style that suits your home.
Your accented wall, for instance, could be a beautiful gradient of blues that transitions into the same blue tile as the flooring. You could choose to create contrast between two different colored gradients on opposite accent walls.
Your accent wall could use the same tiling as your floor to create that smooth transition. You could alternate with color gradients to create even more contrast on your walls.
It's easy to play around with the design of your bathroom once you let go of your inhibitions. Take whatever inspiration and creativity you want and begin to brainstorm.
There are no real right or wrong answers when it comes to creating a design that makes you happy. If you like the idea of it, then that means it's the right choice for your home.
An easy way to make sure it's something you'll like is to take samples of your tiles and lay them out in whichever pattern you enjoy. Make a mini-version of the design so that you have no doubts about whether or not you'll love the ultimate design.
Upgrade Your Home With These Bathroom Wall Tiles Ideas
By putting your focus on beautiful bathroom wall tiles ideas, you'll create a bathroom that you'll never want to leave. Instead of dreading entering the room, you'll feel comfortable and at ease. You'll want to show it off to your friends and family since it looks so good.
There's nothing quite like having a bathroom that both looks and feels luxurious!
Once you've figured out the perfect bathroom tile design, check out our products to help you every step of the way. You'll have your new bathroom in no time at all!