Marble tiles are a timeless favorite in the bathroom, kitchen, and entryway. They are beautiful, stylish, and easy to clean. You might think marble is too expensive for your tile installation. However, marble tile pieces are actually quite affordable. Additionally, there are many different patterns and finishes to choose from, so you can find the perfect tile you love for your space. Are you planning on some renovations? Take a look at these marble tile bathroom ideas!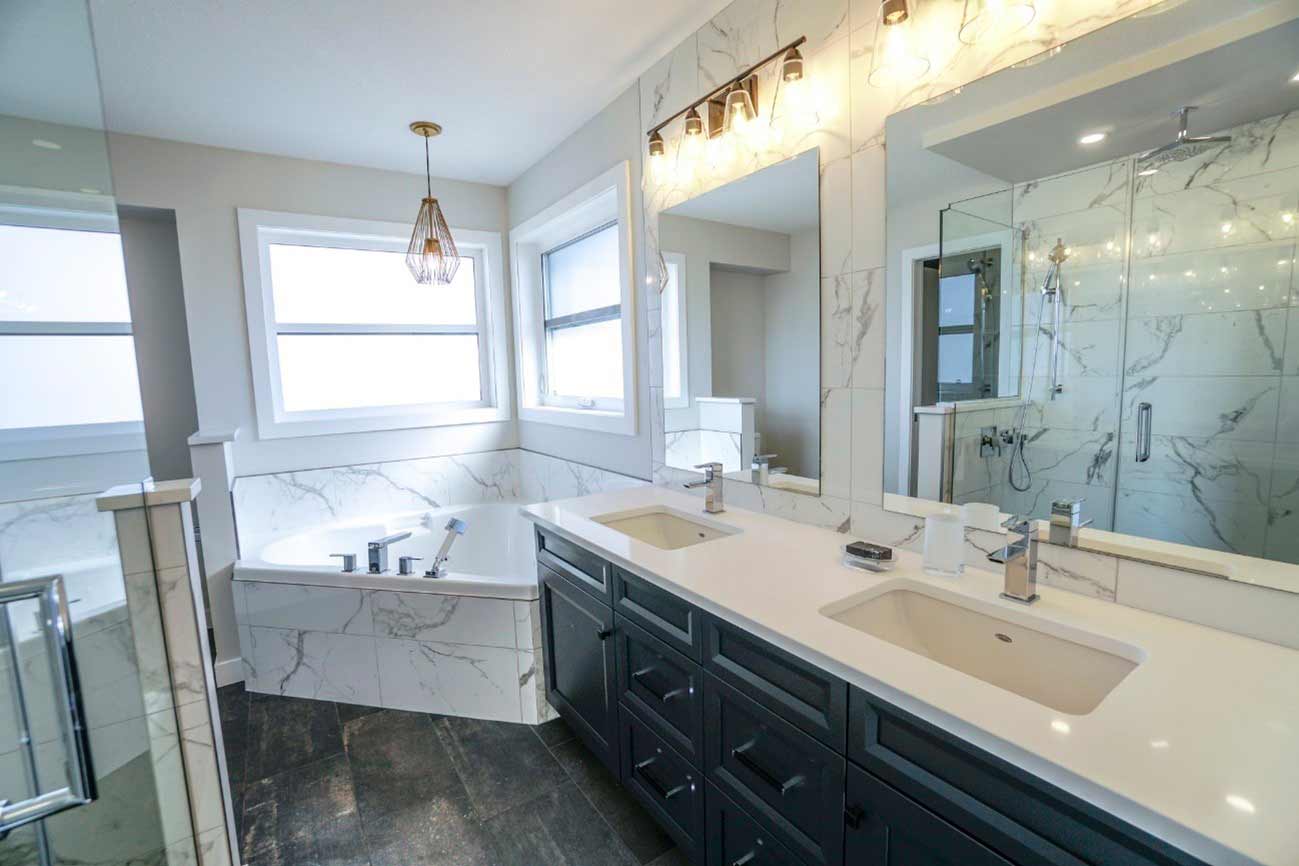 How to Tile a Bathroom
Before we look at our inspirations, we should get the nasty details out of the way first.
To tile a bathroom, you will first need to measure the tiling area. Are you planning on tiling the floor or the wall, or are you making intricate designs with different shapes and styles?

Once you have your measurements, you need to decide on which tiles you will use. Tiles come in various styles, colors, materials, and price ranges.
Learn more about the many different types of tiles before choosing what you think is best for your home.
Once you have your measurements and have chosen your tile, it's time to get tiling.
You will likely need to cut the tiles as well. Unless you are getting pre-cut tiles. However, even pre-cut tiles will likely have to be cut to fit in corners and along walls.
It's best to start tiling in an out-of-the-way spot to help you get the hang of the process.
Once you get the hang of it and you're satisfied with the way it looks, it's time to move on to the rest of the bathroom.
How to Install Wall Tile
First, you need to determine the pattern you want to install.
Calculate how many tiles you'll need to complete a pattern you like. Use that as your guide.
Before you begin, cover the area with plastic to protect your wall from the wet grout.
Now, apply mastic or thin-set mortar along the wall and press the first tile against the wall. Then, you will use the spacers to create the pattern you want.
Once the tiles are in place, you'll want to let the mastic or thin-set mortar dry before applying grout. This can take up to 24 hours.
You'll want to use a small trowel to apply the grout. Start by filling in a small area at a time and then spread it across the tile.
Once you have all the grout applied, wipe down any remaining grout on the tiles.
Once the grout is dry, you can seal it with a grout sealer for lasting longevity.
Tools and Materials Needed for a Marble Bathroom Design
Besides the tools and materials we've already discussed, you will need the following.
Tools:
Chisel
Scraper
Level
Rubber mallet
Utility knife
Materials:
Tile membrane
Waterproof tape and strips
Your chosen tile
Spacers
Mortar

How to Clean Marble
Marble is an interesting stone. It has a variety of colors and patterns, making it the ideal choice to beautify your surrounding. However, there are a few things to remember when working with marble.
It's a porous stone, trapping dirt and bacteria.
Marble is a type of limestone. Limestone is a sedimentary rock made of calcium carbonate.
So it is important to purchase a tile sealer for your bathroom walls. If you do not, the dirt and bacteria will grow into mold and become hazardous to your health.
To clean marble, you will want to use a non-abrasive cleaner with a low to mild pH. Don't use any commercial cleaners or cleaners with a high pH, such as vinegar or lemon juice.
The best cleaner to use is a marble-specific cleaner or a mild dish soap.
A bathroom, especially one with marble tiles, can use a cleaning every week. When cleaning the grout, make sure to use a soft brush if necessary.
Bathroom Remodel Ideas: The Best Inspiring Ideas
Marble is an expensive stone. But, it brings a lot of benefits. It's stylish, durable, and has a variety of colors that are perfect for a bathroom.
Let's take a look at some of the inspirations we've picked out for you!
Marble Tile Bathroom Ideas for a Luxurious Bathroom
To create luxury, you should think of your favorite spa. The defining elements of a luxury bathroom are natural materials, space, and a sense of serenity.
If you don't have a lot of space, you can create a feeling of space by choosing large marble tiles. Large tiles will seem less busy and pack a bigger visual punch than many small tiles. Because of the large size, they will appear to repeat less.
Try to stay with the neutral colors of the marble, and add an accent color to your decor. That way, your bathroom will seem timeless and fit the design.
Marble Tile Bathroom Ideas for a Contemporary Bathroom
Contemporary design is all about being minimalistic, light, and bright.
Contemporary designs are clean-cut and simple. While marble often has its own patterns, you can easily create a contemporary look by using it to accent a centerpiece in your bathroom.
For example, use neutral dark colors for your walls, but for a walk-in shower, use a beautiful white marble for a clean look.
Consider using glass doors as well, but make sure to dry them off after each shower, as the water can easily stain the doors, ruining the contemporary look of your bathroom.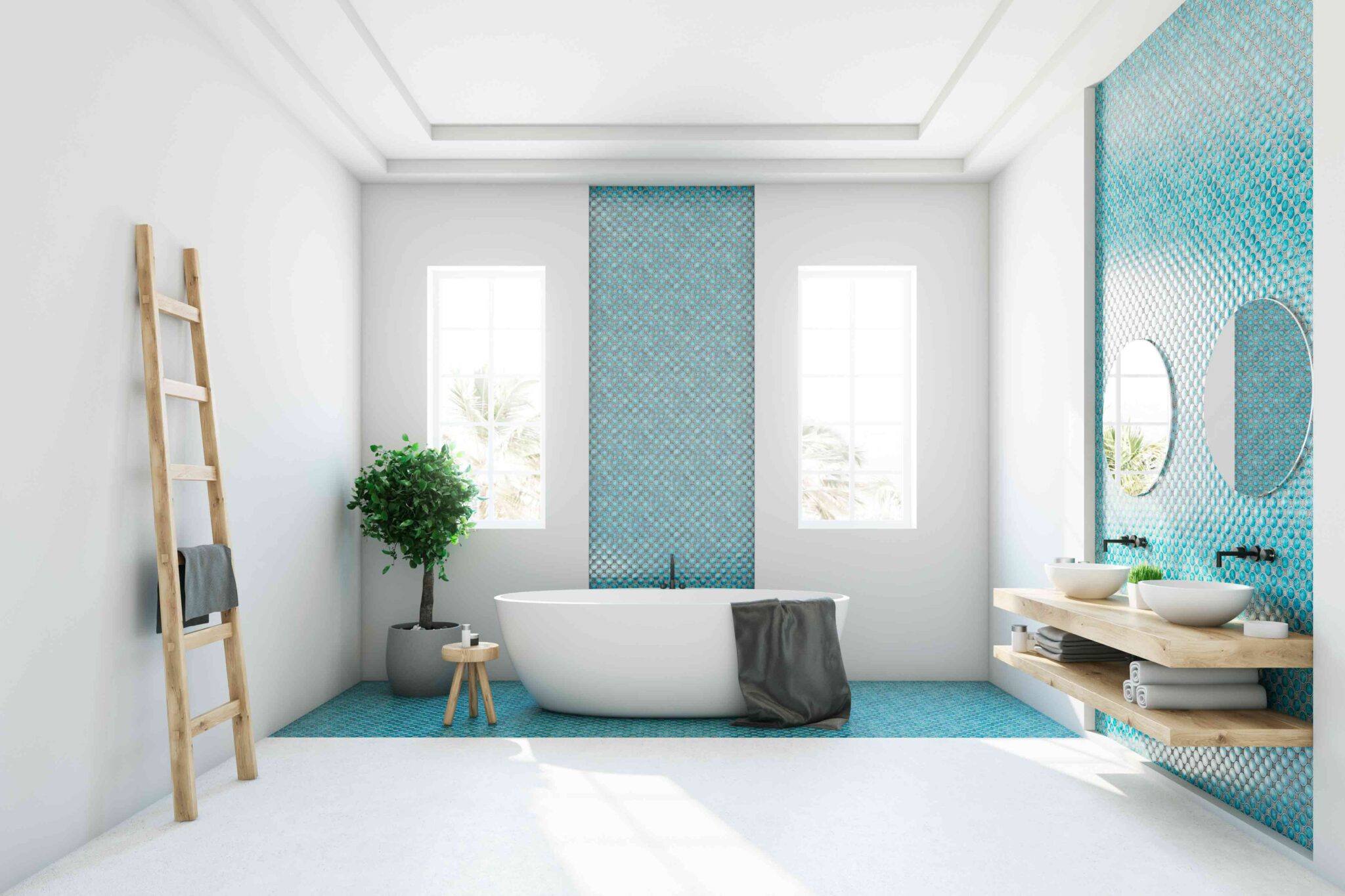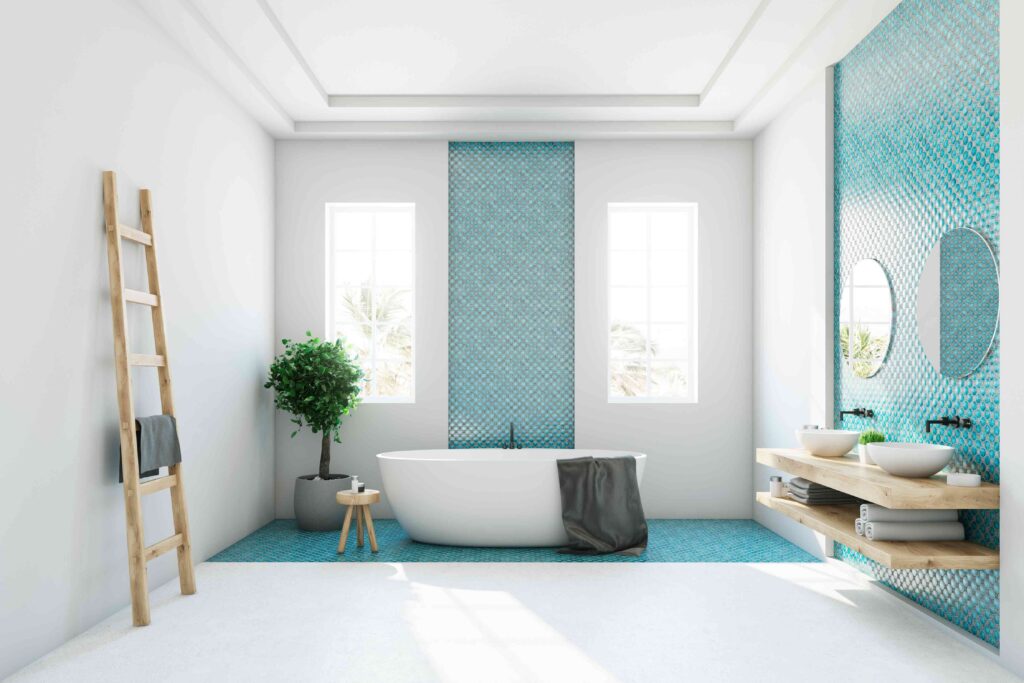 Marble Tile Bathroom Ideas for a Minimalist Bathroom
The main concept behind a minimalist design is to create a simple space but with visual impact. Minimalist designs try to reduce the amount of furniture and create as much space as possible.
You can use a minimalist design in any room. But, because of the amount of light in a bathroom, it is an ideal place to put a minimalist design.
Again, marble is a timeless material, but it will work better with a minimalist design if you choose a lighter marble.
If you are looking for a way to add a little more color and texture, consider adding silver or gold accents to your design.
The most important part of a minimalistic bathroom is to take away any unnecessary furniture, decor, or trinkets. Keep it clean, simple, and sophisticated.
Marble Tile Bathroom Ideas for an Elegant Bathroom
Marble already paints an elegant picture, but if you aren't careful, it can seem gaudy.
To make your bathroom elegant, you will want to choose the right colors and elegant textures to match the marble.
If you choose dark marble, you should stick with lighter colors. If you choose a white or light marble, you can experiment with darker colors. You can use patterns and textures as well to add that extra touch of elegance.
Marble Tile Bathroom Ideas for a Traditional Bathroom
A traditional bathroom design is one you will probably choose if you love the Victorian era. Ornate details and beautiful colors characterize traditional designs.
You can easily add a traditional design to your bathroom by choosing any color marble you prefer, as long as it matches your color scheme.
Traditional is great. There is a reason why this type of design does not go out of style. But the best way to add your own flair and touch to it is to bring in something no one else has.
For example, most traditional bathrooms have clean-cut tiles perfectly fitted for the space. However, have you considered using bullnose marble tile?
Bullnose tiles have round edges and are often used for trim and edges. Instead of the sharp corners standard tiles produce, you'll have a softer finish in your bathroom.
Marble Tile Bathroom Ideas for a Natural Bathroom
Natural bathrooms should evoke a touch of nature. If you love the outdoors and want that feeling to be present in your bathroom, you can use the same materials, textures, and colors in the room.
This means you can use stone, wood, and plant life to make your bathroom feel more like a part of your backyard.
You can even bring in rustic furniture and decor to give your bathroom a more "at home" feel.
Keeping with this theme, you should use marble for accent pieces, like your floor, backsplash, or even a countertop.
Marble Tile Bathroom Ideas for an Artistic Bathroom
If you love art, it is no wonder you want to bring a little of it into your bathroom. Instead of just hanging your favorite paintings, however, why not choose a bathroom with a marble theme?
You could choose a black or gray marble and have that be the predominant color in the room. This will make the entire bathroom feel like you are painting your own masterpiece.
You can even bring in accessories like frames, rugs, mirrors, and even light fixtures to produce an artistic feel.
However, a great way to create an artistic design is to use tiles as art. Think outside the box and create beautiful patterns like diagonal tiles with two colors, plank tiles, or even mosaic patterns.
Marble Tile Bathroom Ideas for an Eclectic Bathroom
Eclectic is a mix of different styles and ideas. If you want an eclectic bathroom, you can bring in a marble tile that is textured or patterned for the floor, wall, and even shower.
You can use marble tiles with a cool gray, gray stone background and blue or green accents.
You could also use tiles on the floor that are all one color and then use marble tiles as a countertop or background for cabinets.
Create Your Dream Bathroom Today
Marble is a versatile stone that's been used for hundreds of years to bring style and appeal to any room or setting.
The stone has stood the test of time, so you can feel confident that your bathroom will look great for years to come.
Now that you have read some marble tile bathroom ideas, you can bring this timeless beauty into your own home today.
Are you looking for the right tools for your next tiling project? Shop around today!