A true professional is always looking to improve his craft. So learn everything you need to know from the pros at RUBI in the tile installation. Each step is laid out so that anybody from a DIYer to a seasoned veteran installer can learn something.
INDEX
How to lay tile
Step 1: Choosing the Material
When deciding on what type of material to go with for your tile installation project, it's important to consider where the tile will be in your home. Tile is a multi-purpose material that works well in a variety of places:
Kitchen
Bathroom
Flooring
The exterior of your home
There are more than just one or two different types of tiles. Depending upon where the tile will be, your personal style, and how durable it needs to be, there's the perfect style for your tile installation project.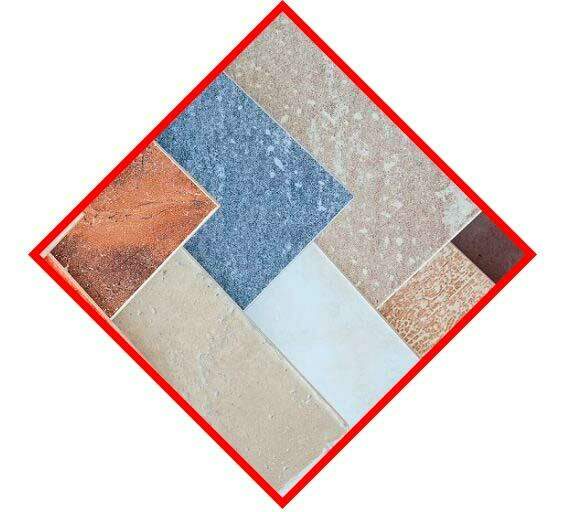 Choose from the following types of tile materials:
Ceramic
Porcelain
Cement
Marble
Granite
Limestone
Travertine
Quarry
Several design trends are inspiring homeowners, interior designers, and architects when figuring out the type of tile to use in a project. Maybe you'll be inspired by some of them as you embark on your DIY project.
Some of the trends for 2021 are:
Matte tiles
Graphic tiles
Subway tiles
Wood tiles
Neutral colored tiles
Hexagonal tiles
When choosing a tile material and style, consider your aesthetic and where the tile will be installed in your home. That will guarantee you choose a product that you love and that be around for years to come.
Step 2: Cutting Ceramic Tiles
Now that you've selected your tile, we move onto the next step in your tile installation project: cutting. To cut your tile effectively and not waste product due to making incorrect cuts, you'll need a reliable saw.
There are four common types of tile saws:
Snap or Rail Manual Cutters : A must-have, basic, economic, portable, and effective tool for the majority of your tile cutting needs
Handheld Wet Tile Saws: Typically used for any touch-ups during a tile installation project
Tabletop Wet Tile Saws: Smaller and more portable than an overheard tile saw
Overhead Motor Wet Tile Saws: Professional grade saws that come with an adjustable stand
Tile cutting isn't difficult. Having the proper tools for the tile you're working with and the project's scope is essential to complete the job. If you decide to work with a wet tile saw, you'll need a few quality diamond blades on hand.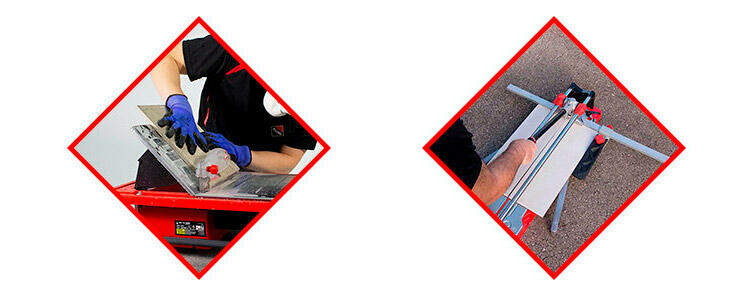 Step 3: Preparing the Surface
Tile is a wonderful option for flooring in a bathroom, kitchen, or entryway. The tile can apply it over different types of subfloor.
There are a few things you'll need to do when preparing the surface for tile installation:
Concrete Subfloor: Repair all cracks, replace any sections that need it, and clean with water
Plywood Subfloor: Check for cracks around plumbing fixtures, fix weak areas, and fill in any low parts
Tile Subfloor: Remove the tile if you'd like or apply thin-set over it before tile installation
Cushioned vinyl, sheet metal, masonite, and chipboard are not recommended subfloors for installing tile, and some may choose to remove them before installing. However there are multiple solutions for adecuately installing over these materials, which we cover more in depth in our blog.
Step 4: Mix the Adhesive
A reliable adhesive or mortar mixer is another vital tool in any home tile installation project. Mixers come with different types of paddle attachments to choose from depending upon the viscosity of the material and the amount you're mixing.
If you have a big batch of mortar to mix, you'll need a bigger paddle and a mixer with greater mixing potential.
When mixing the mortar, keep these tips in mind:
Add the amount of water recommended by the manufacturer
It should be as thick as peanut butter
Let the adhesive set for 2-3 minutes after mixing
Mix for one minute before using the adhesive
Notice when it begins to stiffen up
Step 5: Apply the Mortar
If you mixed the mortar properly, it should have standing ridges without any slumping when you spread it onto your subfloor with a trowel.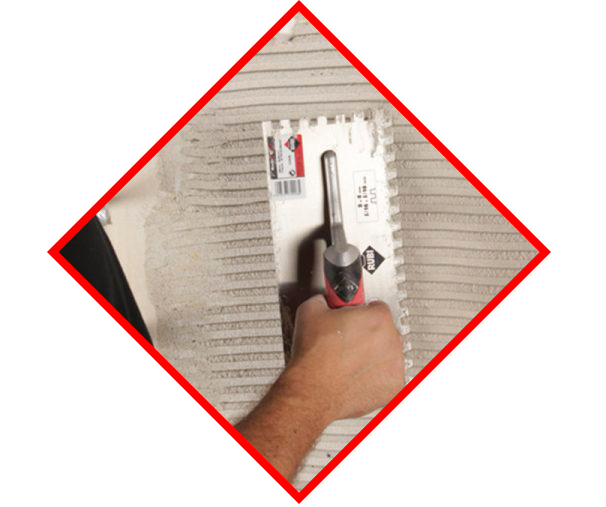 But what is mortar anyway? Well, mortar is composed of cement, sand, and/or lime and it's adequate to use with the majority of ceramic tiles because it's recommended for use with materials that absorb a lot of water. This is makes it good for use with many tiles because they are highly porous.
However, nowadays the majority of ceramic tiles have very low porosity, some practically have none, such as porcelain. That's why adhesives have evolved into the more modern ceramic adhesives we see on the market today, which guarantee a correct adhesion even in the least porous materials, thanks to the chemical additives that it has.
A 50-pound bag of mortar should easily cover a 40-50 square foot area using a 1/2 inch notch trowel. The same size of the bag will cover a 30-40 square foot space with a 2/4 inch trowel.
Step 6: Laying the Ceramic Tile
Having the proper tools, tile, and adhesives will guarantee you success in your tiling project. There are many moving parts when working with tile, but if you plan and do your research, you'll have no problem at all.
Tile Installation Tools
Mortar
The proportion of Cement and Sand for Mortar
Perfecting the recipe for mortar will help you achieve the strongest bond between your surface and the tile. Inadequate mortar can result in your entire project failing or issues throughout the process.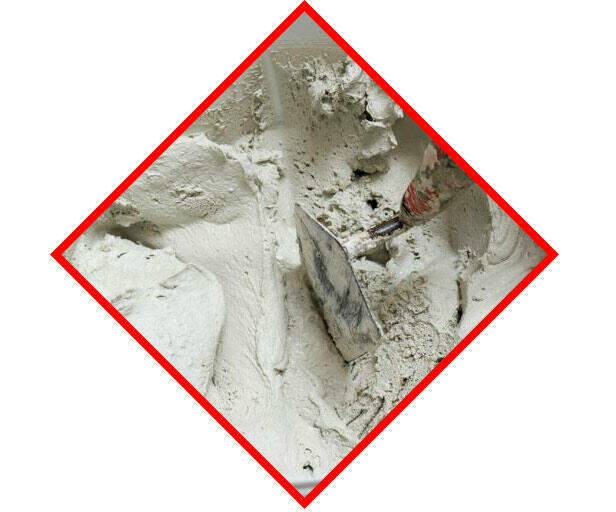 Most mortars include the following ingredients:
Portland cement
Sand
Lime
Various chemically manufactured additives
You need to add in the right amount of water and mortar to make a fairly thick consistency. You will also need to mix it for a long time — at least five to 10 minutes. This may seem like a long time, but it's vital to make sure the individual molecules, additives, and cement, are blended and saturated.
One term you'll often hear when reading about mortar preparation is slaking—in simple terms, slaking means letting the mortar mixture sit for over ten minutes. Remember, don't touch it! You need to give the chemicals in the mixture time to start working.
Adhesive
Types of Adhesives: What to Consider
Thinset is another type of adhesive that can be used in tile installation projects. It's a mix of water, cement, and fine sand. It's typically used when applying tile to concrete or cement surfaces.
There are two types of thinset: modified and unmodified.
Unmodified thinset has been around for quite some time, but modified thinset has become more prominent in the tile installation field in recent years.
Modified thinset includes additional adhesive products that unmodified mortar doesn't, specifically, latex polymers—these work to increase the strength and performance of the thinset. Additionally, with some modified thinset, you don't have to mix it with water before spreading it on the subfloor.
When working with thinset, keep these tips in mind:
Add dry thinset to water, not the other way around
Mix the thinset slowly as if you're mixing cake batter so it doesn't splash out
Use your thinset within 20-30 minutes of mixing
Leveling Systems
An uneven floor can ruin your entire project if you don't take the necessary steps to avoid it. To prevent tile lippage, use a tile leveling system. Having an uneven floor is not only unappealing but can create a tripping hazard as well.
Tile lippage is when the edges of two adjoining tiles are vertically displaced. They're set at two different levels. They may be spaced evenly in width, but they're not in height.
To correctly install tile on an uneven floor, you'll need the following tools:
Chalk or contractor line
Square notched trowel
Mortar
Grinder
Sponge, bucket, and brush
Unfortunately, even if you've done everything in your power for your tile installation project to be on an even floor, there still can be irregularities in the tiles themselves. The leveling system can help you in this area. It interlocks the tiles, making sure the surface is flat and smooth while the thinset dries.
A tile leveling system comes with caps, strips, and pliers. They work together to prevent the tiles from moving while the compound sets in.
Spatula and Trowel
Ergonomic tools specially designed to match your hand to the handle's shape are vital when completing a tile installation project. For example, a spatula helps you apply the grout or mortar to the surface you're working on. You'll need to decide if you need a flexible or rigid spatula based on the material you're working with.
You'll also need a notched trowel in your tool kit for your tile installation project. It helps you spread the mortar on whatever surface you're tiling.
There are a few types of trowels out there:
U-Notch: Spreads the mortar thinner and works well for tiles larger than 4″
V-Notch: Typically used for mosaics and tiles up to 4 1/2″
Square Notch: Spreads more thinset than the other types of trowels and is used for larger tiles
Flat Trowel: A finishing trowel that smoothes the surface area
YW Notched Trowel: Designed with special notches that optimize moistening
Suction Cups for Tile Installation
Suction cups are used for moving tiles around quickly, easily, and without cutting your hands. You can easily move, manipulate, and place tiles weighing up to 110 kg (242lbs) with different types of surfaces (smooth, rough, or structured) using the wide variety of suction cups and tile manipulation systems that RUBI offers.
They come equipped with a grasp and release handle, allowing for easy use.

Crosspieces, Joints, T's
To create a seamless look in your tile installation, you'll want to make sure the tiles are properly spaced apart. This can be accomplished with tile spacers.
They come equipped with a crosspiece to ensure the tiles have the same amount of distance between them.
Protection Elements
While one of the purposes of wet saws is to eliminate tile dust from coating the air, you still need to wear protective gear when working on a tile installation project. First, it would help if you protect yourself from breathing in harmful products.
Some examples of protective gear you'll need for your tile installation project are:
Face Mask: Protects your airways.
Goggles: Protects your eyes from ceramic or glaze particles
Ear Protector: Helps you avoid discomfort or other possible injuries
Lumbar Protector: Prevents back injuries from moving heavy objects and working in uncomfortable positions
Kneepads: Protects your knees when kneeling on hard surfaces
Gloves: Protects your hands against harmful chemicals or broken tile
Tile Installation According to the Room
How to Tile a Floor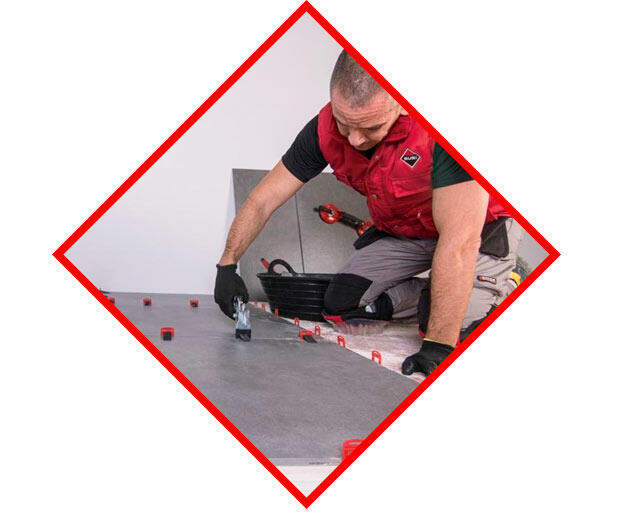 Large-format tiles are typically used when installing tiles on your floor. They are good for your laundry room, kitchen, entryway, or bathroom as they have fewer joints that can collect grime, absorb water, or grow mold. However, they are more difficult to cut, so tile installers will need special tools to assist them in the process.
When installing floors, you'll want to measure the area you're tiling properly to avoid purchasing too much or too little tile. Once you measure the area, you'll need to convert the square footage into how many tiles you need.
How to Install Wall Tile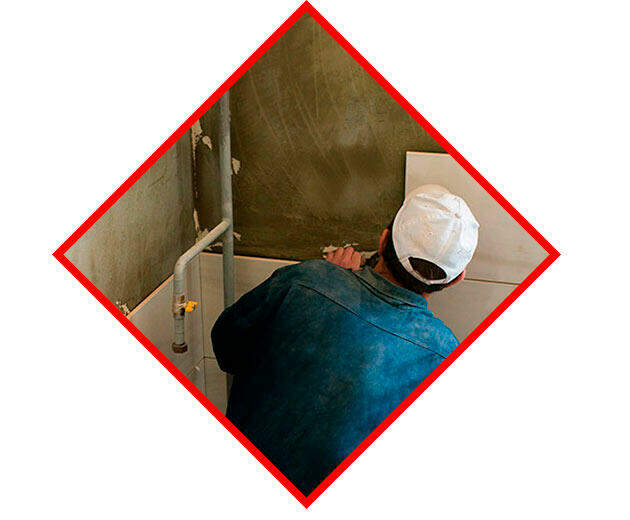 Tiling the wall around your fireplace or other places in your home adds a unique flair to your interior design. It's a great tile installation project for beginners to undertake as it's low-risk and not too expensive. Instead of painting your fireplace, opt for tiling. Instead of looking great, it'll add to the resell value of your home.
When tiling a wall, it's especially likely that you'll need to perforate some of your tiles, to make holes for things like electrical, water, and gas outlets. This is when you'll want a grinder or power drill and a diamond drill bit.
How to Install Tile Backsplash in the Kitchen
A cost-effective way to improve your home and increase its value is by adding a new backsplash to your kitchen. It's another easy project that you can do yourself over the course of a weekend.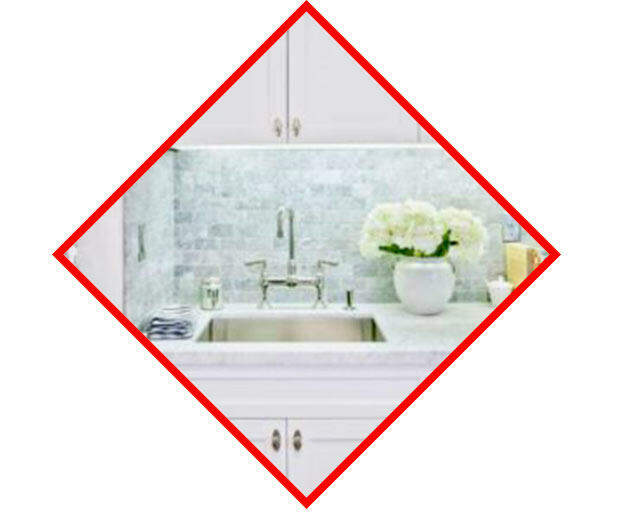 If your kitchen is fairly neutral in color, add a pop of visual appeal by picking a bold backsplash. You can mix and match tile colors to create a unique and funky design.
Ceramic, porcelain, and glass are typically used in kitchen backsplashes as they're easy to keep clean. With all the grease and other materials that can happen in kitchens, you want something that you can easily wipe off. They also are the more affordable options as far as tiles go.
If you really want to be bold, explore using a mixed media tile. These stone or glass tiles add color, texture, and depth in a normally neutral space.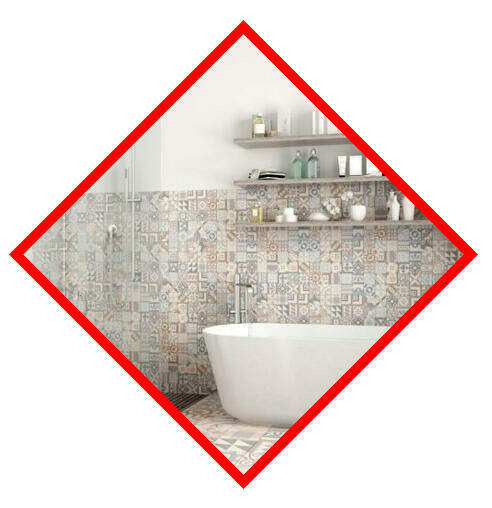 You're not limited to only tiling a backsplash or floor in a bathroom. You can tile your bathroom shower. You don't have to be limited to one color or a basic pattern. Explore interesting patterns or color combinations to draw visual interest to your shower. Being creative with a pattern can give your bathroom a modern edge over the typical black and white color scheme.
A tile floor is traditional for a bathroom, but it's another great way to make your bathroom come alive. Choose quality materials that will withstand wear and tear and water. Knowing how to cut around a toilet is vital to ensuring the tile is installed properly and you don't have any costly errors.
Exterior Tile Installation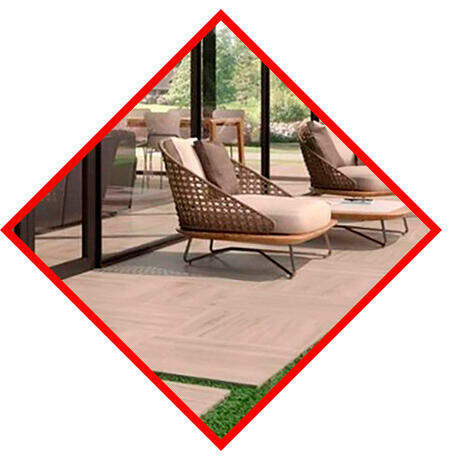 Tile installation isn't limited to only indoors. For example, you can install tile on the exterior of your home in some of the following places:
Porcelain tile works well outside as it provides the following benefits:
Durable
Weather-resistant
Easy to maintain
Easy to install
Slip-resistant
If you have a tile installation project outside, look into an exterior waterproofing product. It helps keep dirt from penetrating the pores of different types of tiles and makes cleaning them far easier. You can clean your tiles with pressurized water or various detergents.
How to lay specialized tiles
How to install ceramic tile
As you've read above, the process of laying ceramic tiles can be broken down into about 5 major steps.
First, you need to lay the subfloor, to make sure your installation is long lasting and has a good finish.
Next, you need to measure your floor, calculate how many tiles you'll need to cover it, find its center point or the most distinct wall, and choose a starting point based on these factors.
After that, it's recommended to lay the tiles out on the floor without adhesive to give yourself a very clear idea of exactly how the floorspace will be filled and how many tiles need to be adjusted or cut.
After you've made your cuts, you execute the installation by laying the adhesive, laying the tiles, adding in the levelling system, letting the adhesive dry.
Finally by spreading the grout.
As we begin to look at more specialized types of tiles, the installation techniques begin to change.
Wood look tile installation
Wood look tile can be challenging, above all because it isn't as flat as you'd think. There is almost always a slight curvature to wood-look tile and this, coupled with its length and the popularity of installing it with a full offset, can result in serious lippage problems.
Still, you can achieve a great finish with this kind of tile by using a levelling system, a good quality thin set, and an adequate joint of at least 1/16th inch.
Tile to Carpet Transitions
Transitioning between floor types can be difficult, but we have plenty information available for you to do it perfectly.
There are several methods for transitioning between tile and carpet specifically, but you'll almost always need to add a transition strip of some kind to do it. From there, the methods of installation diverge.
You can use the tuck-in method (in which you use the hooks of a transition strip and the nails of a tack strip to hold the carpet in place), or a Z-bar transition (which hides the end of the carpet under the tile).
Then there's also the options of mounting tack strips to the sub floor or using a reducer strip.
What are the different tile patterns?
Subway Tile
Subway tiles refer to rectangular tiles that have one side that is twice as long as the other, usually 3 inches x 6 inches. These tiles are very popular and classic, and get their name from the first New York City subway stations in which they were installed. Depending on how you lay them, you can achieve a very clean and polished look, or a rugged rustic one.
Below you can see some of the patterns in which subway tile can be laid to achieve different looks for your interior space. Bear in mind that any one of these patterns is equally compatible with square tiles as they are with subway tiles, so you have plenty of options:
Horizontal Stack or Grid
The tiles are laid horizontally and centered on top of and next to each other so that the grout lines are continuous, creating an effect that looks like a grid and giving an organized, continuous, polished look to your space. This pattern can be laid using Subway tiles as well as square tiles.
Vertical Stack or Grid
Much like the horizontal grid, the tiles are laid centered on top of and next to each, this time vertically, other so that the grout lines are continuous, again creating an effect that looks like an organized continuous grid.
Offset / Staggered
Technically speaking, "Offset" and "Stagger" are not single patterns in and of themselves, but instead are concepts that help us describe different patterns. The terms "Stagger" and "Offset" refer to the extent to which tiles are laid uncentered on top of one another. If two tiles of the same size are laid so that 20% of the top tile extends beyond the side border of the bottom tile, than the two tiles are said to have been laid with a 20% offset.
Brick
The Brick pattern is achieved when we use a 50% offset or stagger.
1/3 Offset
In this offset patter, the tiles are laid uncentered by 33%, or 1/3 of the length of the tile.
Other Tile Patterns
Herringbone
With the herringbone pattern, the tiles are laid diagonally along the wall, and they are laid so that the short side of the second tile is laid against the end of the long side of the second tile. This creates a 45-degree angle V shape.
Pinwheel
In this pattern, two different tiles of different sizes are used, and one needs to be substantially smaller than the other. The smaller tile needs to be laid along the end of each side of the larger tile so that their borders are continuous.
Versailles
By combining two 8×8 inch, one 8×16 inch, two 16×16 inch, and one 16×24 inch tile, this pattern covers an 8 square foot area each time it is repeated. This pattern is especially popular to use with travertine tiles, which combine with the seemingly random appearance of the tiles' placements to give a very natural but still stylish feeling to a room.
Diagonal / Diamond
To achieve this pattern, you lay the tiles in a grid so that all of the grout joints are continuous, just as you would in the Grid pattern. What's different here, is that the tiles are not laid straight, but are instead turned at a 45-degree angle. This pattern is usually made with square tiles.
Chevron
This pattern is unique in that it requires rhombus-shaped tiles rather than rectangular or square ones. It is achieved by laying the with their opposite short ends touching each other. This results in a 45-degree V shape.