After the installation of ceramic materials, you should take additional measures to improve their appearance and conservation.
Although nowadays ceramic materials are increasingly technical and of higher quality, there are some useful products available to improve and conserve this type of materials on walls, floors and other surfaces. As a professional, you should use or recommend using these products.
To be fair, not any ceramic material needs further protection. For example, glazed materials do not require it since the glaze already performs this function. However, you should pay special attention to porous and microporous materials because they are more likely to stain or damage than other sorts of ceramic materials.
There are two important issues to consider when selecting the right treatment: first, the nature of the material (porcelain stoneware, rustic stoneware, marble, granite, etc.); and, ultimately, its finish (whether it is polished or matt). These features will determine the right method and the appropriate products to use in order to achieve the best results.
No matter the ceramic material you are using or the kind of treatment you consider proper, there are two key rules you must follow in any situation:
You should never perform acid cleaning on recently installed surfaces, because acid reacts with unset cement and may damage the grouts or produce insoluble compounds on the ceramic surface.
Avoid employing metal spatulas or abrasive pads when applying the cleaning product. In most cases, utilizing sponges will help you perform the easiest and most effective application.
RUBI® provides a wide range of sponges specifically designed for such method.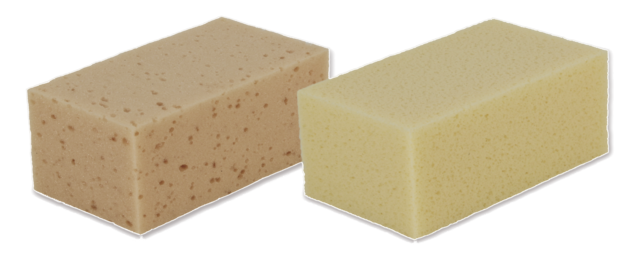 Each type of ceramic material demands special treatment and care. For this purpose, RUBI® has developed a wide line of cleaning products and chemical solutions.
For example, the surface of rustic stoneware or terracotta is usually treated with a sealing procedure or by applying waxes. Both approaches seek to protect the surface and prevent dirt from getting into the material's pores.
Obviously, waxing is not the same procedure as waterproofing. Wax coating not only provides protection, but also improves the finish of ceramic materials, generally increasing its shine. In such case, RUBI® recommends the POROUS SURFACE WAX (RW-70) and MAINTENANCE WAX (RW-72). Waterproofing, however, adds a stronger protection against stains, adverse weather conditions and pollution.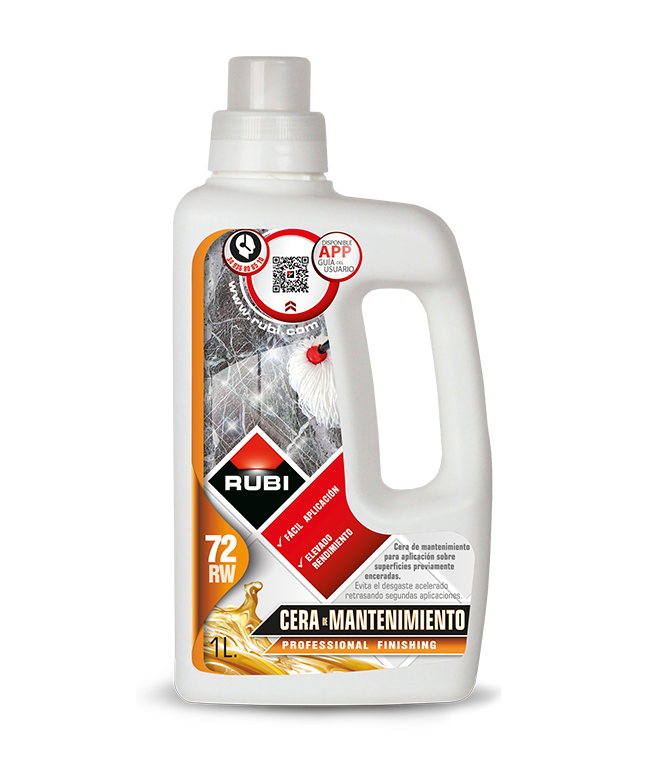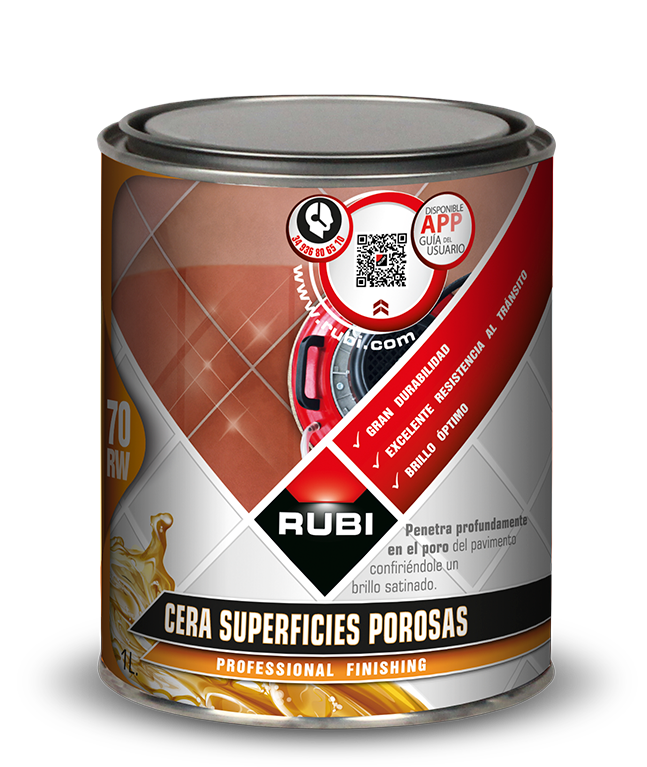 For their part, natural stones – marble and granite – also need special care. When dealing with this type of material, you must prevent dirt and stains from penetrating into the pores, and thus ease maintenance. It is recommended to apply specific products for waterproofing the surface of marble and granite, such as the STAIN PROTECTOR (RP-51).
Other regular procedures, like polishing or crystallizing, ease the renewal of the original shine on these surfaces. It is worth remembering that the use of acidic materials on the surface of natural stones with polished finish could diminish its shine.
Finally, let's talk about the surface of porcelain stoneware. This microporous material has a very low level of water absorption, which makes porcelain stoneware nearly impermeable by nature. However, extra protection is also recommended.
You could apply the same product used to protect marble and granite (RP-51).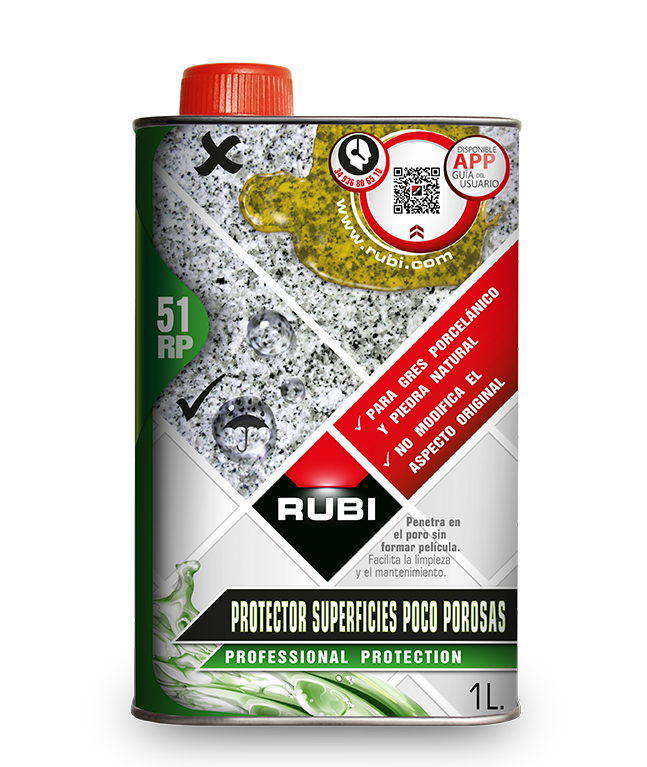 The chemical resistance of porcelain stoneware is very high and could be only affected by hydrofluoric acid or its components. Nevertheless, using neutral detergents is still the best method for the regular cleaning of this sort of ceramic material. For this purpose, you should try the SURFACE CLEANER (RC-30), which is recommended by the RUBI®'s experts.
If you need to know more about our line of chemical products, you may visit our RUBI Cleaning section, or download the app RUBI Chemical (available for tablets and smartphones).
*Currently, these cleaning products are only available in Europe, but soon they will be distributed in other countries. Stay tuned.*