Want to add some personality to your home without going overboard on a budget? It would help if you had the right interior tile. The right tile can add the pop of color, texture, and style your home needs. Our partners from Daltile have many tile options and designs at your disposal. You can find a way to show off your interior style no matter what your design aesthetic is. They have the trends you are looking for and the tools you will need for their proper installation. Bring out your rustic hues and try contemporary patterns to tie the room together.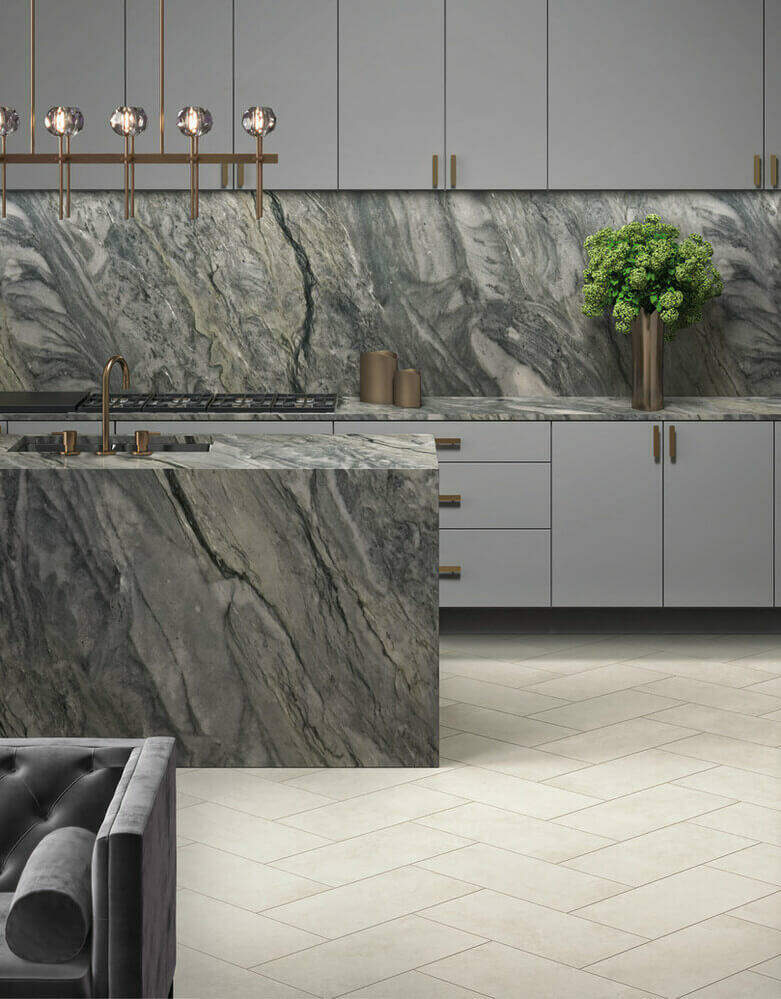 Need some inspiration for timeless interior tile designs? Look no further! These classic tile designs will stand the test of time without making your home look bland. Read on for ideas and inspiration brought to you by Daltile Tile & Stone. Imagine what's possible!
Marble Checkerboard
One of the most classic tile designs is the checkerboard. It has a vintage feel that has remained popular for decades. However, many interior designers have found a way to make this tile design feel updated and contemporary.
Use a marble tile in two different colors to create a checkered pattern. Black and white is the classic choice. But you can also use gray and white or gray and black.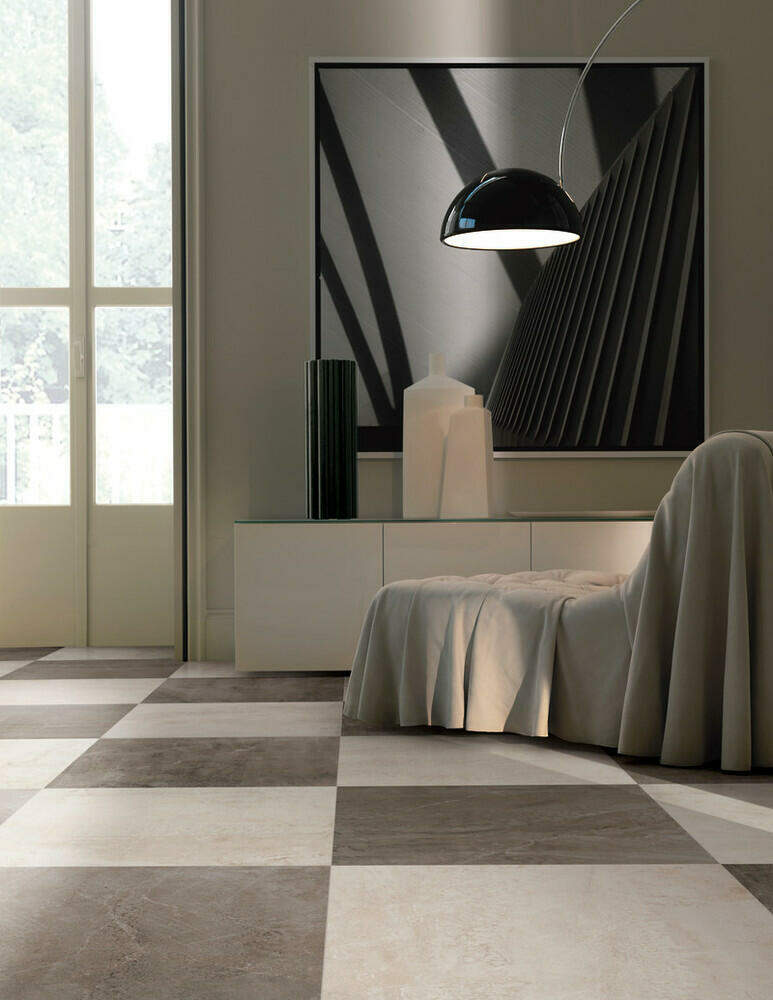 Make it more contemporary by incorporating colors like blue and green with neutrals like black and white. Checkerboard floors make a great impression in the entryway.
Gorgeous Geometric
Geometric tiles have been on the rise in interior design trends. This is a broader umbrella term for tile designs that use geometric shapes and patterns. These are a great way to add a pop of pattern, creating a detail in a room.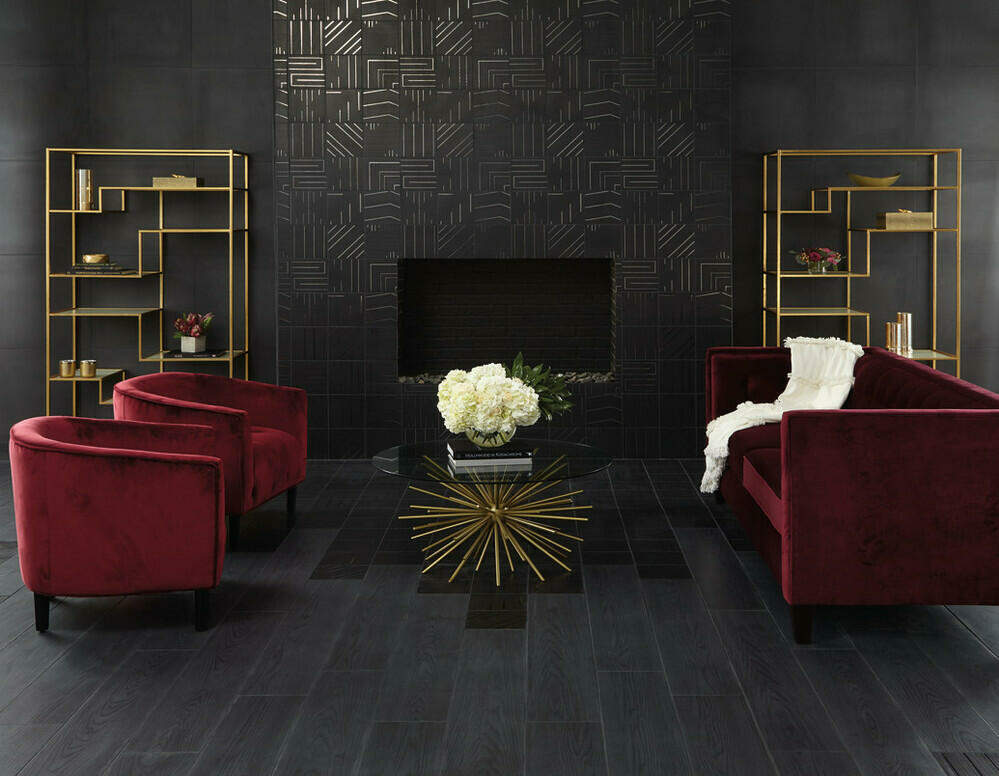 Geometric tiles can look clean and modern through popular shapes like cubes and line designs. You will probably see a lot of art deco-inspired tiles with geometric designs. Whimsical designs like stars are a trendy option.
You can make this tile timeless by sticking with neutral colors to fit in with many interior styles. However, the geometric style tends to add more pattern, so you don't want to overwhelm the design with many colors.
Geometric designs look great as a kitchen backsplash, in your bathroom shower, and around a fireplace.
Be Multi-Faceted
If you're looking for a tile that stands out, why not get a tile that does exactly that? You don't only have to look at colors and patterns when trying to find the right tile; you should also look for texture.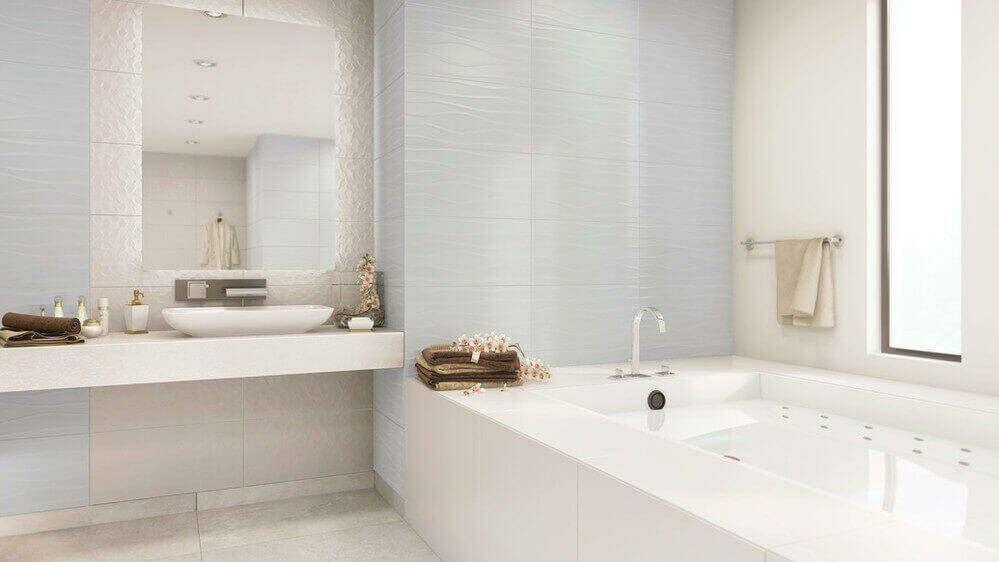 Many tiles have a three-dimensional look and feel to them. The raised details will add something different to your design without going too overboard.
Try a subway tile with a raised center or a metallic tile with an embossed pattern. These tiles often come in understated designs and colors so that the texture is the main focal point. The texture will always be timeless.
Use faceted tile in the bathroom and kitchen.
Natural Stone
Natural stone is an interior tile design that's not going out of style anytime soon. It's never explicitly listed as a trend of the year, but it's almost always a feature of interior designs. That's a testament to its longevity in homes.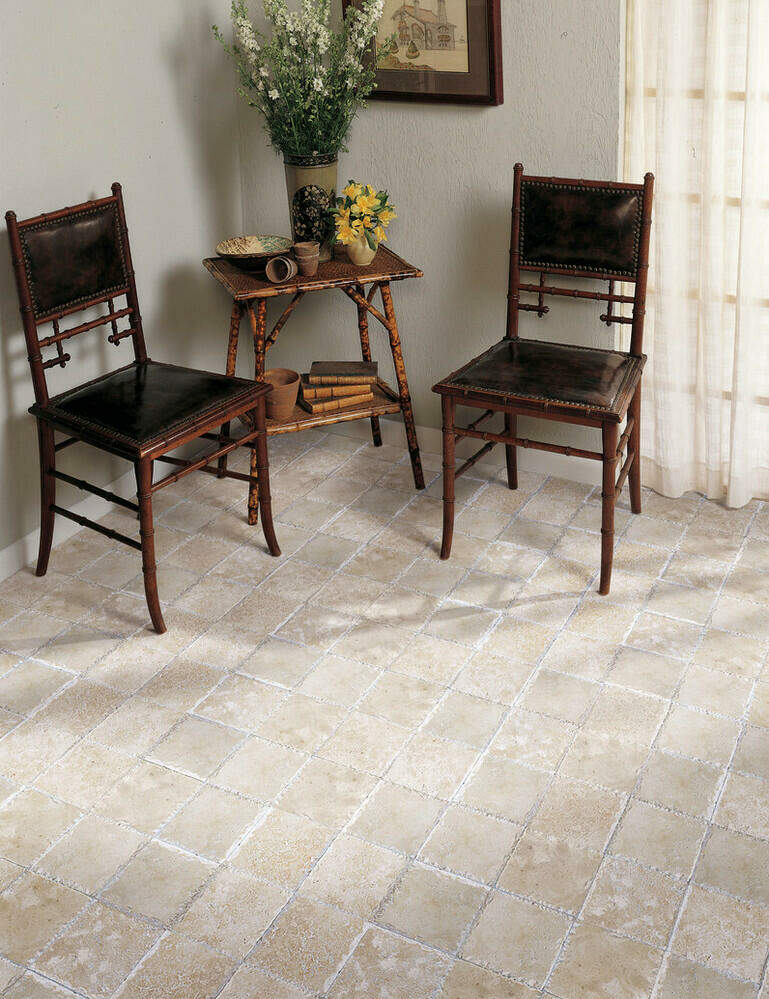 Inspired by nature, these tiles are a great way to bring the outdoors in. And the neutral color scheme they often come in allows them to fit every design from now and years to come.
Use larger stone tiles as flooring and try laying the tiles in a different pattern to add some visual interest. Stacked stone looks great around a fireplace. It will add a cozy feel when your turn on the fire.
Natural stone also looks great in a bathroom, like a pebble flooring in the shower.
Rustic Brick
One of the most popular interior design styles is rustic. This term encompasses shabby chic, country, farmhouse, and many more. One of the best ways to add a rustic feel to your home is with brick tile.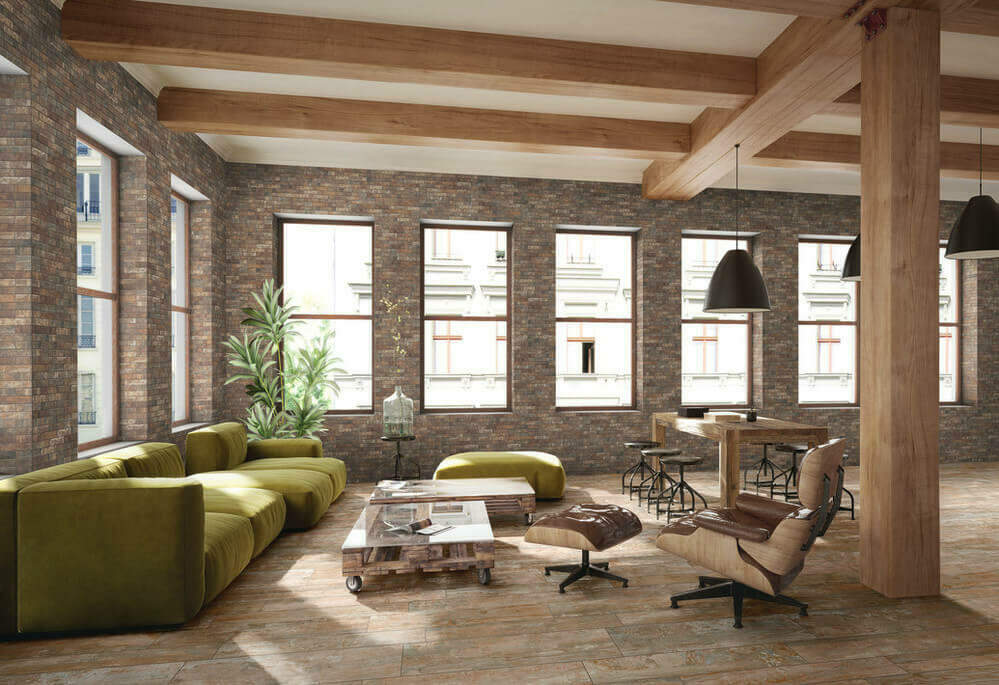 Brick is fun, edgy, and can give an old-world feel to your home. It can add color without being overwhelming, especially with so many options. White-washed and German-smeared bricks are a popular variation.
Brick tile will create a stunning accent wall in a living room. But you can also use it around a fireplace for a homey look or as flooring for something unique.
Monochrome Spanish Tile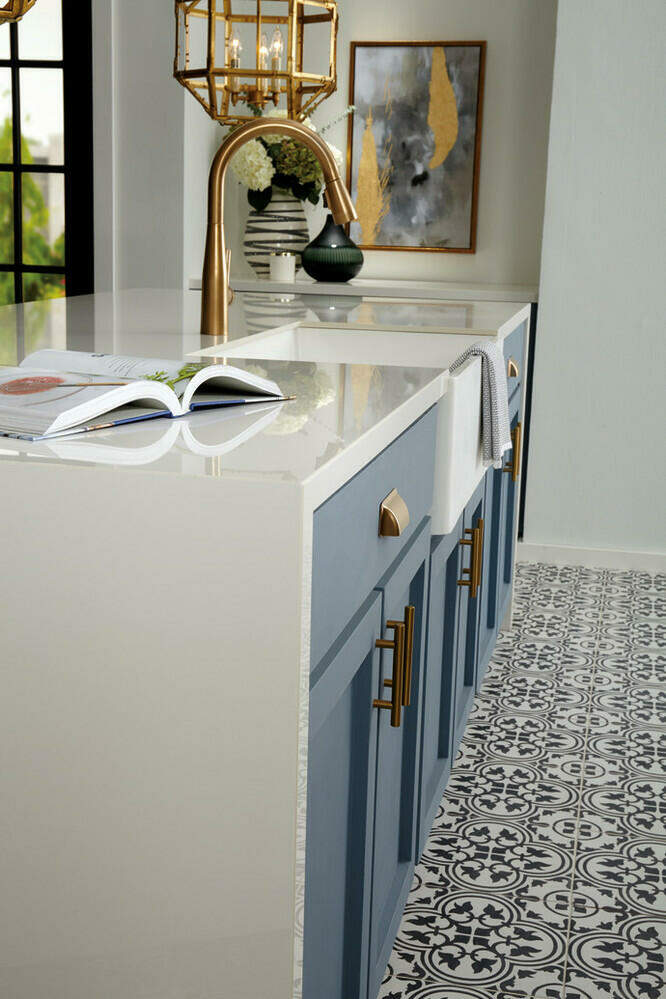 Spanish tiles are a favorite for interior designs and home rehabbers because they add a lot of personality to the design while remaining universally liked. Many people think of the famous Spanish design and imagine it in color.
However, lots of colors may not fit into everyone's color scheme. That's where monochrome Spanish tile comes into play. These tiles in black and white or black and gray make for stunning detail that can work in many homes.
Add a pattern that will enhance your overall design without adding too much color that drowns out the rest of the room. For example, Spanish tiles add a lot of character to bohemian-inspired and eclectic homes.
You can use this almost anywhere in the home: around the fireplace, as flooring, or on a kitchen backsplash. It's trendy throughout the bathroom, like in the shower and behind the vanity.
Penny (Tile) for Your Thoughts
Bigger isn't always better when it comes to tile. But, sometimes, you will get the biggest impact with the smallest tile. Penny tiles are not new to the interior design world, but they're definitely gaining popularity in recent years.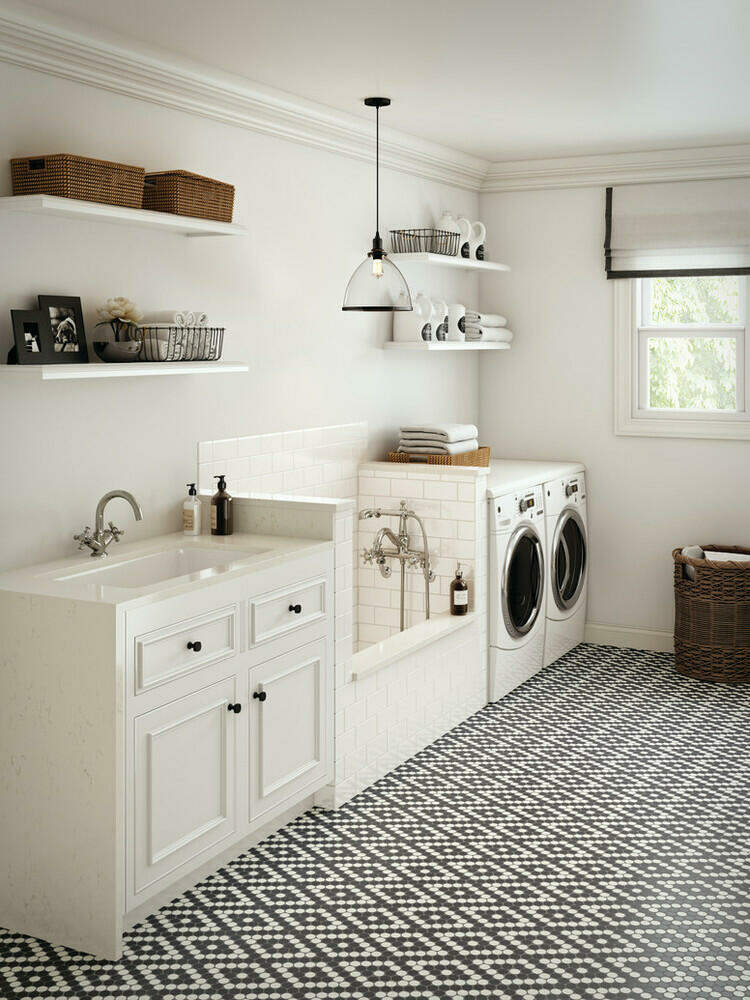 These small, circular tiles are almost always unexpected in an interior design, but for the right reasons. Small and mighty, these tiles add a lot of texture and movement to a room. The simple design allows you to play around with color.
Black and white, of course, are always popular. But you'll find shades of blues, greens, and pinks, as well as metallic tiles in a lot of home inspiration. For example, Penny tiles make a great backsplash as well as flooring in the bathroom.
Go Glossy
We've talked about color, shape, and texture, but what about the finish? The tile finish is often an afterthought, but it can be a great way to make classic interior tile design styles feel more contemporary.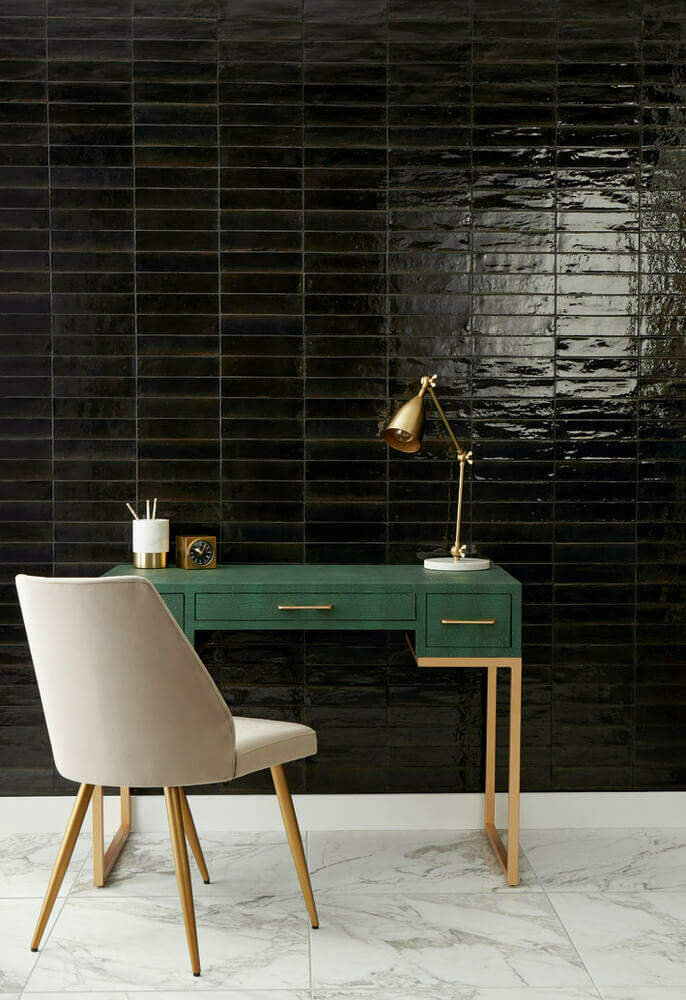 Super glossy tile gives whatever room it's in luxury feel without having to pay luxury prices. Glossy tiles typically come without patterns, but you can find them in a variety of colors. Black and white tile often gives the most luxe feel.
Smaller glossy tiles look great as a backsplash in the kitchen and as accents in the bathroom. Larger tiles will greatly impact flooring, especially in a foyer, kitchen, and living room.
Magnificent Mosaic
Mosaic tile isn't just one type of tile but rather a term that refers to a combination of tiles that come together to create a larger design. Different sizes, colors, and shapes are often utilized.
When it comes to tiles, some mosaics are set on a sheet for easy installation. However, you can place tiles individually to create the pattern. If you love color or want to create a pattern, using tiles for a mosaic is a great option.
But you can also use similarly colored or monochrome tiles to add an accent to a room. A fireplace and a backsplash are classic places for these tiles. But you can get creative and use them to highlight detail like a vanity mirror.
Marble Herringbone
Marble is one of the most classic materials in interior design. But if you're looking for a way to make it more contemporary, you can try a herringbone pattern.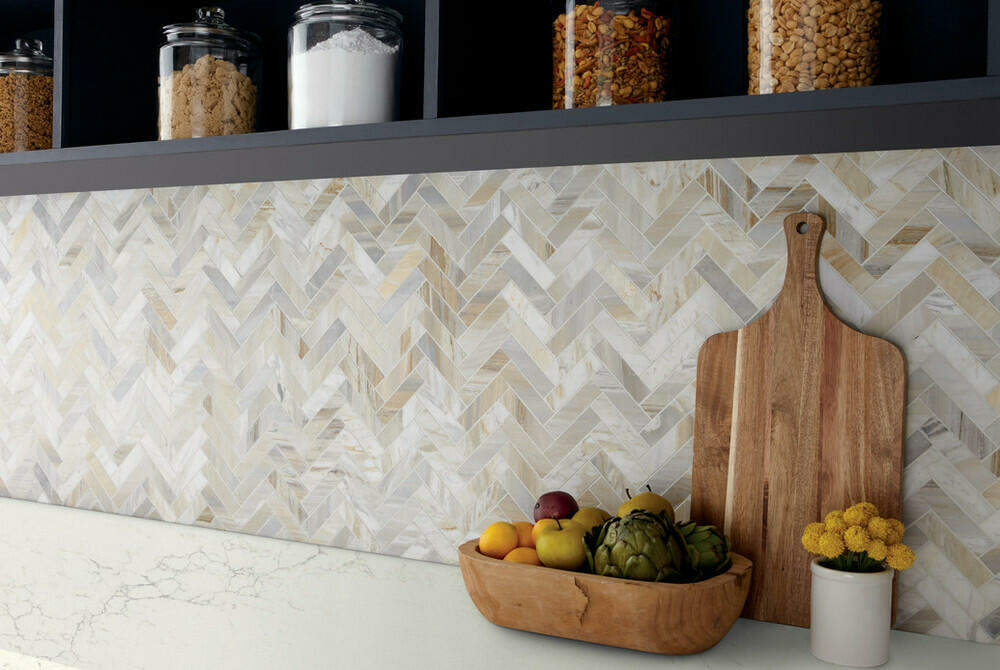 Herringbone has been one of the most popular tile design ideas for years. This weaving, V-shaped pattern is a great way to add visual interest to your home. You can find many ways to set your herringbone pattern apart.
Smaller tiles make great backsplashes, shower tiles, and fireplace surrounds. Use larger tiles for flooring or as a wall accent. You can also play around with color and marble veining to make a truly unique design.
Mad About Matte
Glistening tiles are definitely more popular, which is all the more reason to be different and choose a matte finish. A matte finish is sleeker and more contemporary. But with classic colors, this tile can be timeless.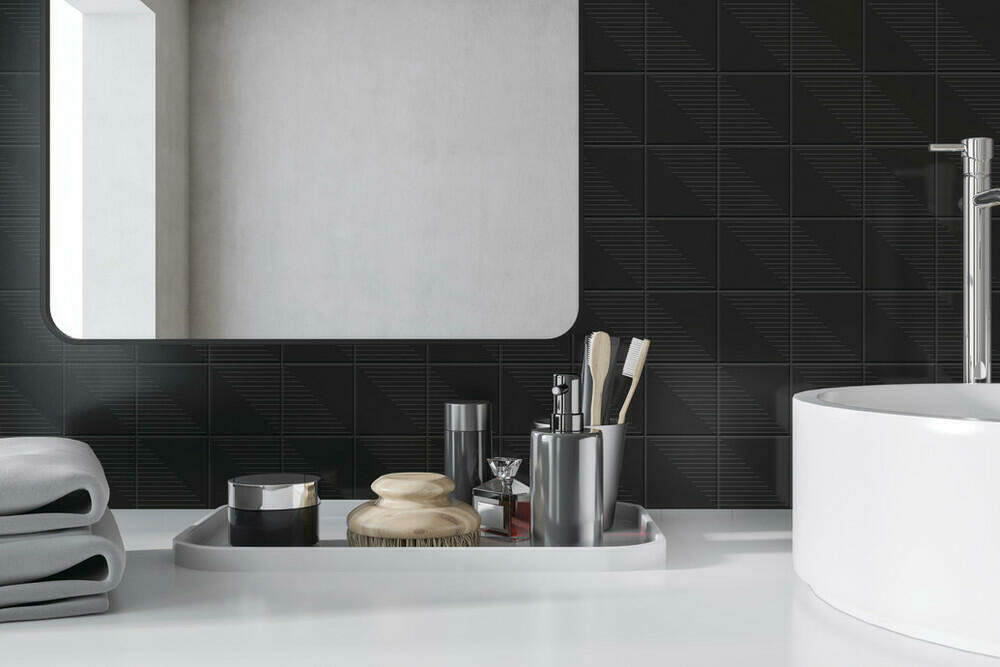 A color that looks great in a matte finish is black. While many people may shy away from black, it's a great color to use in interior design for a stunning and chic room.
You can find matte black tiles in classic shapes like rectangles, circles, and squares. But you may want to try hexagons and diamonds or in patterns like chevron and herringbone.
A matte black tile can look great throughout the home. Kitchens and bathrooms can look stylish with matte black tiles. If you want a bigger impact, consider using these tiles as flooring.
Transform Your Home With Interior Tile Designs
If your home has a monotone color scheme, no patterned accents, and nothing that catches your eye, your home design might be looking a bit bland. It's easy to let small design details slip during a home remodel.
So if you want to add a bit of personality and visual interest to your home, you should consider using interior tile to create unique designs, add color, and give pattern and texture to the room.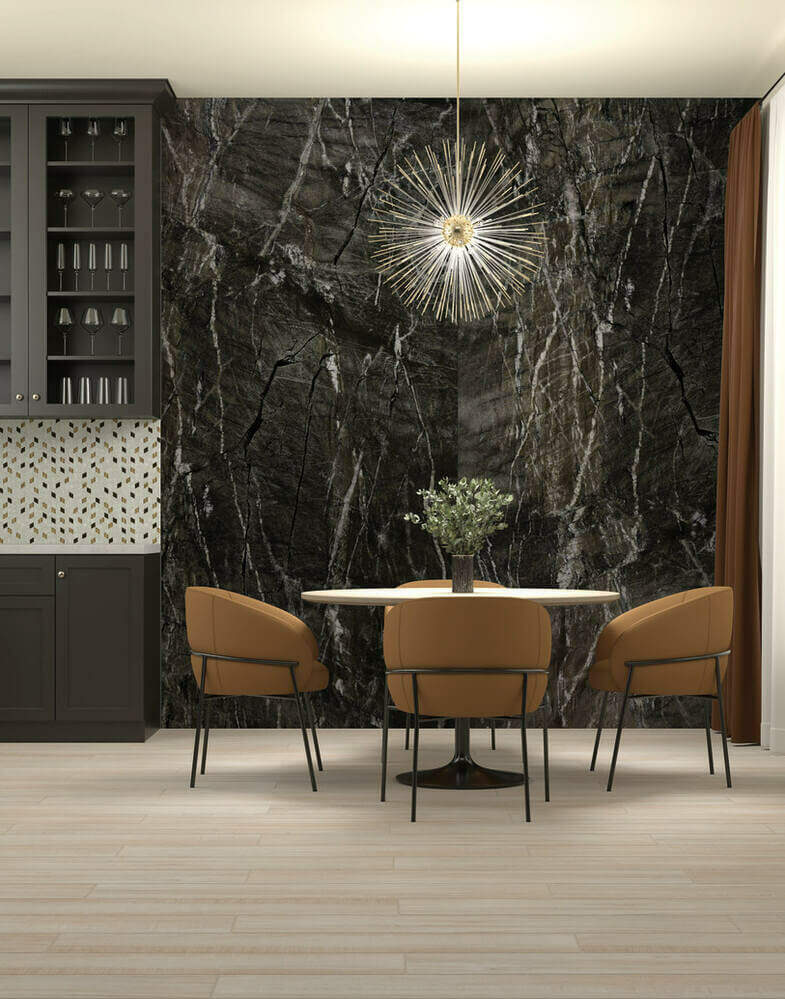 Even the most simple tile designs can make your home stand out. These classic tile designs will add a timeless feature that you'll love for years to come.
Inspired to create your dream design with tile? Check out our complete product line of tile installation tools that will make your project become a reality.