According to a recent study, over 10.4 million homes in the US have a pool, and this number is set to rise. In Europe, the market for home spas and swimming pools exceeded $1 billion. It is no secret that pools are big business. Perhaps you already have a pool in need of an upgrade, or you're in the early stages of a pool tile installation. Either way, you'll be eager to know what the current pool tile ideas and on-trend designs are.
You might be feeling daunted getting started with your pool design. After all, there's a lot to think about, plus installing tiles for a swimming pool is a big financial commitment, so it's important to get it right.
Whether you're looking for a bold top-to-bottom design, to mimic the look of a tropical island, you're after a more classic look, or you're using mosaics but with a modern twist, this article is for you. Here you'll find 7 beautiful swimming pool ideas for inspiration!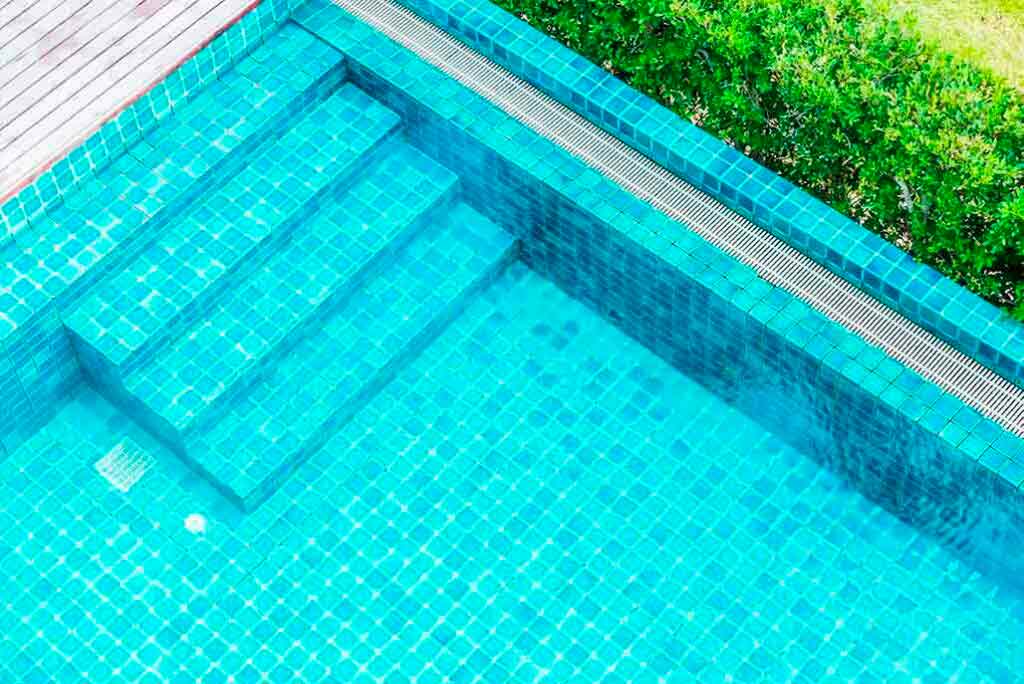 Pool Tiles That Merge the Water and the Sky
By using glass mosaic tiles in shades of blue, you can create a look that becomes almost infinity pool-like. Blue is universally associated with the color of the sky and the ocean, and the semi-translucence of the glass tiles makes the two blend almost seamlessly.
During the day, the glass tiles glisten under the water, and at night, with the use of subtle yet ambient lighting, the pool gains a mesmerizing aura. Whichever time of the day, with this pool tile idea, your pool will look beautiful. This look also gives the appearance of luxury, so it helps to boost the value of your home.
Glass mosaic tiles are available in modular patterns and with a high gloss finish. They are available in a wide range of colors, although for this look, stick with shades of blue in a mostly uniform color.
Mediterranean Inspired Feature Wall
If your swimming pool sits at a lower level than the building, then you can easily create feature walls from the vertical space adjacent to your swimming pool, opening up a world of new pool tile ideas.
You could use pool tiles with an iridescent finish or with a slight metallic look that glistens in a multitude of eye-catching colors. Twin this with some large plants and some stylish poolside furniture to create a Mediterranean feel.
Depending on which way the wall is facing, this design can also make an excellent sun trap, which will extend the usage season of your pool.
Adding some sympathetic lighting features on the wall can also make this a great hosting spot for parties with family and friends, or a romantic dinner spot.
Period Pattern Waterline Tiles
If you live in a period-style home, then a modern design pool will look out of place. Instead, choose a design feature from your home and incorporate this into your pool design.
The easiest way to do this is by choosing swimming pool tiles that feature an art deco, Tudor, or nouveau design and using these as a border to the waterline on your pool. A tricky aspect of choosing water line tiles is to choose something that is a balance between aesthetics and functionality. Choosing something too garish can make the design look kitsch or dated. The best tiles to use are porcelain tiles that feature a subtle hint of the design period, which will help to blend a modern pool with an older-style home. Try to choose tiles that have a low profile, as this will make them easier to clean any residue or water marks. Porcelain tiles are durable, dense, and have high water resistance.
Abundance of Blues
If you're looking to recreate a home spa look that stimulates relaxation, then opt for a range of blues. Blue is known for its tranquility-inducing properties. If you're worried that the use of just one color is going to look too block-like, then you can use a range of blues or mix it up by using a selection of tile surfaces.
Mix glass tiles, with larger porcelain tiles, or go for a modular pattern that features different shades to recreate a classic spa look. If you do choose to go for a single shade of blue, look at getting an iridescent finish to add some variety.
This design of the pool works well in modern settings, with the backdrop of a clean white building. You can enhance the tranquil feel by using white gravel features in plant beds to give this a super luxurious feel through the creation of a backyard oasis.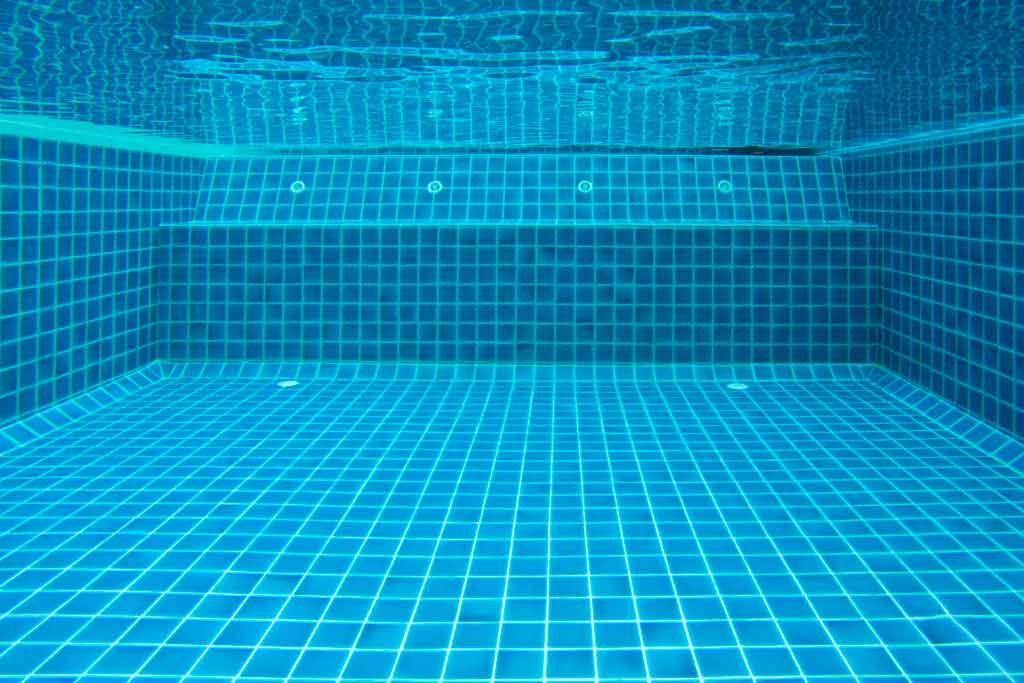 Polar Opposites
This idea works well for existing pools, where you might be looking at upgrading the look but are limited by the existing shape. Work with the old design, rather than against it to create a vintage design but with a modern twist.
Colors like vibrant cobalt blue in classic stacked squares work well. Use a contrasting color to add a retro twist to the design. Think about the boldness of the 60s and 70s but with an up-to-date twist.
Accessorize the pool patio and surroundings by choosing an accent color; this could be through the use of plant pots, furniture, and vibrant cushions.
Be careful not to go too over the top with colors; otherwise, it can look chaotic. If you're going for a vintage look, then cobalt blue works exceptionally well with bright yellows and vibrant oranges.
Custom Designs and Pool Mosaics
If you're a creative type, then customization of tiles could be the way to add your personality to your pool design, by creating something truly uniquely and perfectly tailored to your style. Customization opens up many new options of pool tile ideas.
An easy way of creating unique patterns is by using small square glass tiles, although this can be a time-consuming technique, the finished result is worth it.
Another popular choice to personalize your swimming pool is the use of porcelain mosaics. These are available, often pre-made in a multitude of designs from classic dolphins through to contemporary medallions, or even custom designs.
Tropical Beach
A popular color combination takes inspiration from the look and feel of a tropical beach. Recreate the feel of a vacation by decorating your swimming pool using the pool tiles in shades of turquoise, complemented with light sand-colored stones.
Glass pool tiles work well for this, as they mimic the look of the glistening ocean. Choose them in a modular pattern in shades of cobalt, blues, white, and subtle yellows.
These tiles can be installed across the circumference of the pool and water lines. To bring the look together, utilize light-colored wooden planks, or use a chunky rope to line the outer of your plant beds. For the ultimate tropical feel, add some colorful flowers like hibiscus plants to finish off the look.
Things to Consider When Choosing Pool Tiles
The choice of pool tiles is going to have the biggest impact on the overall look and feel of your pool. Choose the wrong ones, and your pool could end up looking lackluster. Choose the right ones, and you'll have a feature that you're proud of for years to come. Here's a summary of the things you should be considering when you choose your pool tiles.
Color
Think of which color combinations you will be using. Most tile centers will allow you to have samples. Think of colors that complement each other.
Also think of the surrounding area, such as the landscaping of the garden, and any buildings.
Finish
Pool tiles come in a multitude of finishes. Some are classic glossy, others have a matte finish. They are also available in metallic and iridescent.
Like with the choice of color, think about how the different finishes will work tougher with the surrounding area.
Style
The style you opt for will dictate which pool tile you choose. Your pool should complement your home, and a modern pool will look out of place alongside a period-style home.
Pattern
If you've done any research into tiles, then you'll find that they come in a wide range of patterns. Think about the design.
Are you going to use a random pattern in the color range, or are you going for a single color only? Think about how this style fits in with the overall aesthetics.
Material
You will want to use a durable and low-maintenance tile for your pool. The best materials to go for are glass, ceramic, porcelain, and natural stone.
Need Help With Your Pool Tiling Project?
In this article, we've covered some of the most on-trend pool tile ideas for you to try.
If you're in the planning stages of your project or renovating your existing pool, Rubi has everything you need to know.
This ranges from helping you select the correct tiles, to easy-to-follow installation tips and tool guides to help you create a professional-looking finish, as well as how to maintain your tiles for years to come.
We are the leading supplier of top-quality tiles. Contact our knowledgeable team today, who will be happy to discuss any questions you might have about tiles, or visit our site for more tile inspiration like these pool tile ideas.