Key improvements of the RUBI TS manual tile cutter
Its separation power up to 550 kg, case and new handles are some of the major upgrades of the completely redesigned manual tile cutter RUBI TS.
Keep being the most acclaimed manual tile cutter, that's the purpose behind the new RUBI TS. This tool improves the benefits of its predecessors, which led to the powerful model TS-75.
The most remarkable feature of the remodeled RUBI TS lies in its separation power: now it reaches 550 kg, a record for this type of tools.
Also, its wheels are compatible with the traditional RUBI wheels, from 6 to 22 mm. Additionally, now you can use the new family of RUBI wheels that include bearings. You will notice the difference in touch, precision, and durability.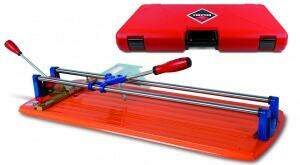 Other changes
Beyond the separation power, the new RUBI TS changed a lot, and for good. For instance, the handgrip mechanism includes more ergonomic handles that adapt better to the user's hands. Besides, the side tops were also redesigned to get higher precision.
Worry about how to carry the manual tile cutter? You can do it with a redesigned new case that provides higher resistance against falls and hits.
The line of TS manual tile cutters now include a new member: TS-75 model, a perfect tool deal with any tile format up to 75 cm, which is currently a very popular size.
No less important, the new RUBI TS keeps some core features from the precedent models: the base that offers great stability, and the recalibrated chromed-iron guides.