The electric cutter RUBI DX-250 Laser&Level is one of the most important releases of the company to cut tiles and other building materials at a professional level. In fact, it is one of the most accurate tools in this catalogue of products.
There are two things in this electric cutter RUBI DX-250 Laser&Level that makes possible this millimeter precision. One of them is the laser that is equipped in the tool, whose main function is tracing a line on the material we will cut but without leaving any kind of mark or spot. This way, the laser becomes a guide while we are sliding the engine with the diamond disc to cut.
The other thing that makes the difference regarding to the precision is the bubble level of the tool. This system is very useful when you install the cutter, so that is much easier to get a complete horizontal levelling.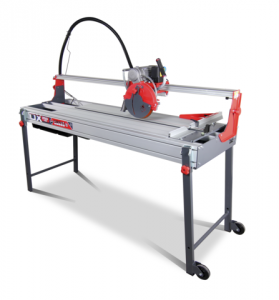 Other features of the cutter RUBI DX-250 Laser&Level
Beyond these former two things, the electric cutter RUBI DX-250 Laser&Level offers you some other features of top level. For instance, its thermal regulator system. By one hand, it is equipped with a protector that avoids overcurrent. And by the other hand, its water pump cooling disk with tap gets to keep the disk always refrigerated.
It is also very interesting the fact that the head of the engine is adjustable, and furthermore it makes possible to cut with a trimmer effect. Other accessories render easier the movements of the user, such as the stops to work with repetitive cuts.
And of course, a large range of details turn this electric cutter RUBI DX-250 Laser&Leve into a very friendly tool: its legs are retractable, its wheels allow you to transport it easily, the aluminium table is removable for cleaning… Definitely, this is a tool of the highest level with the highest precision to cut any kind of building material.