Are you sick of your dull old tile finish? If so, it is time you consider home remodeling. Trying to remove tiles is a home improvement project that can save you a lot of money $$$. It can be a difficult task, but it is also relatively simple if you follow a few simple steps. When taking down a tile installation, it is also critical to follow safety precautions and use the proper tile removal tools.
Luckily, the tools you will require aren't prohibitively expensive, and you may already have some of them. Please remember that shards of smashed tiles may be very sharp, so practice safety first to avoid unnecessary injuries.
Read on to learn about all the tile removal tools you may need for your home project.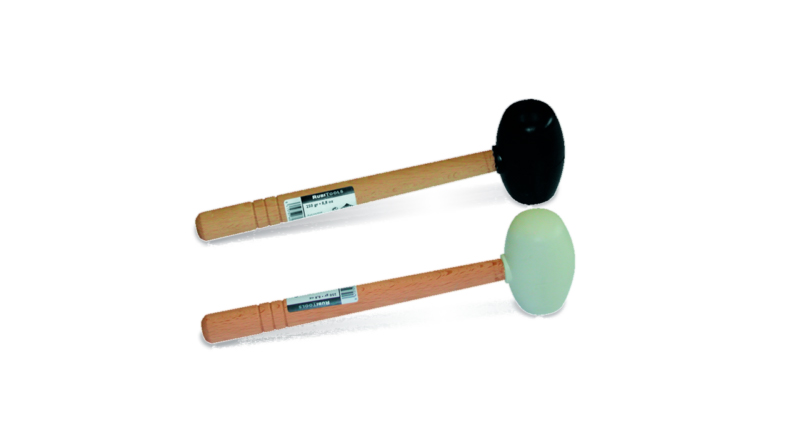 Hammer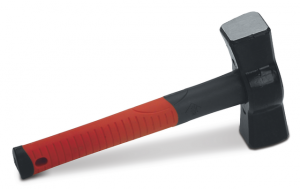 If you already don't own one, purchasing a hammer will be your next best thing. A hammer will ensure the removal of your tiles on a budget.
Claw hammers will also do the job, but you need to be a little more careful.
A Mallet hammer is best suited for tile removal jobs. But a claw hammer can also suffice if you
own one. The only reason mallet hammer is most preferred is because it can quickly force chisel under the tiles.
Masonry Chisel
A masonry chisel is a tool that you will need to access hard-to-reach corners. Sometimes you can also use a chisel together with a hammer.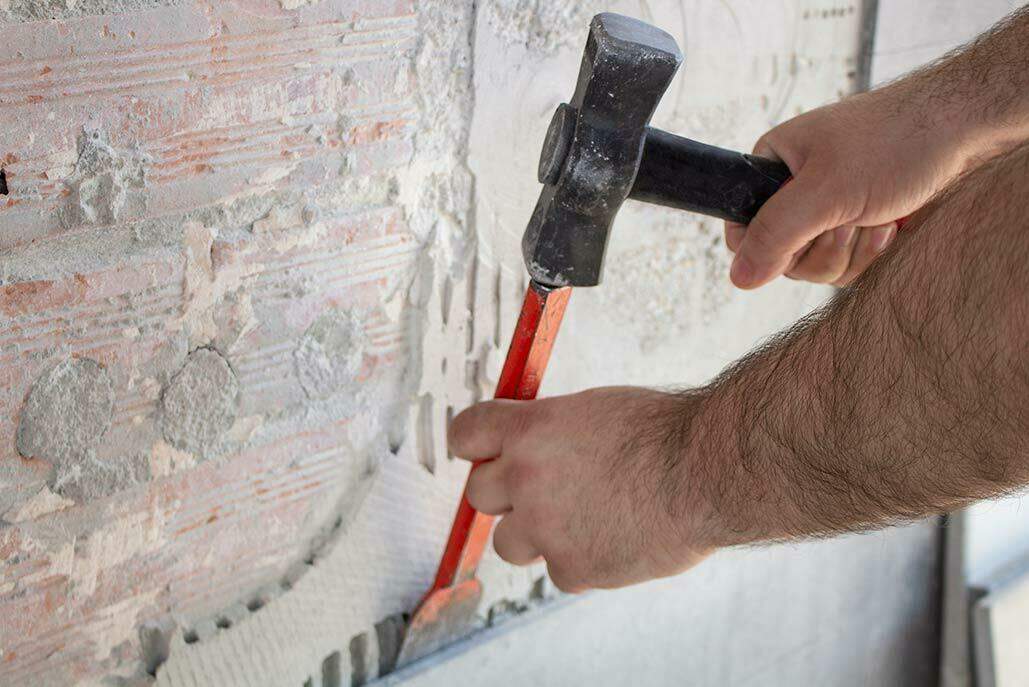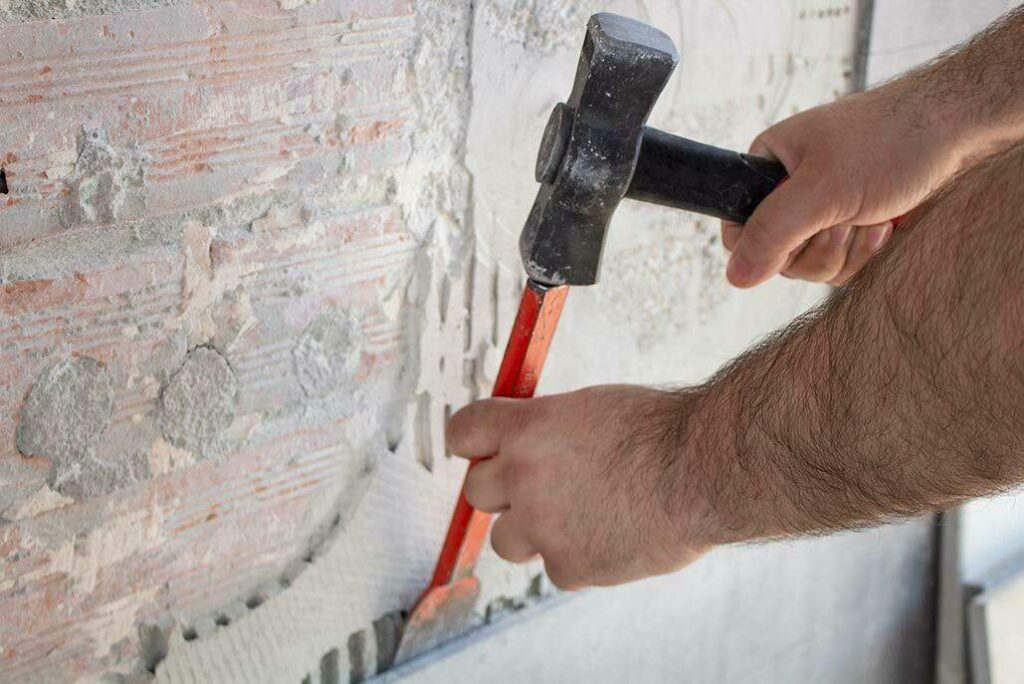 The masonry chisel not only do an excellent tile lifting job but is also on budget. You can comfortably remove the entire floor using a hammer and a chisel though the job may take longer.
Sledgehammer
A sledgehammer is a tool you will use in the demolition of tiles and before removing them. It is more effective than a hammer. However, it is not ideal in all situations. For instance, it will not be the best tool to remove tiles in a bathroom space in its entirety.
A sledgehammer requires space around you so you can be able to swing it.
When using a sledgehammer, you also need to take extra care not to damage items around you. For instance, when removing tiles in the kitchen when the kitchen is not being renovated.
Drill and Tile Drill Bit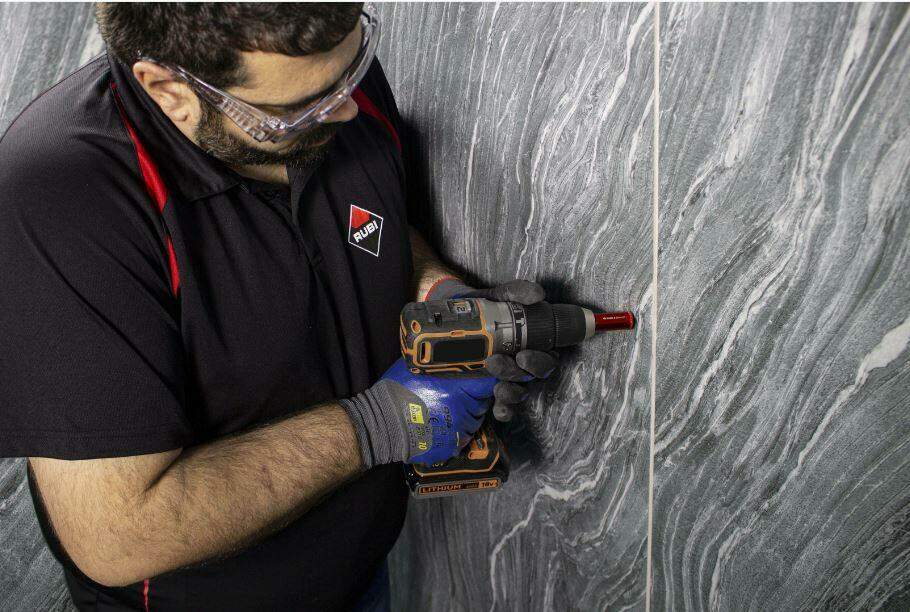 You can use a drill bit to drill holes on a particular stubborn tile. By boring holes on them, it becomes effortless to remove the structure using different tools.
You may also need a different type of drill bit depending on the material of the tile you are removing. For instance, ceramic tiles are difficult to drill and might need a diamond drill bit. At RUBI Tools we have options that you can choose from.
Air Hammer
Air hammer is a fantastic tool that makes tile removal much more manageable.
The hammer relies on pressurized air to swing hammer back and forth in an efficient manner. The hammer can produce as many as 5000 swings per second.
Furthermore, you can also fix the chisel head into the air hammer. This will help you chip tiles or grout much faster. A chisel onto the air hammer may be less accurate than a manual one, but it requires less effort.
Floor Scraper
This is a tool that you will use if your tiles aren't stuck together too tightly.
A floor scraper is a hand tool with an angled razor-thin scraper attached at the end. The scraper is effective for poking beneath the tile, you press on the handle, and the scraper lifts the tile up.
The tool is sturdy and inexpensive. However, it is not helpful for other jobs around your home.
Pry Bar
This tool operates the same way as a tile scraper but has more uses.
The bar is made from chunky steel, meaning it is very sturdy and long-lasting. At the bar's edge, it has an angled edge, which makes it an effective tool you can use to lift tiles beneath.
You can also use a pry bar as a chisel, especially if you don't own one.
Jack Hammer
This tool works the same way as an air hammer, but it is much more powerful.
If you have ample space to remove tiles, a jackhammer will get the job done. But before considering purchasing or hiring the tool, remember:
• A jackhammer is a powerful tool that only experienced people should handle
• Jack Hammer can compromise the integrity of the floor beneath the tiles while in the wrong hands
Grout Removal Tool
Grout removal tasks require precision, but the process is made easier with a great tool like the RUBI Scraper, an electric grout scraper for grout removal without damaging the tile. With blades made in tungsten carbide, this patented model makes this task a breeze.
After removing tiles, you are likely to find grout lines remaining on your floor. Though you can use a chisel and hammer to remove them, the tools are time-consuming and may not be effective with a large space.
A grout removal machine is an excellent tool to invest in for a home renovation project.
Demolition Fork
This tool has proven to be more effective than a floor scraper. When you have this tool, it allows you to use force to dig them out.
Like a pry bar, demolition folk is reliable and sturdy. It is ideal for tiles removal or other demolition projects. The tool can easily lift a whole room of tiles, though you may feel exhausted afterward.
Purchase the Best Tile Removal Tools Today
Now, you know what tile removal tools you need to get the job done. We have discussed plenty of tools you can use, both power and hand tools, and the job each can handle.
Rubi tile cutter has been your professional companion since 1951. We are top world manufacturers of tiles removal tools. Whether you want to cut and lay ceramic tiles, you can count on Rubi Tile Cutter. Quality is our priority to ensure that our tools have the needed efficiency.