One of the most critical points in the application of grout / mortar joints, especially in white or light colors, is to avoid its contamination, so as not to alter the final color. Within that process, the time of cleaning debris of grout mortar is essential, just as the tools we use. The higher the level of wringing a sponge or trowel, the better the finished level of the joint, so is imperative to use the right tools.
Therefore, we have to know how to use a professional bucket to clean mortar: TRIPLE RUBICLEAN SUPERPRO, a lightweight, compact and resistant, designed to satisfy the most demanding tillers.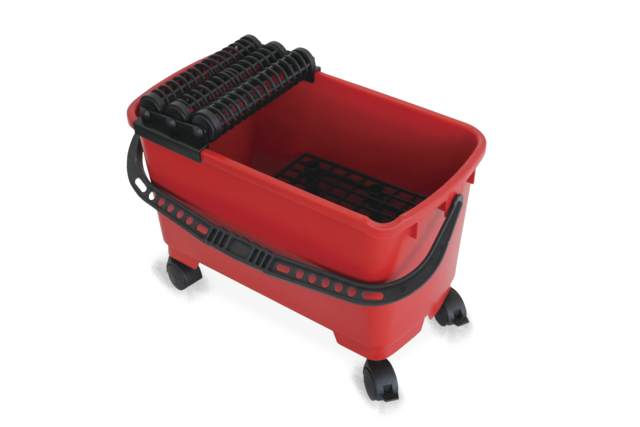 Advice on use:
The RUBICLEAN TRIPLE SuperPro rubber basket has a maximum capacity of 22 liters; not to confuse its full capacity with its useful work capacity which is 10 liters.
The appropriate useful capacity is up to the grid which covers slightly the cleaning and wetting of the sponge or trowel without an excessive load in the rubber basket, while avoiding a high water consumption, uncomfortable splashes and heavy transport.
Equipped with three squeeze rolls, made of durable nylon and designed in a spiral. Managing the excess water absorbed by our sponge or trowel in a quick, efficient manner and greatly reducing the execution times and optimizing the cleaning process. Furthermore, these rollers can be removed, facilitating the cleaning of the tool itself.
Another thing worth considering is the carrying handle, oriented longitudinally, allowing the user to carry the rubber basket in a comfortable and as close to the body as possible, reducing the risk of unwanted movements and its consequences.
Finally, we highlight, the brake block or two of the wheels incorporating the RUBICLEAN SUPERPRO TRIPLE rubber basket which allow us to avoid unnecessary movements and the peak-shaped recess of one of its corners that will facilitate the emptying of the bucket.