Welcome to a new RUBI post! This time, we are here to explain to you about one of our favourite product families: diamond bits for tile drilling.
Many of you know RUBI better, as the pioneers in the design and manufacturing of tile cutters, more than products such as bit drills or diamond blades. However, we are also experts in this category, since over the years we have become true "Diamond experts". Cutting blades, drill bits and polishing pads, make up the RUBI diamond range, which, in recent years, has had a very important growth, becoming one of our most strategic product ranges.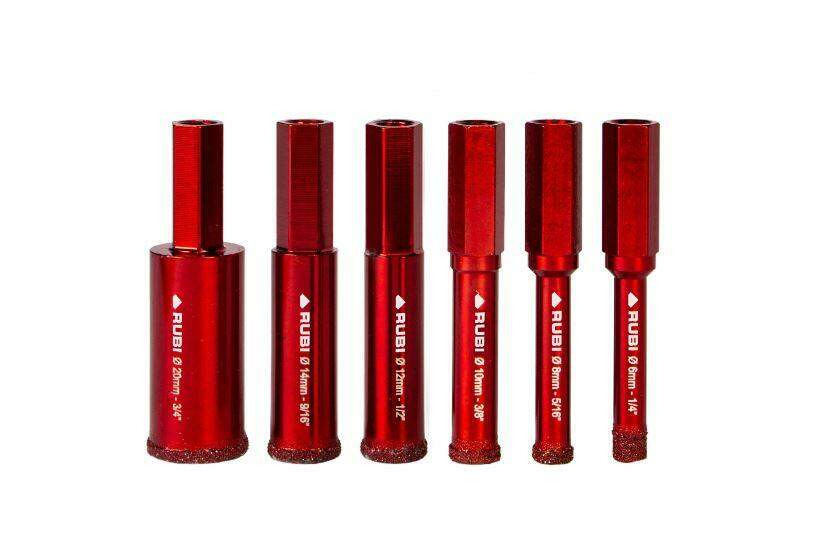 At RUBI, we keep making efforts in the development and constant improvement of our products, thanks to the commitment to technological innovation that identifies us as a brand.
At RUBI we have a wide range of diamond drill bits and cutting blades, both for drilling and cutting dry or wet.
However, today we are going to focus on the completely renewed range of our RUBI DRYGRES 4DRILL bits for dry drilling of porcelain stoneware, which are also suitable for other ceramic materials and natural stones.
This range, as its name implies, is designed to work with drills of all kinds, but especially cordless ones. The reason, as you know, is that cordless drills operate at lower rpm, which demands more from the bits since they are usually designed to operate at higher rpm. This is not the case of the new DRYGRES 4DRILL, given that this renovated range has been created to work with drills from 1000 rpm to 3000 rpm. We recommend working with these drill bits between 1000 and 2500 rpm.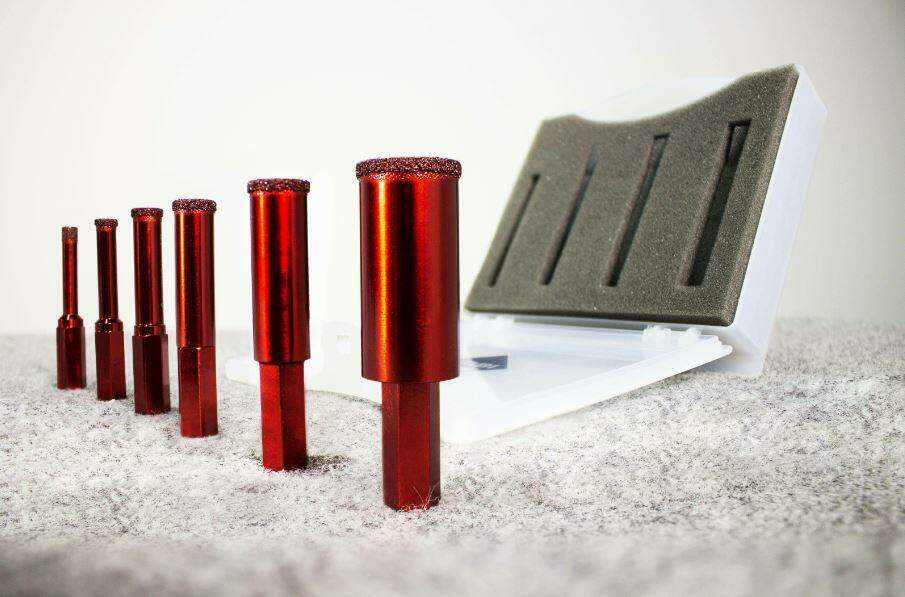 One of new DRYGRES 4DRILL outstanding feature is its quick grip on the material to be drilled preventing slipping (EASY START), turning the use of a drilling guide into something optional. This has been achieved with the development of its vacuum brazed diamond beads. This solution has provided a longer life expectancy and higher performance throughout the range.
Diamond bits DRYGRES 4DRILL bits are designed to be used dry because they are, self-cooled by the integrated wax and by air.
The air-cooling is due to the rotation of the bit when drilling and through the orbital movement that we must make with the drill while drilling.
These bits consist of a reinforced body with a set screw that keeps the wax at the top of the bit and offers better performance and rigidity. When drilling we should let the bit do its work, without applying too much pressure and drilling at a normal rate, without forcing. Remember that we must ALWAYS drill without the hammer function.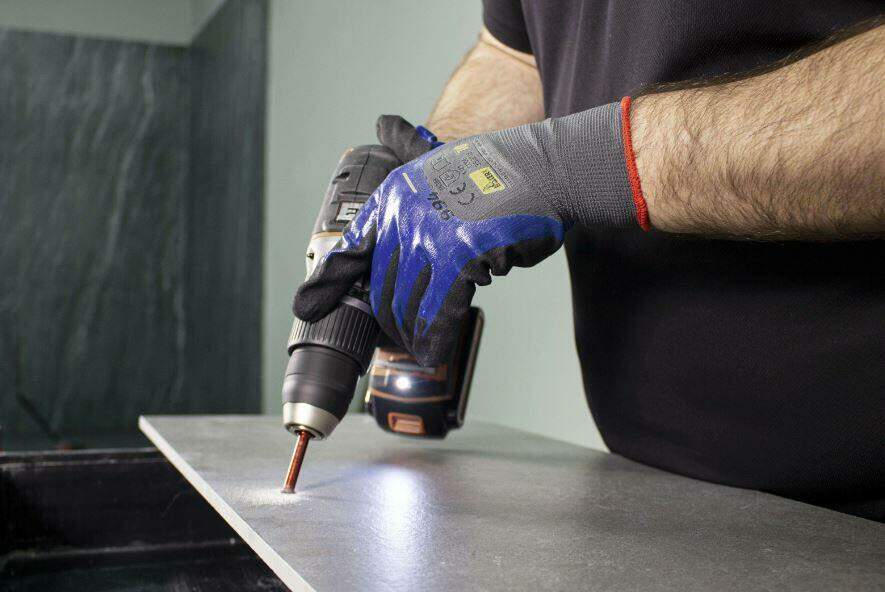 In order that the DRYGRES 4DRILL perform as long as possible, we must follow a golden rule: when we finish each hole, we should ensure that the core of the material just drilled is removed, an easy solution to this is to hit the bit at its base (never at the tip) with a spanner whilst the wax is still hot. This will remove the core of the material that we have drilled, which usually remains inserted inside the bit.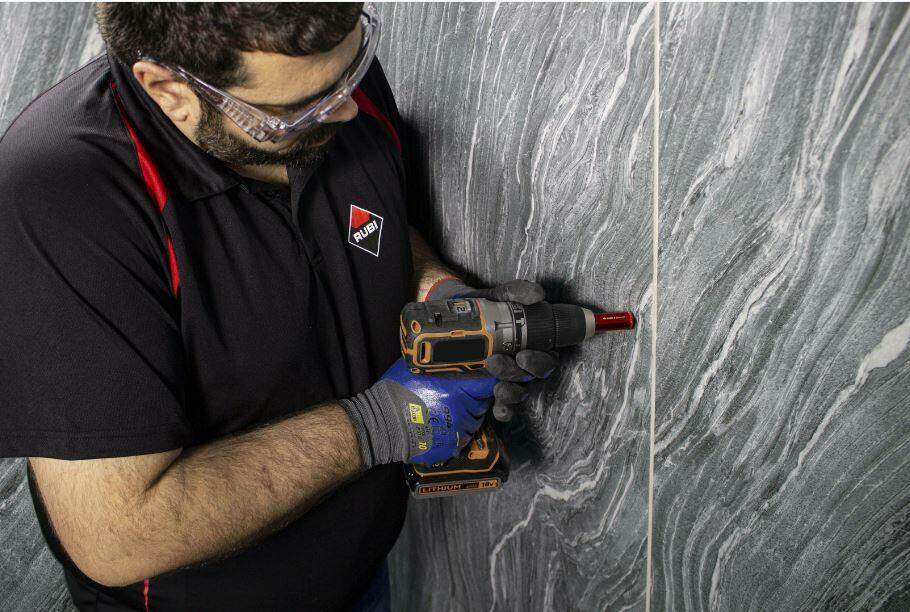 The difference in performance of the bits if we don't remove this core after each hole is drilled is abysmal. If we do not remove the core after the completion of each hole, we run the risk of burning the drill bit due to lack of ventilation and cooling by the wax, having made very few perforations.
Let's see some more main features:
The new DRYGRES 4DRILL bits come with a HEX connection for drills with a 13 mm head.
The DRYGRES 4DRILL range of drills consists of the most popular diameters currently, which are 6, 8, 10, 12, 14 and 20 mm.
The range is completed with a practical kit that comes with bits of different sizes ranging from 6 to 12 mm.
The maximum drilling thickness is 36 mm in the Ø6, 8, 10 mm diameter bits.
For Ø12, 14 and 20 mm diameter bits, the maximum drilling thickness is 40 mm.
Finally, we would like to highlight that after tests and comparisons made with other brands, the new DRYGRES 4DRILL are above their competitors in terms of performance and they are also at really competitive prices.
If you have any questions, queries or would like to see a demonstration of the RUBI DRYGRES 4DRILL bits before deciding to purchase them, do not hesitate to contact us, RUBI team.
If interested, you may read this post, too: The TOP 10 basic tiling tools for professional tilers
Building Together!