There is no need to say that to work with large format tiles you will need large tools, such as a tile cutter and worktable. However, there are also smaller accessories that you may not think about, but which are still very helpful if you want to achieve the best results. We have listed the most important ones – from large to small – for you. Have a look how to tile large format!
1. SLAB TABLE FOR LARGE FORMAT TILES
Let's start with the worktable, which obviously is not small, but relatively light. For large-format tiles, your usual table will often not be suitable, so you will need a worktable designed especially for heavy, thick and large tiles such as the RUBI SLAB Table.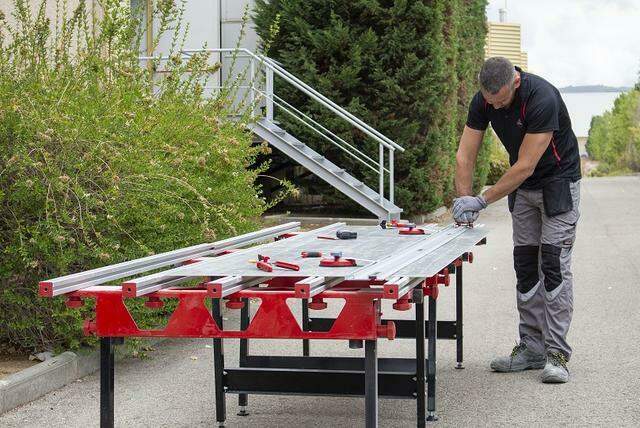 The lower working height of the SLAB table allows you to reach the entire tile.
This table has a lower working height than average at 70 cm, so anyone can effortlessly reach the entire tile. The work surface of the table (1800 x 1044 mm) consists of extra-reinforced aluminium profiles and – due to its strength and high stability – can handle a weight of up to 250 kg. The weight of the table itself is only 36 kg. For extra-large slab tiles, you can connect two worktables to create a total working length of 360 cm.
2. TRANSPORTING LARGE FORMAT TILES
If you know that you are going to work with L to XXL tiles, you will of course need a transport system to the job. For example, the RUBI SLAB TRANS HEAVY DUTY transport system for carrying large format tiles and ceramic slabs. The RUBI HEAVY DUTY TRANS tile transport system with vacuum pump for carrying tiles with a textured surface has a maximum load capacity of 110 kg. And, this is of course suitable for smooth tiles, too.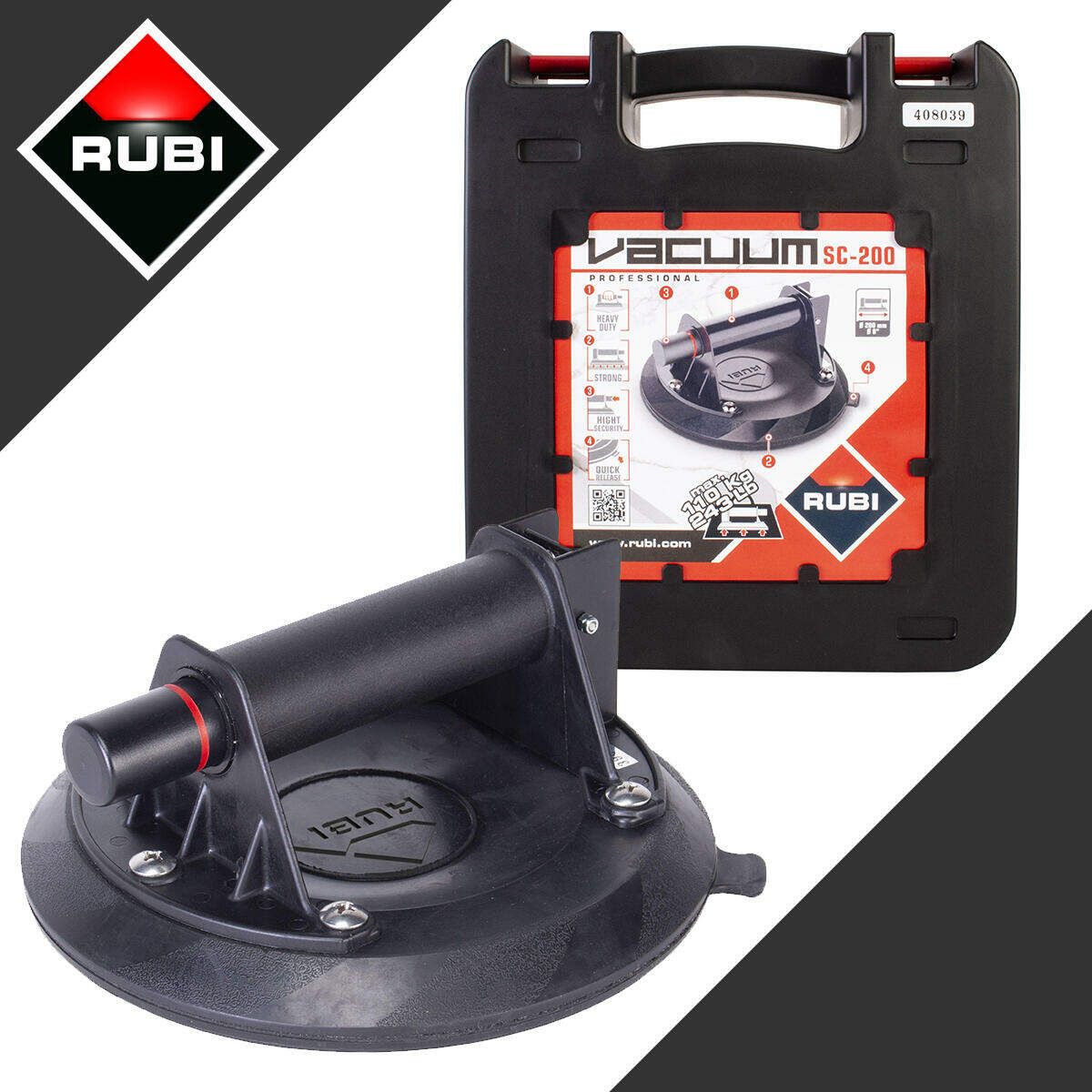 A small, but very strong tile carrier: an indispensable accessory for every job!
However, don't forget to bring a strong tile carrier for smaller pieces, the RUBI VACUUM SUCTION PAD is perfect!
3. HANDY SMART CUTTING SYSTEM
For cutting and breaking porcelain slabs, such as wood plank, or other large-format tiles, you can also opt for a separate smart cutting system instead of a large tile cutter.
The SLIM CUTTER and the SLIM BREAKER: a handy combination for cutting and breaking large (and thick) tiles.
The tiles are scored with the RUBI SLIM CUTTER and broken with the pliers, which can handle thicknesses up to 6 mm. For thicker tiles (up to 15 mm), this system can be combined with the RUBI SLIM BREAKER to break the tiles.
4. EASY-TO-USE 2 IN 1 DISC
If you can choose between manual cutting and grinding, we'd prefer manual cutting. But of course, there is always a need for an angle grinder, for example for making mitres. Then you should think about a blade for cutting and grinding.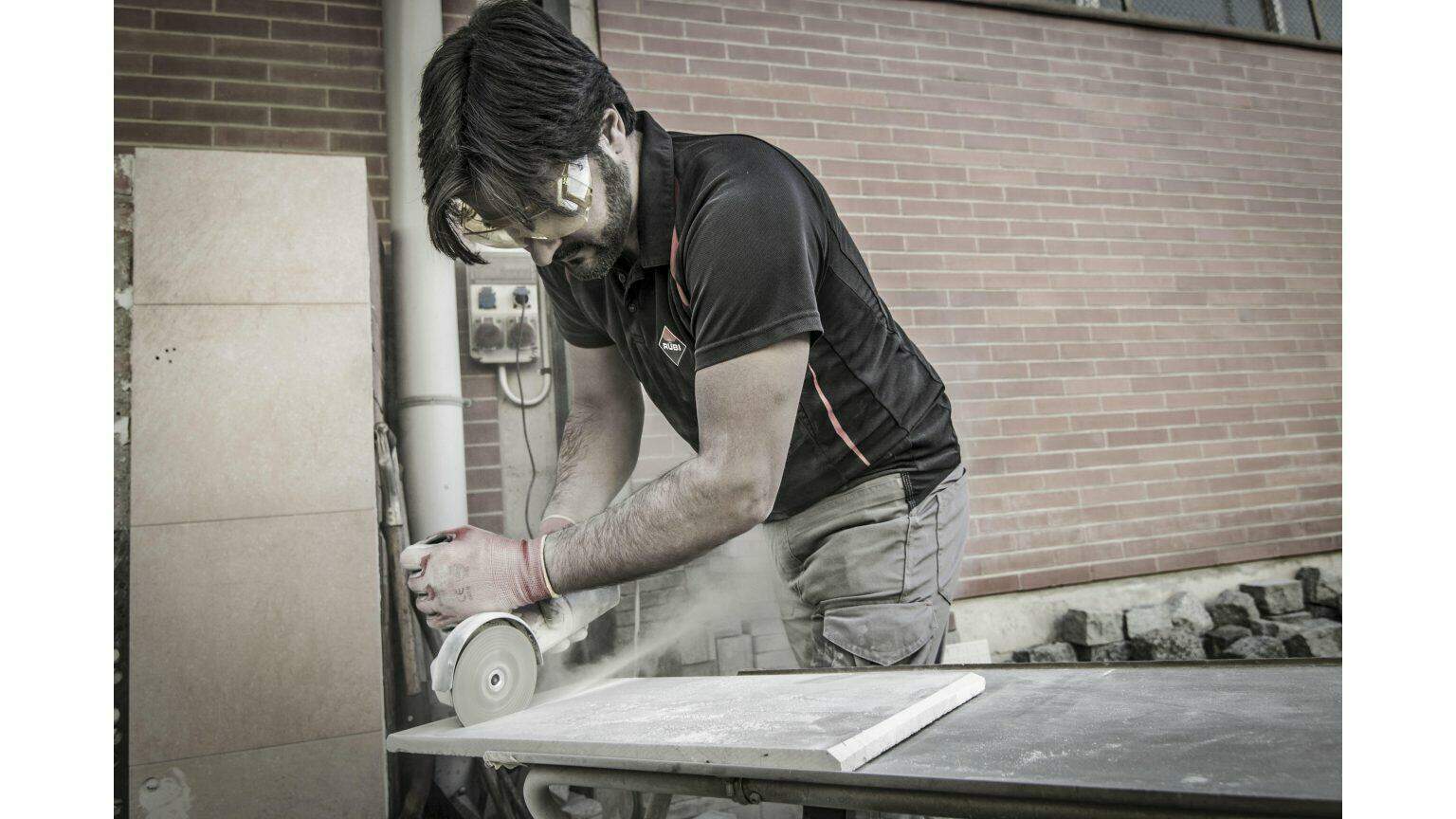 The ECD blade has electroplated diamonds on both sides. As a result, in addition to making straight cuts, the blade can be used for rectifying a cut, cutting mitres and leaves an extremely smooth edge.
The ECD Diamond saw blade is ideal for mitre cuts.
Mounted on the TC-125 (the ultimate circular saw for large format tile and stone), this is the perfect disc to cut a tile edge at 45 degrees. This blade not only ensures a beautiful cut, but also polishes the cut edge at the same time!
5. MULTIFUNCTIONAL DIAMOND PADS AND POLISHING DISCS
Use of a manual diamond polishing pad for light sanding of the cut edge, as this edge is very sharp and in this way you avoid cuts. And of course, the pads can also be used for polishing, especially in places that are difficult to reach. You can also rotate while sanding, so that the entire surface of the pad is used, and it is not cut in half by the tile.
You can also choose a polishing disc; with this you can polish the edge nicely and possibly remove a few last tenths of millimetres.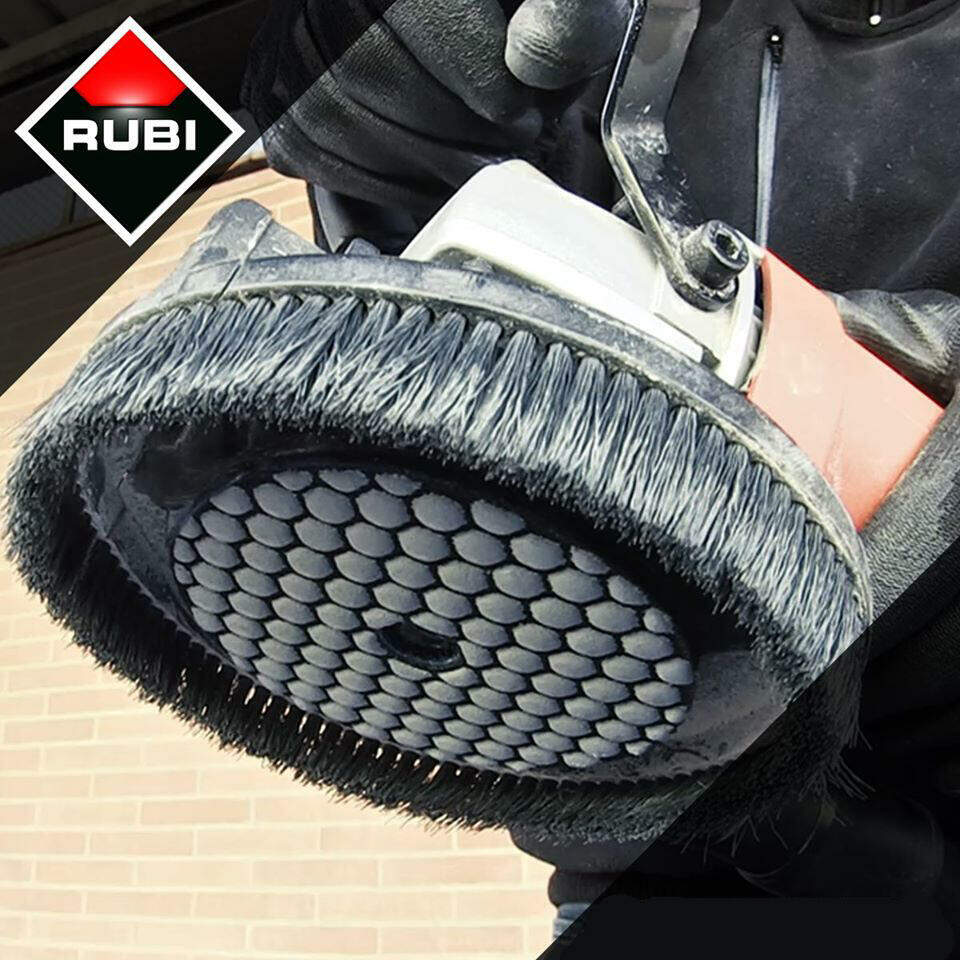 Do you have a lot of tiles polish? Then put each polishing disc on its own backing pad. By not always having to remove the discs from the backing pad, the Velcro backing lasts considerably longer. Changing the discs is also much smoother and this allows you to finish your job faster!
Large format tiles have been a trend for a long time. Despite this, it remains challenging to work with such dimensions. Fortunately, more and more tools are coming onto the market which make working with these materials a lot easier. In addition, there are also accessories that have been around for a long time which are very handy to have with you and provide your work that ultimate finishing touch!
Are you happy with this information? Is it helpful for you? If so, keep reading our posts, more updates to come soon!
In the meantime, you can join Club RUBI for free so that you are the first to know about all the tips and new products!