Do you want to impress your clients with your tile laying work? Coming to the job site prepared with the right materials for the tile installation is a great way to impress them. Keep reading below to know the materials needed to lay tile floor.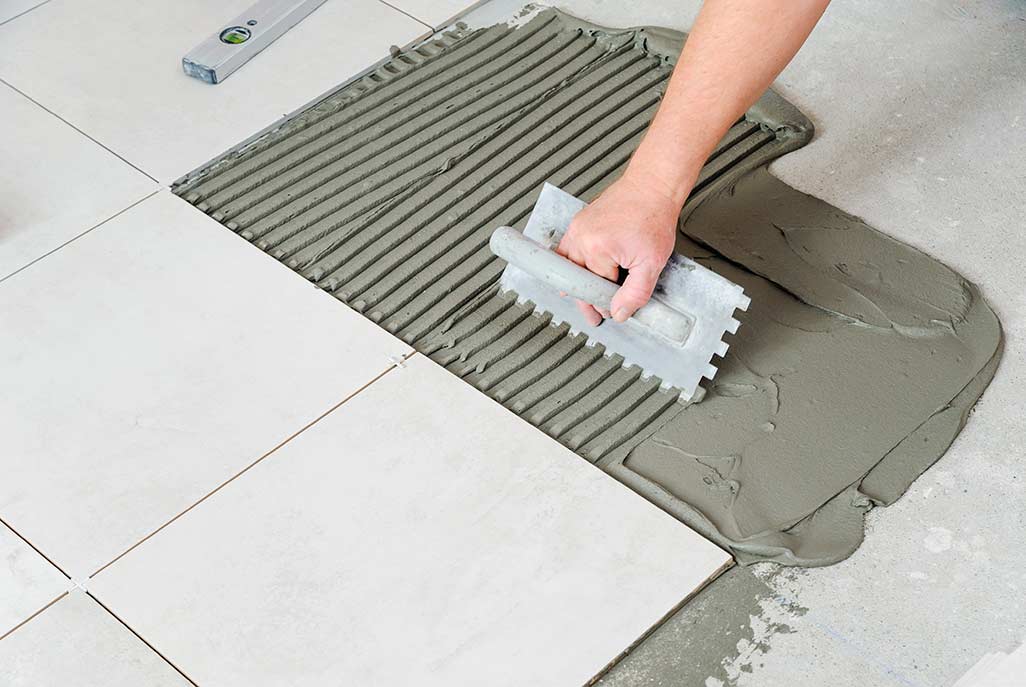 What Are the Materials Needed to Lay Tile Floor?
Having the right tools can make laying the tile floor an easy job. Here is a list of what materials are needed to lay tile floor:
Tile
Adhesive material
Grout
Spacers
Tile leveling system
Trowel
Grout float
Tile cutting tools
Sealers
Personal protection equipment
Tile
Obviously, choosing the best tile is important to lay floor tiles successfully. There are many different kinds of floor tiles, and all of them have different pros and cons.
Ceramic tiles are a popular floor tile option for areas like bathrooms and kitchens because they resist water. Ceramic tiles are also durable floor tiles and come in a variety of colors.
One problem ceramic tiles have is that they may be uncomfortable to walk or stand on for a long time because of their hardness.
Porcelain tiles are similar to ceramic tiles, but they are more durable. They also come in many unique styles and are moisture-resistant.
Unlike ceramic and porcelain tiles, glass tiles are not made using clay. People often use glass tiles in kitchens and bathrooms as stylistic compliments to ceramic tiles.
A few disadvantages of using glass tiles are that they chip and crack easily, and they are expensive compared to other tile options.
Cement tiles are made with a mix of concrete and natural materials. They are extremely durable and inexpensive. Because they are air-cured instead of cured in a kiln, they are more environmentally friendly.
Cement tiles are prone to cracking in cold temperatures, and they are easily stained, as well as difficult to cut.
Another type of floor tile is marble tile. Marble tile is a more luxurious option, and it is commonly used in areas that are often used because of its appearance. When properly maintained, it can last a lifetime, but it tends to be pricy.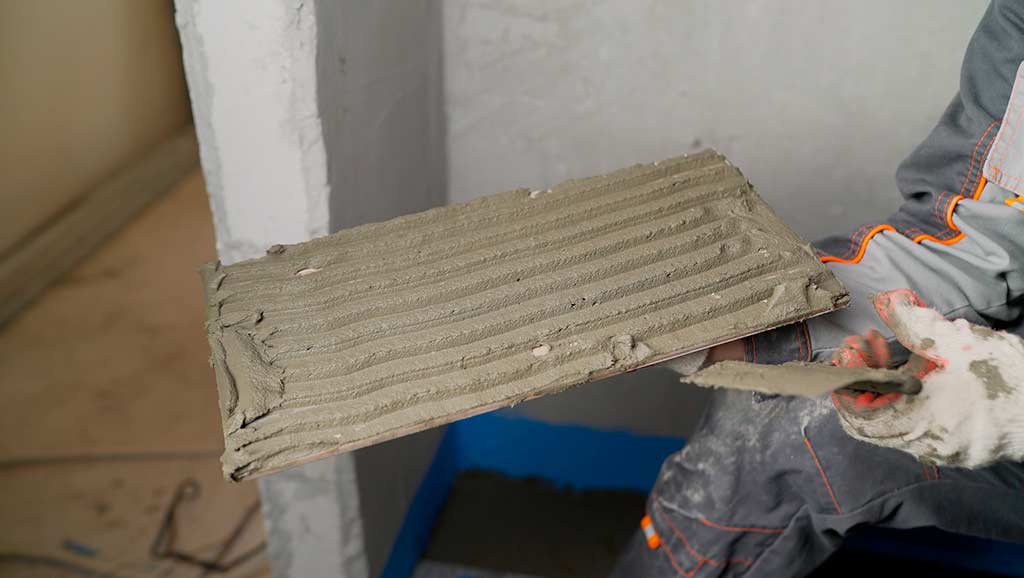 Adhesive Material
To effectively adhere the tiles to the floor, you will need an adhesive material. One type of adhesive material is thinset. It is made from a mixture of cement, water, and fine sand. There are two types of thinset: modified and unmodified thinset.
Type One mastic is another adhesive option. It is an organic adhesive that comes from the resin of the mastic tree.
Grout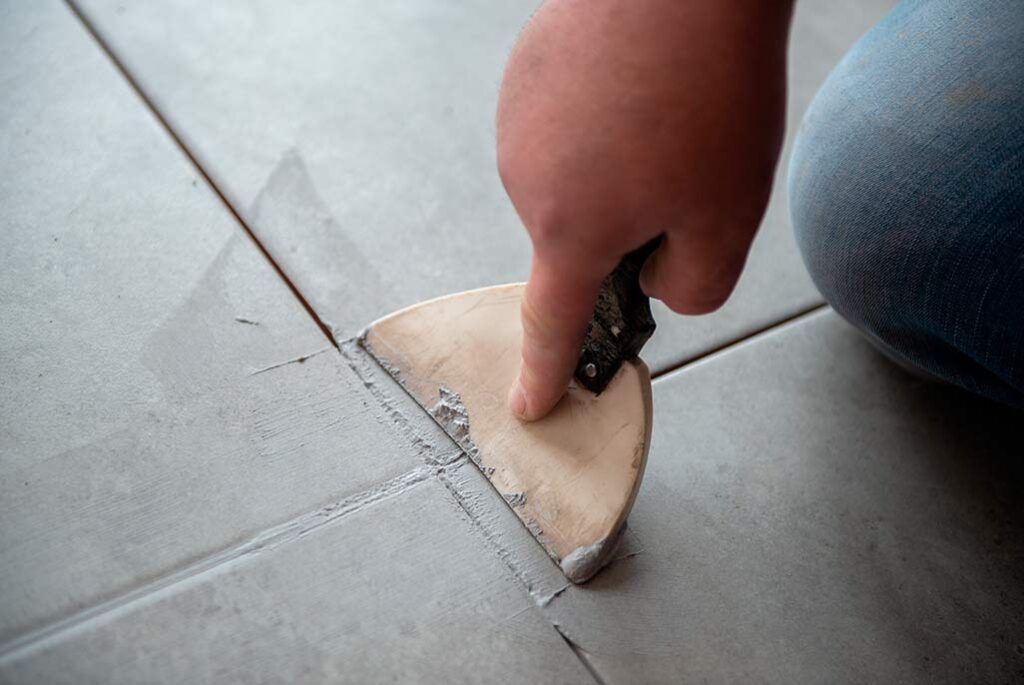 You will use grout to fill in the gaps in between tiles. There are two types of grout: unsanded and sanded. Unsanded grout is used to fill tiles that are placed close together. Sanded grout is used to fill gaps that are larger than 1/16th of an inch. Choosing grout can also be an opportunity to add color or style to a space because there are always many colors to choose from, and by choosing a color that contrasts with your tile you can make your installation stand out.
Spacers
Tile spacers are small plastic bits that are shaped like an "X" or a "T". They go between tiles to make sure that they are placed evenly, which ensures a professional floor tiling job.
Tile Leveling System
Using a tile leveling system will help prevent lippage and prevent the creation of tripping hazards from unevenly laid tile.
Trowel
A tile trowel is essential for laying the mortar base on the subfloor before laying the tile. Tile trowels also help you measure the accurate amount of mortar. Grout floats spread the grout in all of the gaps of the already laid tile. Because grout floats are made of rubber, they will not scratch the tile flooring.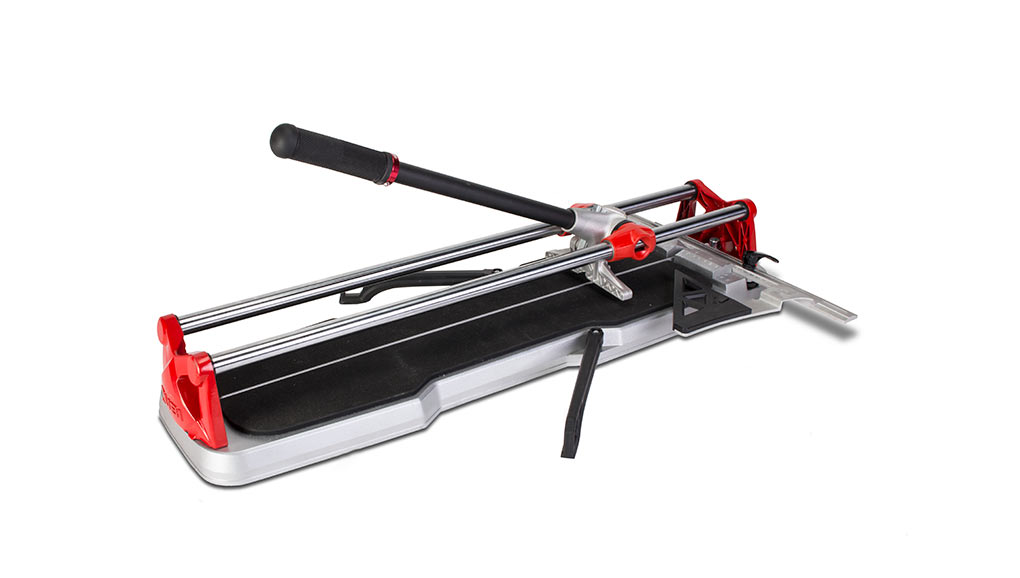 Tile Cutting Tools
To cut the tile, you will need a tile cutter. There are four main types of tile cutters:
manual tile cutter
tabletop wet tile saw
handheld wet tile saw
overhead motor wet tile saw
Angle
Manual tile cutters are a great option because they work quickly and can be used with most types of tile. If you choose to use a wet tile saw, you will also need reliable diamond blades.
Sealers
Tile sealer protects natural stone and cement tiles and grout from general wear and tear. To seal these types of tiles, you pour a sealer over the laid tiles. There are two types of sealers: surface sealers and penetrating sealers.
Personal Protection Equipment
Safely completing a tile-laying job is a key to successfully completing the job. Wearing personal protective equipment like protective eyewear, cut-resistant gloves, knee pads, and dust masks can protect you and your crew from injuries.
How to Lay Floor Tiles
As a professional, you may already know how to lay a tile floor, but here are a few reminders just in case.
First, choose the correct tile for your project. Where the floor is, aesthetic preferences and needed durability will all affect what kind of floor tile is best.
Cutting the floor tiles comes next. In order for this part to go smoothly, you will need a tile cutter.
Before laying floor tiles, you will need to prepare the floor's surface. Based on what type of subfloor you are working with, you will need to repair any surface damage and clean it before laying the tile.
Mix your adhesive according to the manufacturer's recommendation. Then you should apply the mortar. Finally, lay the tile.
Need Tools for Laying Tile Floor?
Knowing the materials needed to lay a tile floor and using the right tools can make your floor tiling projects look better, last longer, and go smoother.
Now that you know the tools needed to tile a floor, you may be wondering where you can find these tools.
We at RUBI offer a wide selection of tiling products. Check out our blog for more professional tips and tricks on laying tile floors.