Outdoor tile installation may seem like a complicated task at first. You want to choose a material that's resilient to the elements and built to last. The wrong choice could mean needing to re-tile the entire patio later on.
Although you can buy pre-cut tile for an easy job, tile installation tools can help you customize your setup. You won't need to default to a square patio shape pre-determined by the tile sizes you purchase.

Here are some of the tools and best practices that can help make your outdoor tile installation much easier.
Types of Tile
First of all, you need to pick a tile material that will work for the outdoors. Some of the considerations to make include water absorption, the grip of the surface, strength, budget, style, and texture.

The two most important points to consider on this list are water absorption and grip. Depending on the materials they're made of, tiles can have a wide range of porosities. The more porous the tile, the more water it will absorb, and this is definitely something to avoid if we are installing tile outside because a porous tile that is constantly wet from rain will hold onto that water like a sponge and will degrade quickly. Porcelain and other low porosity tiles are best for the outdoors.

The grip of the surface of the tile is important because we don't want people slipping outside, especially after it's rained, snowed, or when there is dirt and dust covering the patio. This is a simple safety consideration and should therefore be given priority.

Patio tile and other outdoor tiles need to be strong enough to handle the various temperatures and weather conditions in your area. Cheap tile can develop cracks and break apart after exposure to widely varying temperatures.

While budget can limit your options, you can still find quality tile that can withstand the outdoors. If you have a little more to spend, you can design your outdoor patio to blend in with your other outdoor features.

The texture of the tile also matters, depending on where it's getting placed. Tile around a pool, for example, needs to have some level of slip resistance due to the excess water.

Common tile materials that are great for outdoor usage include porcelain, stoneware, and quarry.

Porcelain is dense and strong, making it perfect in most patios.

Stoneware tiles are best suited for patios that won't see a lot of use. If you choose them, make sure to buy ones marketed as floor tile. Wall tile won't hold up for floor use.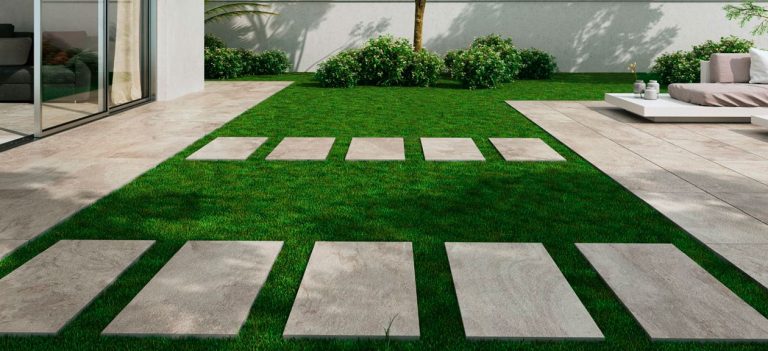 Outdoor Tile Installation Tools
If you're a professional tile installer or looking to upgrade your outdoor tile installation game, there are some tools that can help. Some of them let you cut stone tile without breaking them, while others polish off any rough edges.
Tile Cutters & Scoring Wheels
RUBI tile cutters were invented in 1951 and are perfect for any wall or floor installation project.

A tile cutter can work its way through ceramic and porcelain tile in a fraction of the time compared with a saw. Due to their manual nature, you don't need electricity or water cooling.

Additionally, scoring wheels are low-cost and can last a lifetime if you take care of them. There are no sharp parts, so they're safe to use.
Tile and Stone Polishing Pads
A problem when working with natural stones is that they tend to be more abrasive than other options. One tool that helps with outdoor tile installation using natural stones is the polishing pad.

RUBI's range of polishing pads is made for the professional who wants a high-quality finish. They work on both dry and wet work, and you can find the perfect pad for the different grains and finishing strips you use. They also contribute a greater level of safety to your finished project, because they file down any sharp edges that might have resulted from cutting tiles. This is especially important when working with porcelain because it's a harder material and can cut more effectively when sharpened.
Slab System
Working with large-format porcelain sheets is quite different from typical stone tiles. They've become increasingly common, so you'll need to invest in some new tools to adapt.
The manual Slim Cutter is the best solution for cutting large porcelain sheets. Once you've finished cutting them, the Slim Easy Trans or Slab Trans Heavy Duty will allow you to pick them up with ease and maneuver them properly.
Tile Installation Guide
While the process for installing outdoor tiles isn't that different from installing indoor ones, you have to consider the weather and location. Installing them in standing water can cause them to form cracks and deteriorate, and you also need to avoid air spaces beneath the tile.
Preparation
Before performing patio tile installation or other outdoor work, make sure to check all associated surfaces. Look for any cracks or loose concrete, clean it off, and make sure the floors are level.

Building upon an unlevel floor could mean that your tile will also be unlevel. Additionally, any dip in your floor could invite puddles that can deteriorate your tile.

More likely than not, you'll need to use a subbase over the existing concrete to level it out and fill in any cracks.

Installation When installing, try to plan out your layout so you don't have to make too many cuts. Take into account expansion joints so you don't cover them, and line them up with your grout line. A good rule of thumb is to leave a minimum of 3mm of joint space, although this can be affected by the coefficient of dilation of your tile, which you should consult before buying.

Work in small areas at a time, and apply mortar to both the tile and the concrete. Tap the tile with a rubber mallet to set it firmly.

When you grout, keep the grout more dry than wet, and don't use too much water to clean the grout haze off.

Seal If your tile is porous, you may need to apply an acrylic grout sealer with a paintbrush. Use a caulk backer rod between the tiles along the expansion joint line if it has one before you apply the exterior grout.

Remove the rod when the grout has set, and fill in space with latex caulk. You can then apply more sealer to it.
Clean
After that, it's as simple as cleaning your new patio of any debris and excess sealants or adhesives. RUBI offers a wide variety of wash-boys and sponges to help with this process.
Patio Tile Installation with the RUBI Tools System
Even though tile installation seems simple, there are a variety of outdoor elements to stay aware of. Working around them requires the right tools for the job.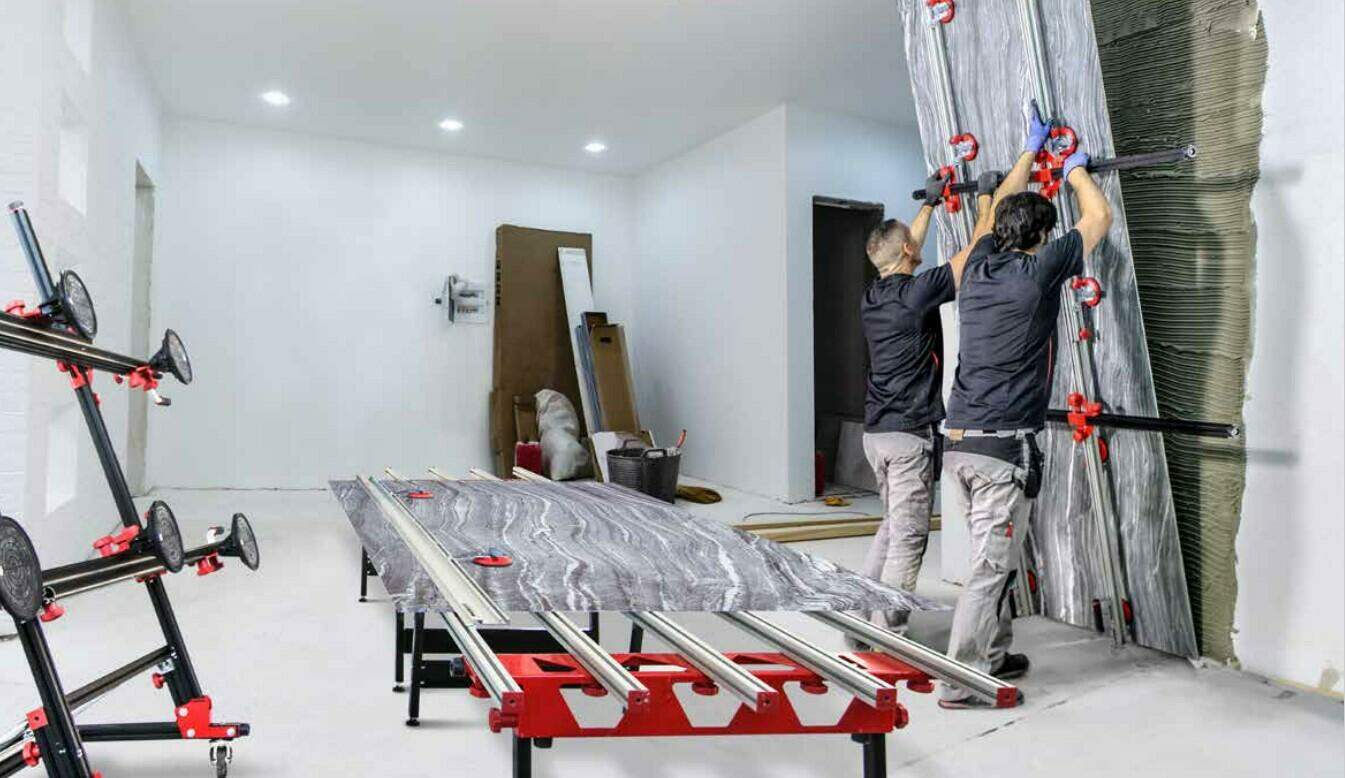 RUBI's complete range of equipment can help you with your outdoor tile installation from beginning to end. Whether you need drilling, polishing, or mixing tools, we have you covered.
Check out our line of tile installation tools, or contact us to learn more about our stock.