During COVID, many more people became interested in DIY projects. Over fifty percent of Americans feel like their houses could use some work, but many of them do not know how to even get started with building a brick wall.
In this article will explain the steps for building a wall and how to get started on a brick-laying project. By the end, you should understand how to build a wall without the stress of needing to hire anyone else.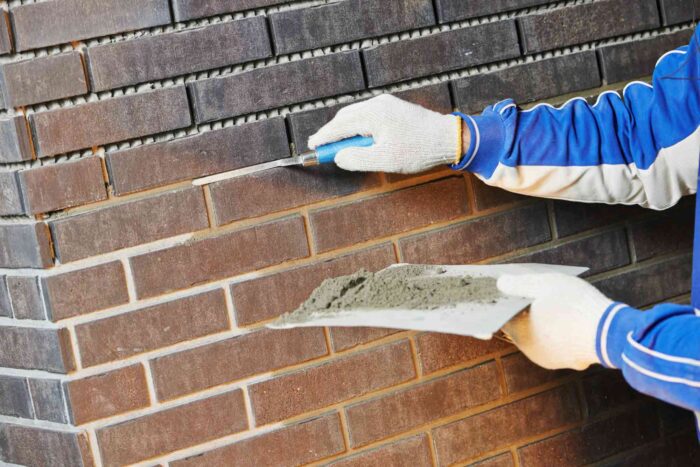 Building a Brick Wall in a Few Easy Steps
Here are the basics to get started on building a brick wall. Make sure you have the following materials (and permissions):
Trowel
Hammer
Spirit Level
Shovel
Bricks
String and nails
1. Prepare the Materials
Work out how many bricks you are going to need before starting. Either estimate or calculate based on their size. Do not neglect to include the thickness of the mortar, which tends to be approximately 10mm.
2. Mix the Mortar
Using a shovel or mortar mixer on a tarp, mix together the amount of mortar you think you will need. Five parts sand to one part cement should do. Mix this with water until the mixture has a smooth, creamy texture that you can still manipulate.
3. Create a Foundation
Dig a trench for the foundation you intend to lay. It should be at least a foot deep and wide. Fill this with mortar and check to ensure you have a solid, level base for the brick wall.
4. Create a String Line
Using string and other material, create a straight line where you wish to build this brick wall. Bear in mind you can also lift this line off the ground later if you want to make sure your wall is being built straight.
Unless you want a crinkle crankle wall, this is perfect for securing the line you want along the ground.
5. Lay the Mortar
Once the foundation has dried, place a layer of mortar where the string runs along the ground. This should be a little bit thinner than the individual bricks you will lay, as the mortar will spread when you put the bricks on top of it.
6. Start Laying the Bricks
Lay the bricks down end to end on the mortar, putting approximately 10mm of mortar between each brick to act as a binder. Wait for these to dry.
7. Cut the Bricks for the Second Row
For the second row, you will want to offset the bricks by half a brick. If the wall is not a loop, you will need to cut one of the bricks in half for each row. Do this with a chisel, giving it a swift tap in the middle of the brick, using a hammer.
Continue this upwards until you have enough as many rows as you need.
8. Topping the Wall
At the top, you will want to investigate brick wall topping methods. You may wish to tile it, or it could be that you want to use more mortar to secure the roof to the wall.
One option would be to incorporate a soldier course, using vertical bricks to create a different texture for the top of the wall. You can also use this at the lintel of windows or doors to highlight them.
Or, you could have a section where you rotate the bricks to point out from the wall in either direction. This creates a small "roof" for the wall and a different pattern.
Other Options
During the wall-building process, you have several more options to customize your wall. Let's take a look at some of them.
Joining Patterns
You could create a double-brick wall by alternating each brick so that it runs straight through the wall, building two bricks thick. This is not only appealing to the eye but also makes a stronger brick wall, as it straddles a larger footprint.
Pillars
Without pillars, a brick wall that is quite long will not be able to hold itself up unless you build it in a crinkle crankle style. By adding a pillar, you provide a support structure in the form of a small, wide square wall. You can also top these pillars with specialist bricks that produce a visually pleasing cap to the structure.
Bespoke Bricks
If you want a specific style for your wall, you can aim to have bespoke bricks created. These can be anything from reclaimed or tumbled bricks that have a worn texture, to unique shapes and styles. You can use these to create a wall that is perfect for you.
Tiling
Remember that you can use differently-colored tiles to customize a brick wall. Using slate tiles, for example, can add a dark veneer to an otherwise red-brick frontage. Or in a bathroom, using ceramic tiles can create a smooth effect that is easy to clean.
What Else Do I Need to Know?
Now you should have a good idea of how to go about building a brick wall. But before you get started, you are going to need the right tools. Lucky for you, we are here to help!
We offer everything you need to get started on a DIY project, so do not hesitate to ask us if you have any questions. If you want to talk to us about what we offer, you need only ask. So pick up the phone today and get started on the project of your dreams!