In a recent study, the total worldwide volume of ceramic tiles amounted to more than 16 billion square meters. A large portion of this was for home remodeling. Tiles and ceramics are incredibly versatile. They can be used indoors or outdoors, as a floor covering, or on walls. If taken care of properly, a tile installation will last for decades without any trouble. And they can boost the value of your home, as they can be incredibly stylish. To get your tiles into the space you have, you'll need a tile cutting machine.
If you don't have the right tools for the job, you could end up either ruining the tile or ending up with an unprofessional-looking finish. Therefore, it's important you know the best types of tile cutting machine and how to use them before you get started. Whether you need it for a simple or complicated tile installation, explore the must-have tile cutters you need for home projects! So, let's get this guide started and find out what types of tile cutting machines you need.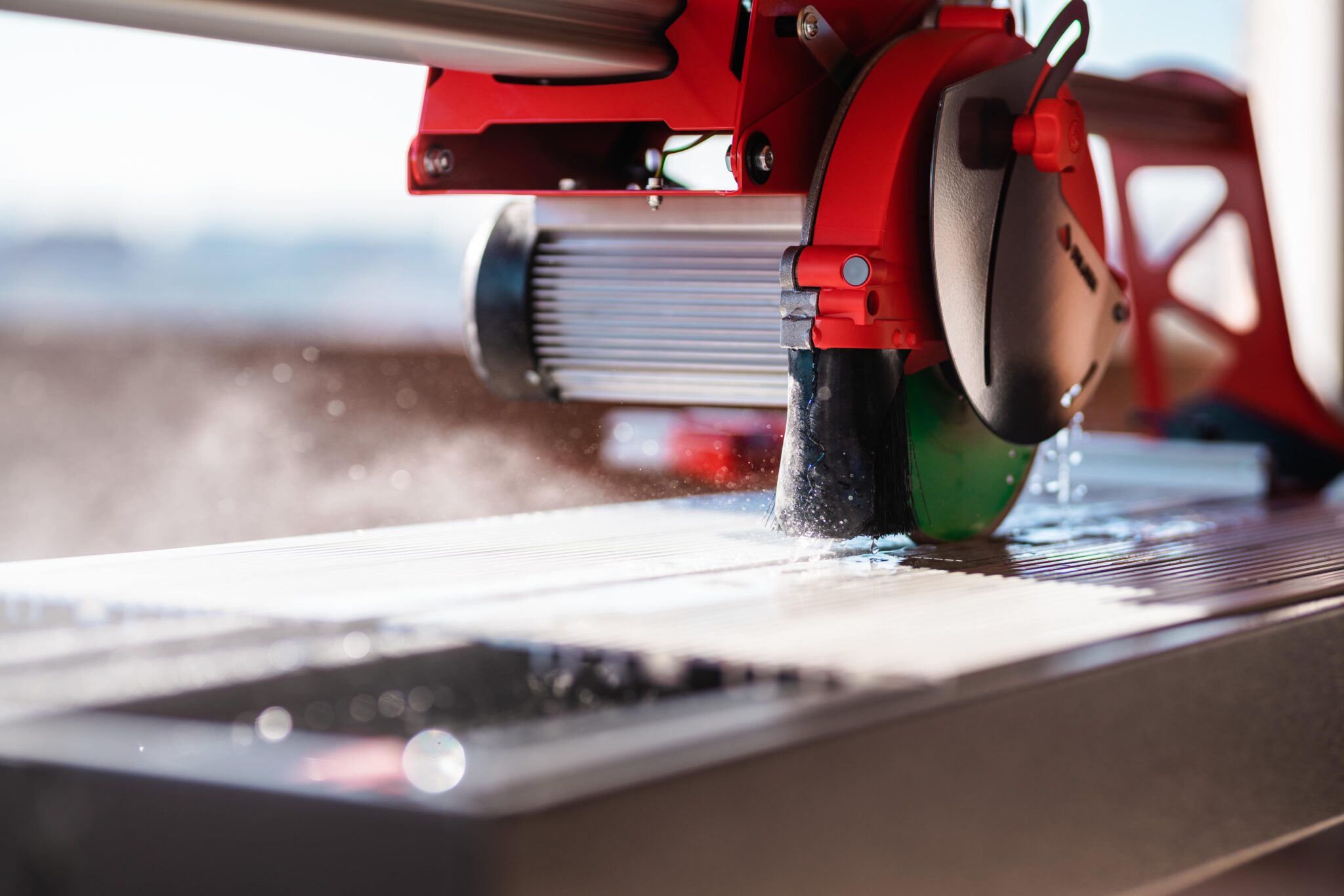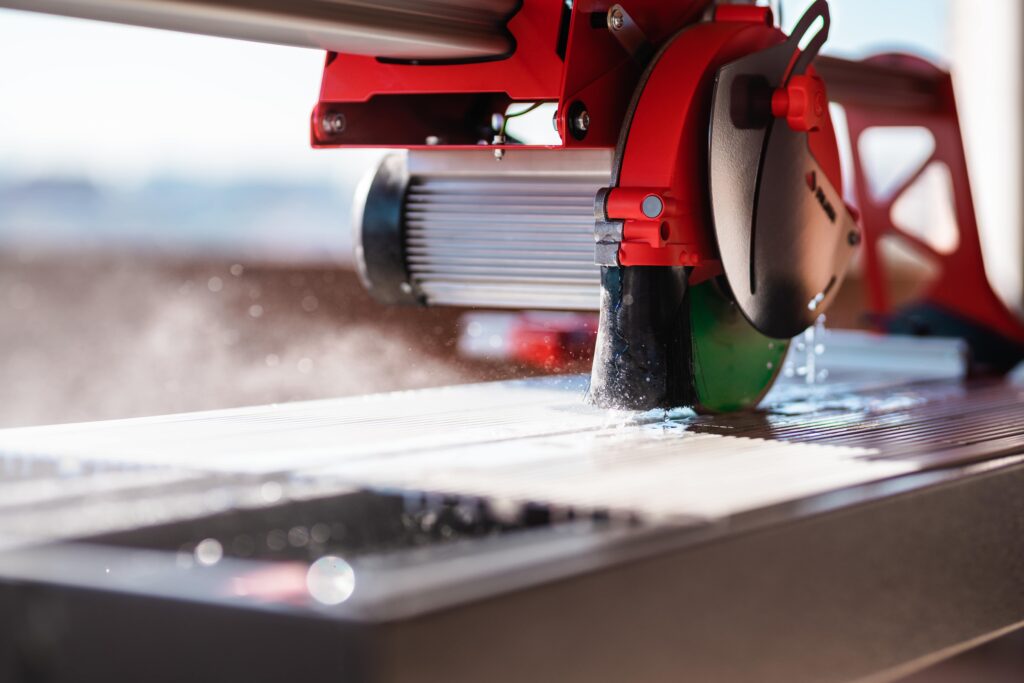 Which Tile Cutting Machine Is Right for You?
There's no shortage of tile cutting machines on the market. Before you begin looking at the different types of tile cutters and looking up how to cut tile, first you need to know what material and thickness of tiles you will be using on your project.
As a rule of thumb, the tougher the material of your tile, the stronger your tile cutter must be. For example, if you're cutting ceramic or porcelain tiles, then you won't need as much strength and durability compared to cutting granite or stone tiles.
Different Types of Tile Cutting Machines
A tile cutting machine is an umbrella word used to describe anything that cuts your tile. Two of the different terms you will see are tile cutters and tile saws. We've listed the different types of tile cutting tools that fall under each category to help you choose the best tool for the job.
Manual Tile Cutters
A tile cutter is a manually operated machine. They are easy to use and don't require a power source. They work by scoring a straight line along the surface of the tile. Pressure is then applied to either side of the scored line. The effect is a snapping action. Tile cutters are available in a variety of sizes and are incredibly portable.
Tile Scribe
This is the most basic of tile cutting processes—it's also the cheapest option. A tile scribe is a form of tile cutter. It works a little bit like how you would use a penknife or scalpel. This tool only really works for cutting straight lines on thinner and softer tiles.
The tool consists of a hard tip; use the tile scribe with a metal ruler to score a line, then apply pressure to either side of the line to snap your tile in half.
Glass Tile Cutter
This works similarly to the tile scribe, by creating a score line to snap along; however, it's specifically designed to cut glass tiles. This method only works for thinner tiles. Be careful of shards.
Manual Tile Cutter
This is a step up from the tile scribe, however, the concept behind it is the same. The manual tile cutter features a wheel that cuts the tile and has a bed that the tile rests on. Unlike with the tile scribe, some manual cutters are capable of cutting thick and very hard tiles. Others are limited to cutting thinner softer materials. What you can and can't cut with a manaul cutter is highly variable and depends on the cutter's design. So when choosing one you should have a clear idea of what types of materials you will be cutting.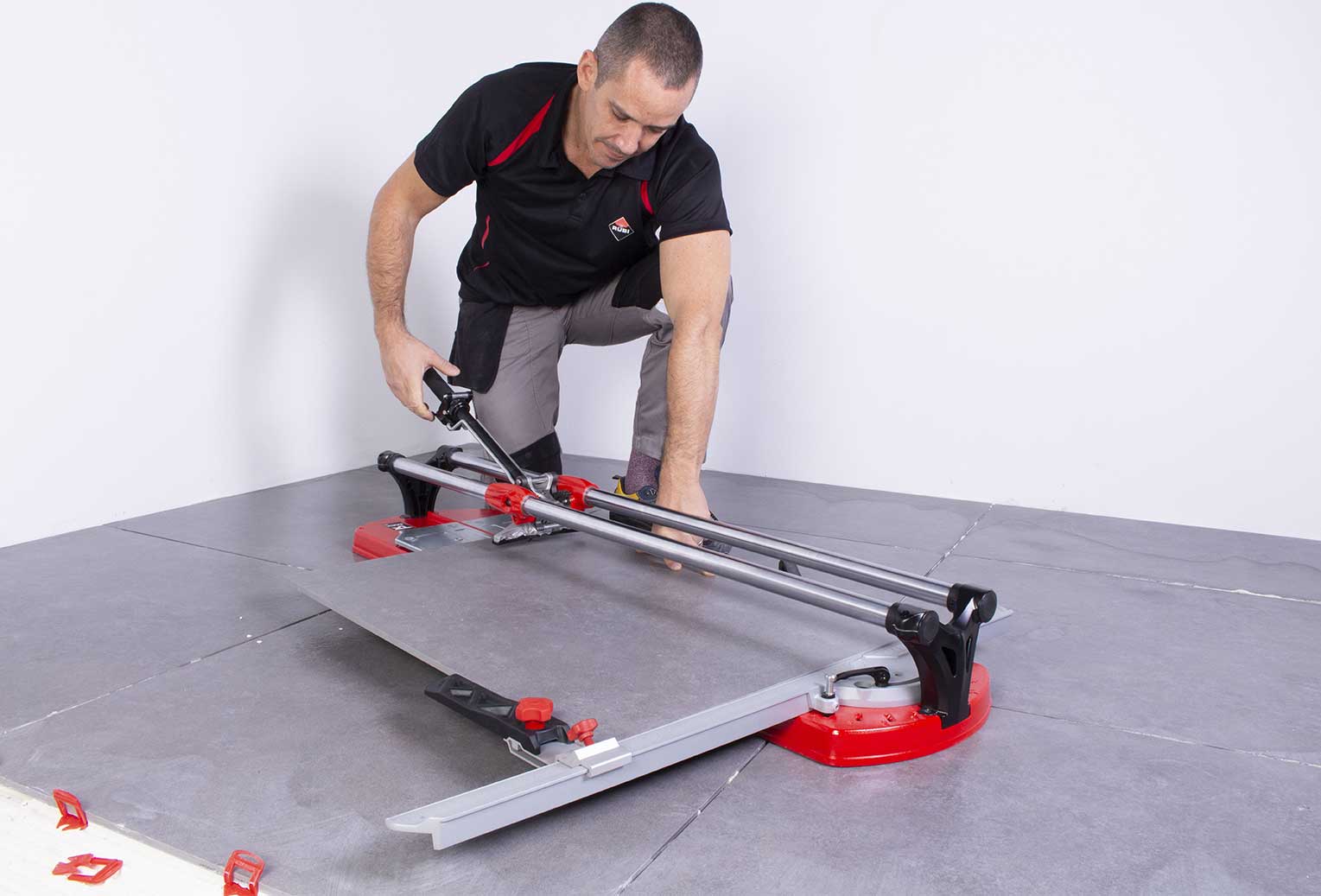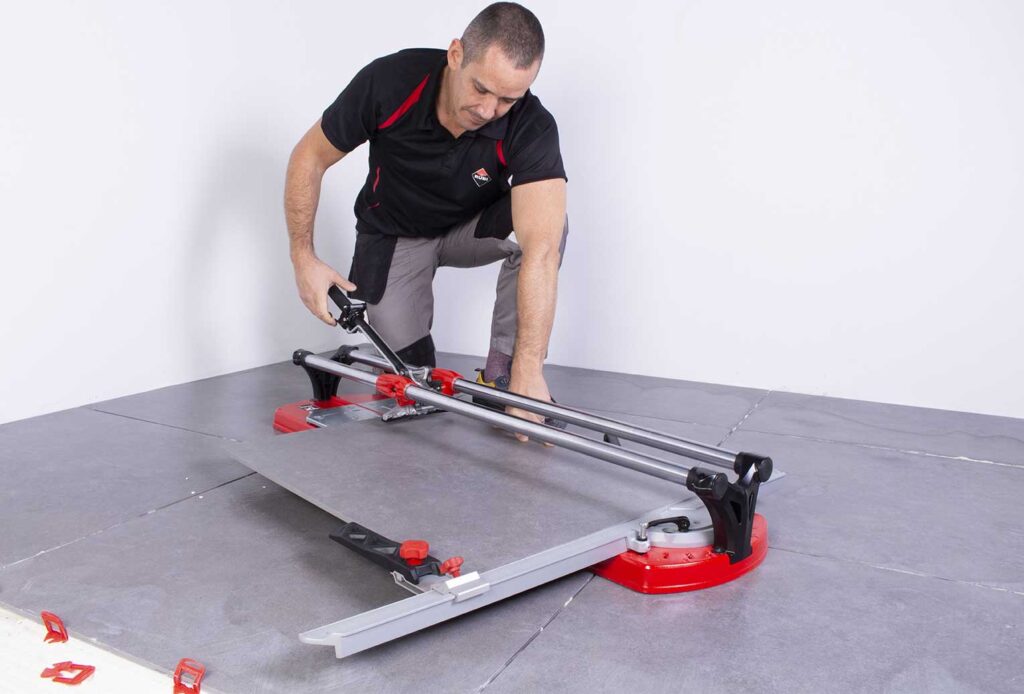 Tile Nipper
If you have an intricate shape to place a tile around, such as a pipe, then you'll need a tile nipper. This tool is used to nibble away at small pieces of tile. You use them similar to how you would use a pair of pliers.
Electric Tile Cutters
A tile saw uses a diamond blade to cut through the tile. Tile saws are much larger, heavier, and require a power source. A lot of heat and dust are produced while using these, so they have a water reservoir as a cooling lubricant and to dampen the dust. Tile saws are better used for projects that use thick tiles and intricate cuts.
Tile Cutter Machine
These are available in a wide range of sizes depending on the application. These are the preferred method of tile cutting if you have a large job, or for heavyweight tasks. This is the most popular choice of ceramic tile cutters for professionals. Blades are available for a range of materials, and the cutting bed will feature some sort of cooling reservoir. They are also the easiest way to create intricate cuts and slots.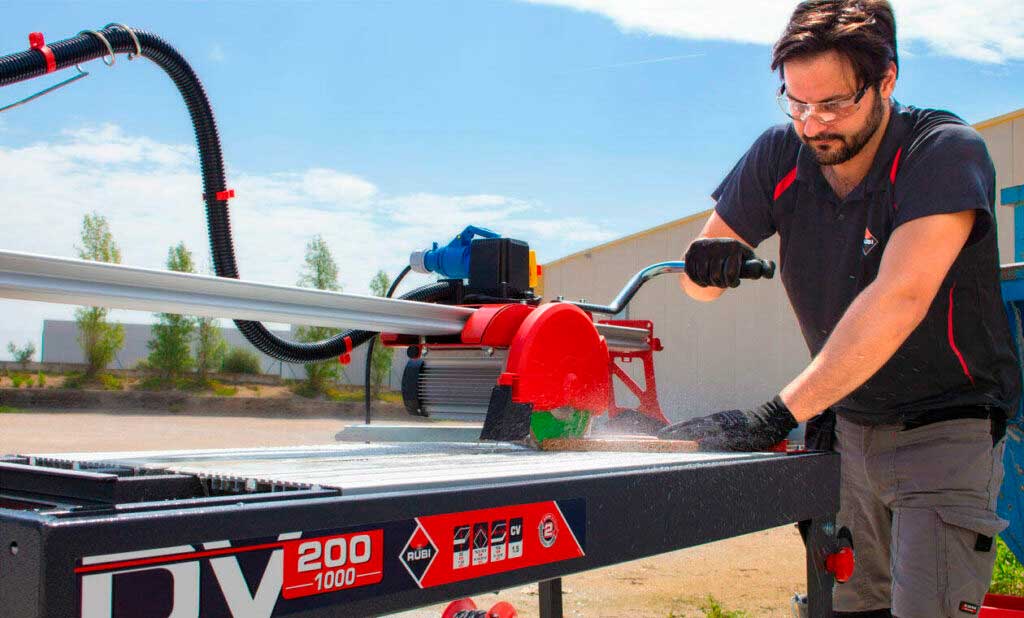 Other Electric Tile Cutting Tools
If you don't want to buy a dedicated tool for cutting tiles, then you could utilize other tools to do the job. Here are some other methods to cut and shape tiles.
Angle Tile Grinder
If you own an angle grinder, then you'll already know how versatile they are. You'll need to buy a blade suitable for cutting tiles. An angle grinder can be used to cut straight lines or more intricate shapes. Although this isn't the most ideal way to cut a tile, because of the friction and dust it creates, it is an option if you only have a small tile cutting job to do.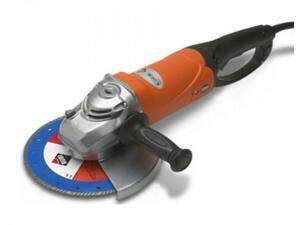 Rotary Tool
These are only suitable for very small and lightweight jobs, such as craft projects that have thin or soft tiles. Use a disc blade attachment. As with using an angle grinder, there is no coolant or dust dampening feature.
Which Tile Cutting Machine Is Best for Large Format Tiles?
If the tiles you're cutting are large format tiles, then you will need to ensure that the bed of your tile cutting machine is large enough to seamlessly cut the entire tile, without needing to pause and adjust.
Before you purchase a tile cutter, make sure you have measured the tiles you will be cutting and checked that they can be cut from end to end in one go.
Choosing Your Tile
The type of cutter you choose directly depends on what tiles you'll be cutting. When you're purchasing your tiles, it's important to look at what the Porcelain Enamel Institute (PEI) rating your tiles have.
The scale ranges from zero to five. Zero are for more decorative tiles, which cannot handle foot traffic. These are often thinner tiles that could be cut with one of the manual tile cutting machines. A tile with a grading of 5 PEI, is tougher and can handle heavy foot traffic. Generally, these will be too tough to cut using a manual method, so you'll need to use an electric tile cutter.
Ceramic Tile Countertop: 3 Ideas
Tiled ceramic countertops are a great option for kitchens and bathrooms. Not only are they resistant to heat and water damage, but they are hygienic and won't stain if they are properly glazed.
There are various ways that ceramics can be used on countertops, ranging from small individual tiles to large format sheet tiles. Both can add style and elegance to your home redesign. Here are three great interior ideas we've handpicked for you!
Clean and Modern
Using large format sheet tile is a great way to add style and elegance to your kitchen worktop. By opting for a light-colored stone, your kitchen not only looks clean but also brightens the whole room. Using a single sheet format tile works well in open plan and modern buildings. Twin a light worktop with mid to dark grey, cupboards for a sleek aesthetic.
Traditional and Homely
A tiled countertop can be styled to fit in with a traditional-style home. Twin traditional-looking stone tiles with a large sink, brass fixtures, and fittings, and wooden cupboards to recreate a rustic and European look.
Bright and Bold
If you're looking to create a statement room, then use hand-painted colorful tiles on your countertop, like this colorful kitchen by writer Ryan Murphy. The statement room features bright and bold tiles, twinned with cream-colored units to add a dynamic aesthetic to his kitchen.
Wondering How to Cut Tiles Like A Pro?
Whether you're looking to do a small home renovation project, where you just need to make a few straight cuts in tiles, or you're taking on an intricate task, you can find professional tips and tricks about using tile cutters from the experienced guys at RUBI.
We offer the best advice and help you choose the best tools, accessories, and materials for the job, whatever skill you're at. If you're ready to get started with the planning of your next project, download our full catalog to find everything you need.