If you are planning a tiling job, its likely you'll come across points in your project where you'll need to cut your tile to fit along walls, around corners or household fixtures and appliances, therefore it's essential to know how to tile and for this you will need to use a tile cutter.
Knowing how to properly use a tile cutter is essential. It will help leave you with clean, straight edges making your job look as professional as possible rather than rough, ragged cuts that will draw attention and leave you with a visually unpleasant look.
When thinking about how to use a tile cutter, there are two types of machines you can purchase, a manual tile cutter and an electric cutter or 'wet saw'. Depending on the type of material and size of tiles you're working with, it may affect which tile cutter you go for.

Types of Tile cutters
Electric cutters
The electric cutters are typically used for natural stone tiles such as marble or limestone, as well as more extreme tiles such as 20mm porcelain.
Using a diamond blade to cut with, electric cutters can cut through the hardest forms of tile. With electric tile cutters, you are also able to set the blade at an angle, allowing you to make mitre cuts to your tiles for external corners and joinery.
When it comes to electric cutters the first thing to know is how the machines are labelled. Each cutter will have a first and second set of numbers, for example the DC-250 1200 cutter.
The First set of numbers refers to the blade size needed for this machine. The second set of numbers refers to the length of tile (in mm) you can cut on this machine.
Electric Cutter ND-200

The ND-200 is a lightweight cutter with a 1.1hp motor powered saw.
This machine can be used for most tile sizes, proving the user keeps the tile straight; this should not be used to cut 20mm tiles.
We recommend using a tile size you are both comfortable managing and confident you can ensure a straight cut.
DU-200 EVO Electric Cutter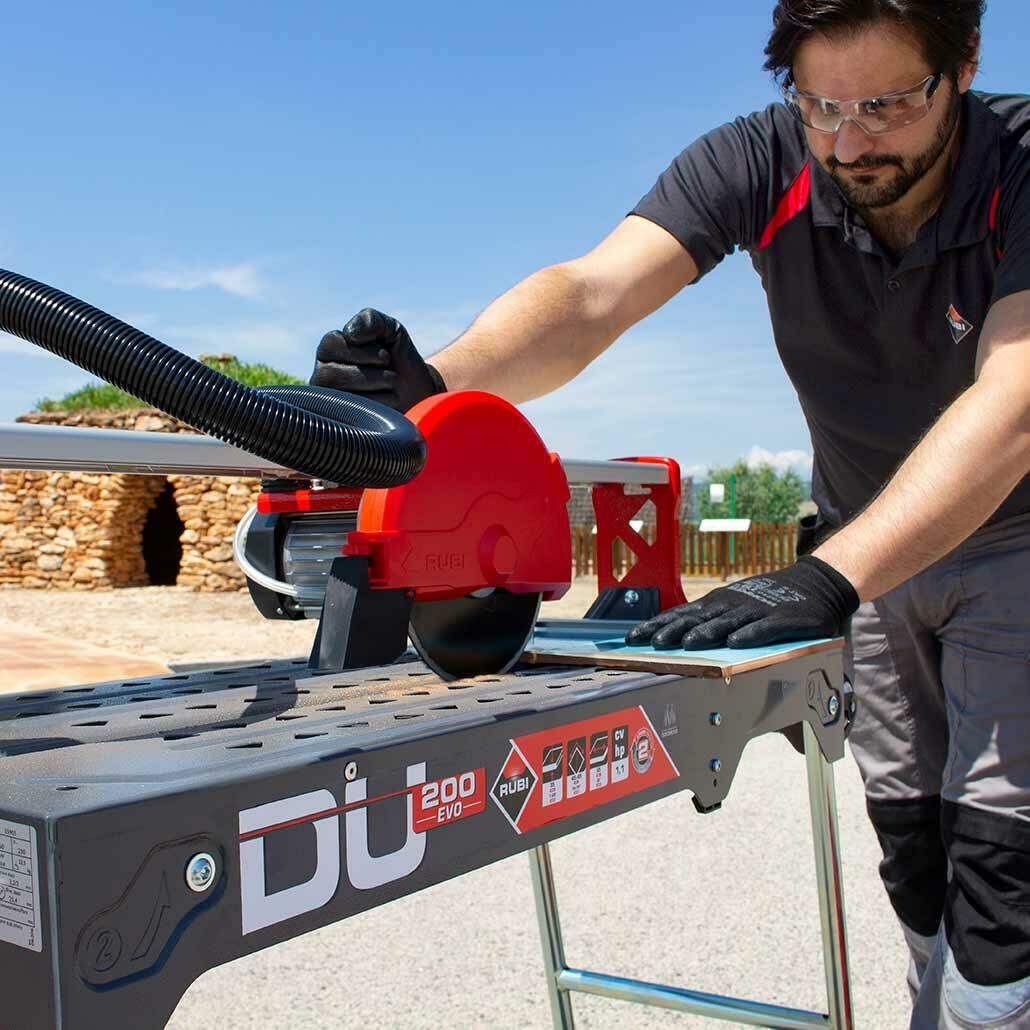 Our DU-200 Evo electric cutter, is designed with a bridge saw to ensure greater ease to cut straight when working with large format tiles. This saw is perfect for lighter works, if you require an electric cutter for occasional works.
If you need a machine for regular use or for larger projects, it's recommended to select a bigger machine with a higher horsepower for more 'heavy duty' use, such as the DV-200. It is not recommended for 20mm thick porcelain.
DV-200 Electric Cutter

The DV-200 cutter, is ideal for intensive cutting and regular, everyday use with it's 1.5hp motor.
This machine comes with a coated steel chassis to help prevent rust and water pump/flow control, allowing you to keep the blade cool while cutting to help the blade last longer as well as dramatically reduce the amount of dust produced when making cuts.
Due to its size, it can cut up to 1m tile, and has removable aluminum bed plates, making it much easier to clean down after each use. It is not recommended for 20mm thick porcelain.
DR-350 Electric Cutter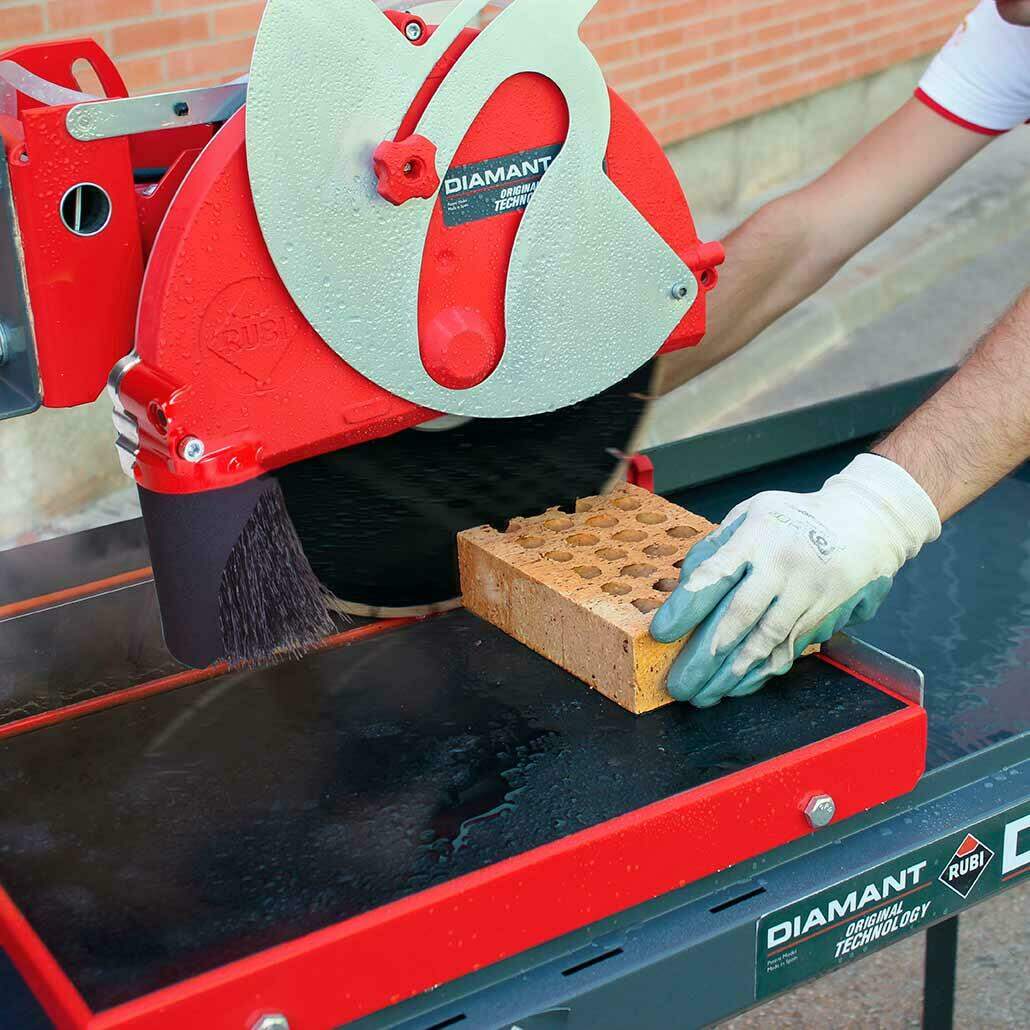 If you require a machine with a greater horsepower for regular cutting of building materials, look no further than the DR-350.
This cutter, has 3hp direct drive motor, and is built with a plunge cut, allowing for greater cutting height.
Due to the plunge ability, this enables you to cut up to 150mm tile and its designed to cut all types of building material such as masonry bricks, marble and granite.
DC-250

Electric Cutter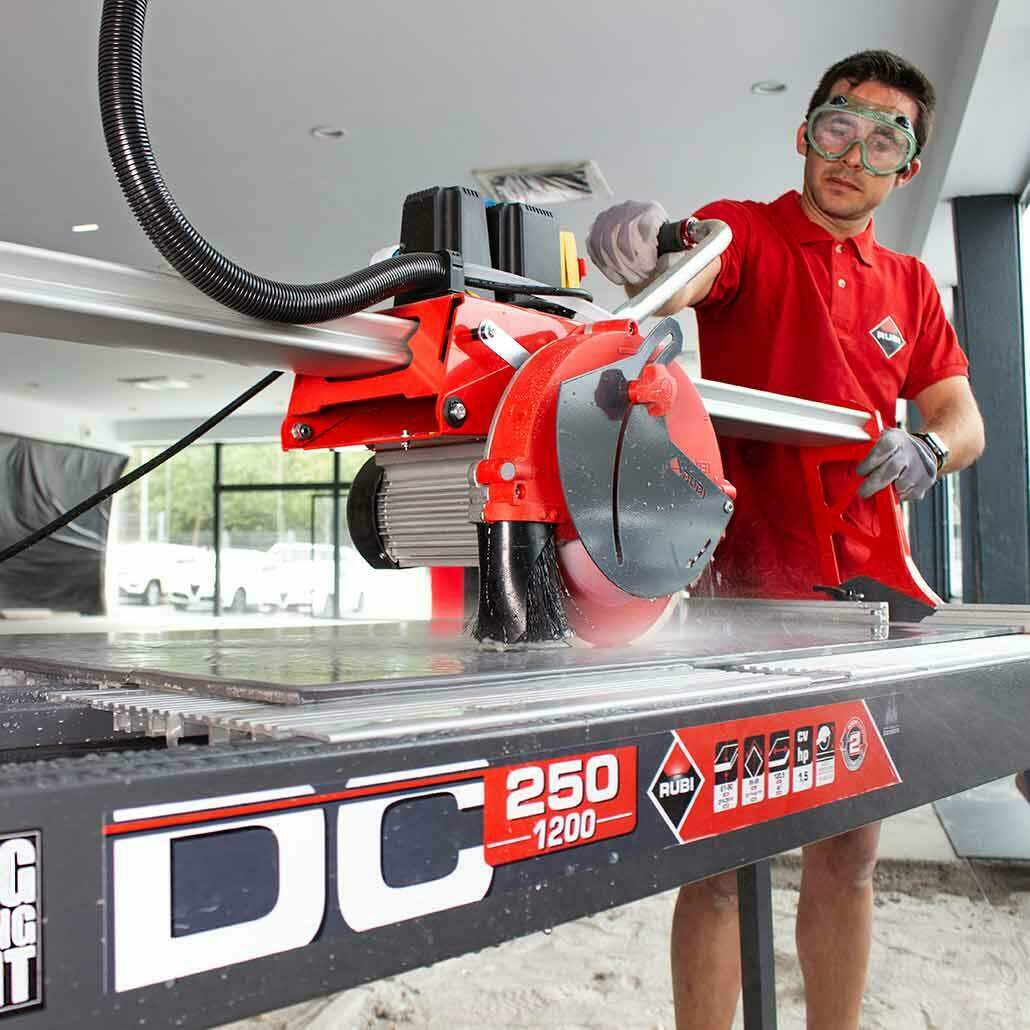 The DC-250 is the perfect machine to cut 20mm thick porcelain tiles with its plunge ability, allowing you to cut much thicker tiles.
The DC-250 has a 1.5hp motor and also has a water pump with flow control to keep the blade cool.
The cutter also comes with a Zero Dust feature, which reduces the amount of breathable dust particles, providing a cleaner and safer working environment.
DS-250 Laser&Level Electric Cutter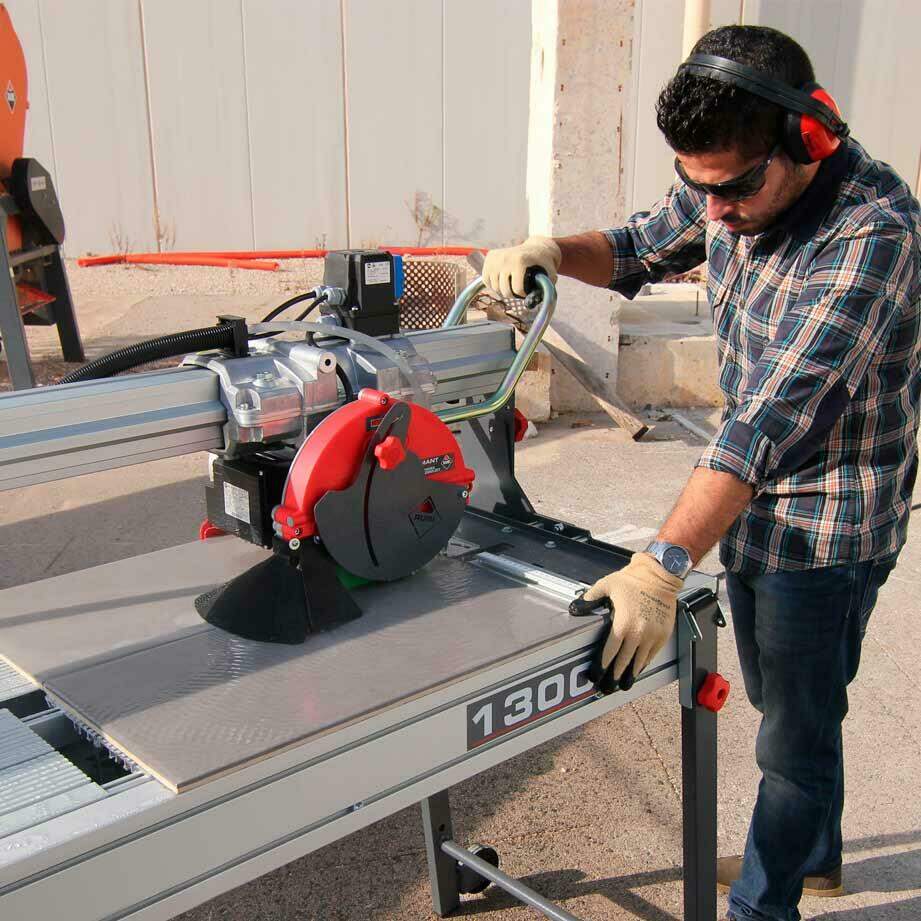 Another machine containing the Zero Dust feature is the DS-250 Laser & Level electric cutter. This machine is built for larger industrial sized projects with a 3hp motor and can also be used to cut 20mm tile, however this must be sold with the RUBI SPT blade which will allow you to cut this thickness.
As this machine doesn't have plunge cut built in, if you use an alternative blade, the life expectancy of the blade will decrease dramatically. An diverse feature of this particular cutter is it comes with retractable legs with a shield function, allowing you to store your machine more safely.
DCX-250

Electric Cutter

Lastly, the NEW RUBI DCX-250 is our latest electric cutter. With a 2hp motor, this machine is suitable for intensive cutting on porcelain, stoneware and ceramic tile as well. It is also capable of cutting natural stone materials such as marble or granite.

This machine includes off-road type reinforced wheels, for greater ease when transporting and handling your machine. It also comes with a removable water tank for easy use & refill, with a 30L capacity.

Not only does the DCX-250 have an improved splash guard, it also comes with a new adjustable cooling system. This not only increases the blades cooling efficiency, it also reduces water dispersion when cutting tile.
Manual tile
cutter
s
The manual tile cutters are an essential piece of equipment that everyone should have in their toolbox. Manual cutters are used for cutting standard ceramic and porcelain tiles.
This is done by running the scoring wheel, which sits underneath the bar along your measured tile to score it. Then using the breaker, to apply pressure along the scored line, snapping the tile.
Key benefits
There are many benefits to using a manual tile cutter. Manual tile cutters are generally cheaper and a lot easier to setup and use than electric cutters. Particularly due to their size, even with larger versions, manual cutters are a lot more portable, therefore making them more efficient for regular use.
Due to design and ease of use for manual cutters, professionals are also able to cut tile at a much faster rate using a manual cutter than with an electric cutter.
When it comes to cutting tile, some harder materials such as porcelain tiles can be difficult to score and cut.
Often it may take a little more time and effort to score the tile and apply pressure repeatedly along the scored line to efficiently cut the tile and not cause it to snap off the scored line. In cases like these, it is recommended to use an extreme or endure scoring wheels, which will allow you to cut deeper into the surface of the tile.
This will allow for an easier and more accurate cut which will also benefit when it comes to snapping the tile. With certain tiles such as ceramic or glazed tiles, a harder or deeper score can cause damage to the delicate glaze on the tile.
So for this, we would recommend using a 6mm or 8mm scoring wheel to make a lighter score.
Best practices & Methods
To begin you will want to mark on the tile where you want to cut it. To find where the cut is needed, simply turn the tile over and line it up between the fixed tile and the gap you need to fill.
Make a mark the top and bottom edges using a pencil and extend these onto the tile itself. This will be the line you will cut down.
Remember, before you cut your tile it's important to take into consideration the grout joint you will need. Place your tile onto your cutter and score the tile. Then using the breaker mechanism on your machine, snap the tile.
Depending on which RUBI manual cutter you have, your breaker mechanism may be setup differently.
Large Format Tiles
Large format tiles come in a wide variety of different designs and colours, making them suitable for a range of different designs and aesthetics. It is considered to be square or rectangular tiles measuring or larger than 30 x 30, however this measurement is regularly changing as the popularity & trend for large format tiles continues to grow.
Slim System Cutter
For the regular cutting over large format tiles, the SLIM SYSTEM CUTTER is a manual cutter specifically designed for this.
This system is made up of aluminum guides, suction cups, an extreme scoring wheel roller guide and breaking pliers. The guide is fixed in place to the tile using the suction cups.
When setting your guide, always set 10mm from the edge of the guide itself, due to the gap between the guide and scoring wheel. Using the aluminum guides facilitates a straight and perfect score, without deviations.
Once the tile is scored, the breaking pliers are then used to gradually separate the tile from the scored line, reducing the risk of breakage.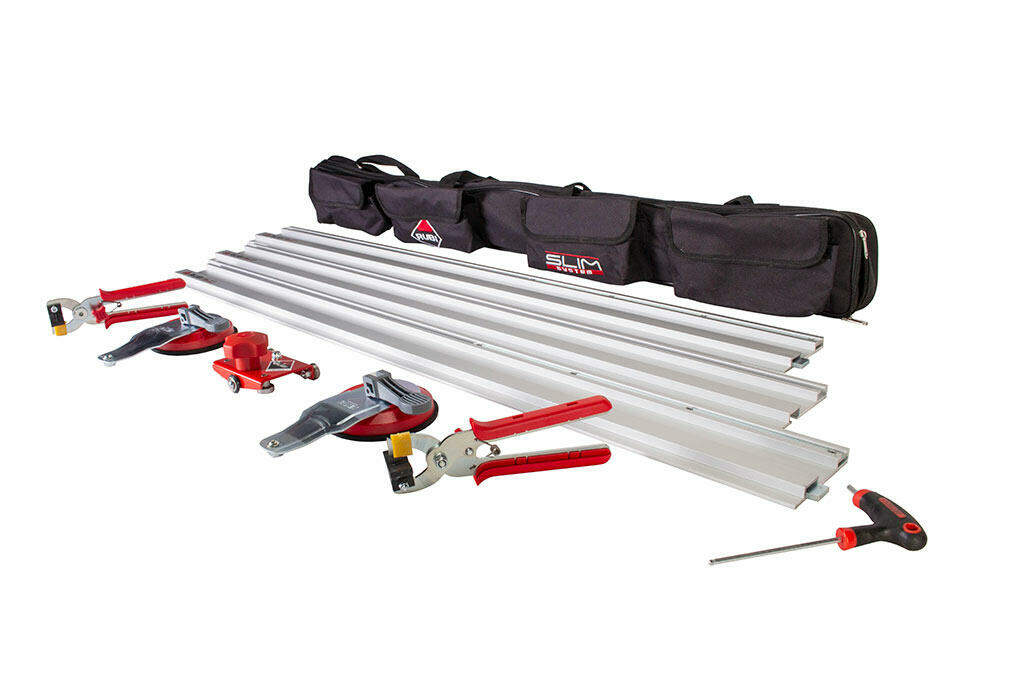 TC-125 Circular Saw
For additional support in cutting large format tiles and an alternative to the manual cutting options, we suggest the TC-125 Circular Saw.
For the correct operation of the TC-125, it is NECESSARY to use the SLIM cutting guides. Using the aluminium guide system in place, this will enable you to obtain a precise and smooth cut.
The TC-125 circular cutter also has a double dust reduction system. This enables you to control the dust generated during the cut, thanks to its connection with a vacuum cleaner (dry cut) or through the water inlet (wet cut).
The head of the TC-125 is also adjustable up to 45-degrees, allowing you to perform mitre cuts. The TC-125 includes an additional handle that increases the control and visibility while performing these cuts, thus improving the ergonomics of the job.
TS-MAX Manual Cutter
On our TS Max cutter range, the breaker has been designed as a single point breaker with separate lever action.
Once you have scored your tile, use the lever to apply pressure to snap the tile.
This breaker includes SMART POWER, regulating the breaking pressure depending on the thickness of the tile, this applying maximum pressure of 800kg to materials of greater thickness.
TR Magnet and Speed Magnet

Manual Cutters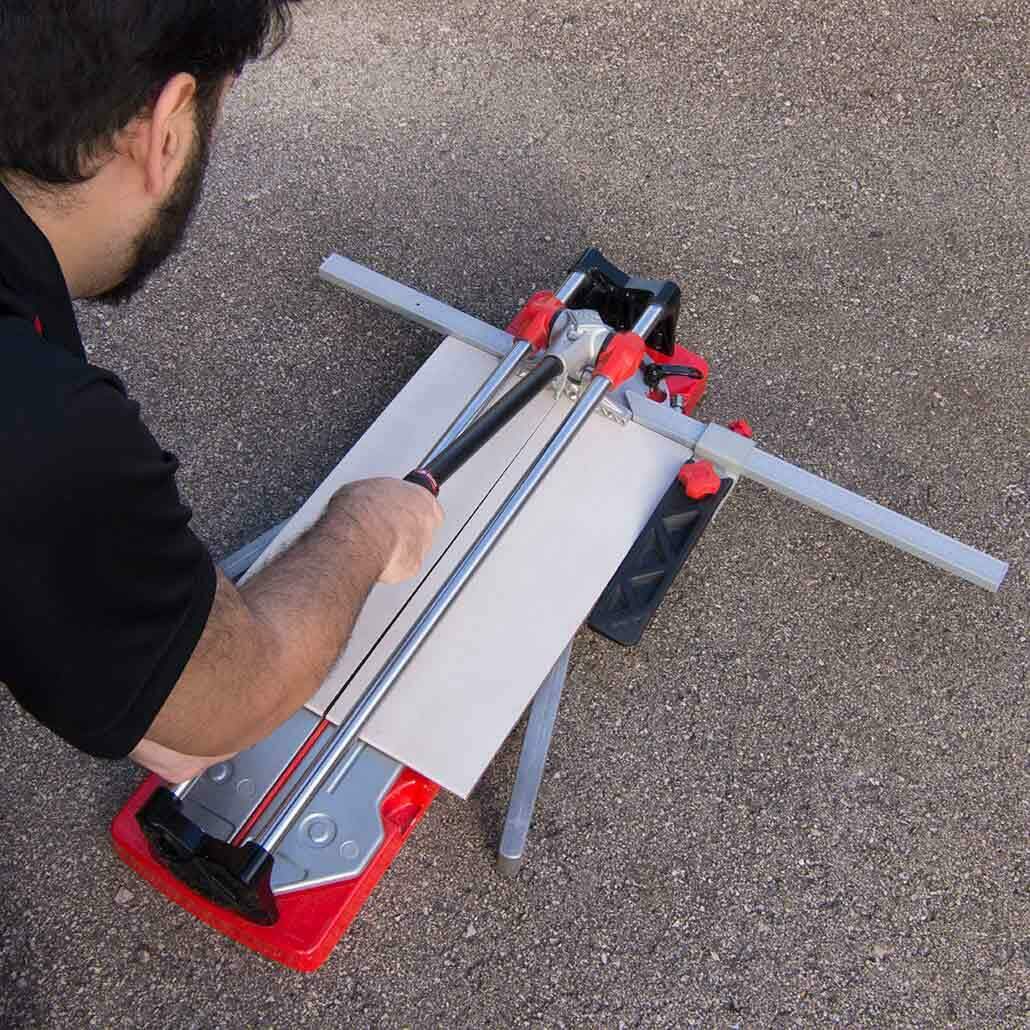 The TR Magnet and Speed Magnet systems locks the breaker away from the tile, providing greater visibility and efficiency for the user when scoring the tile.
By simply moving the lever upwards, you can set the multi-point breaker, enabling you to apply 800kg maximum breaking power to obtain a clean and precise cut.
TX-MAX

Manual Cutter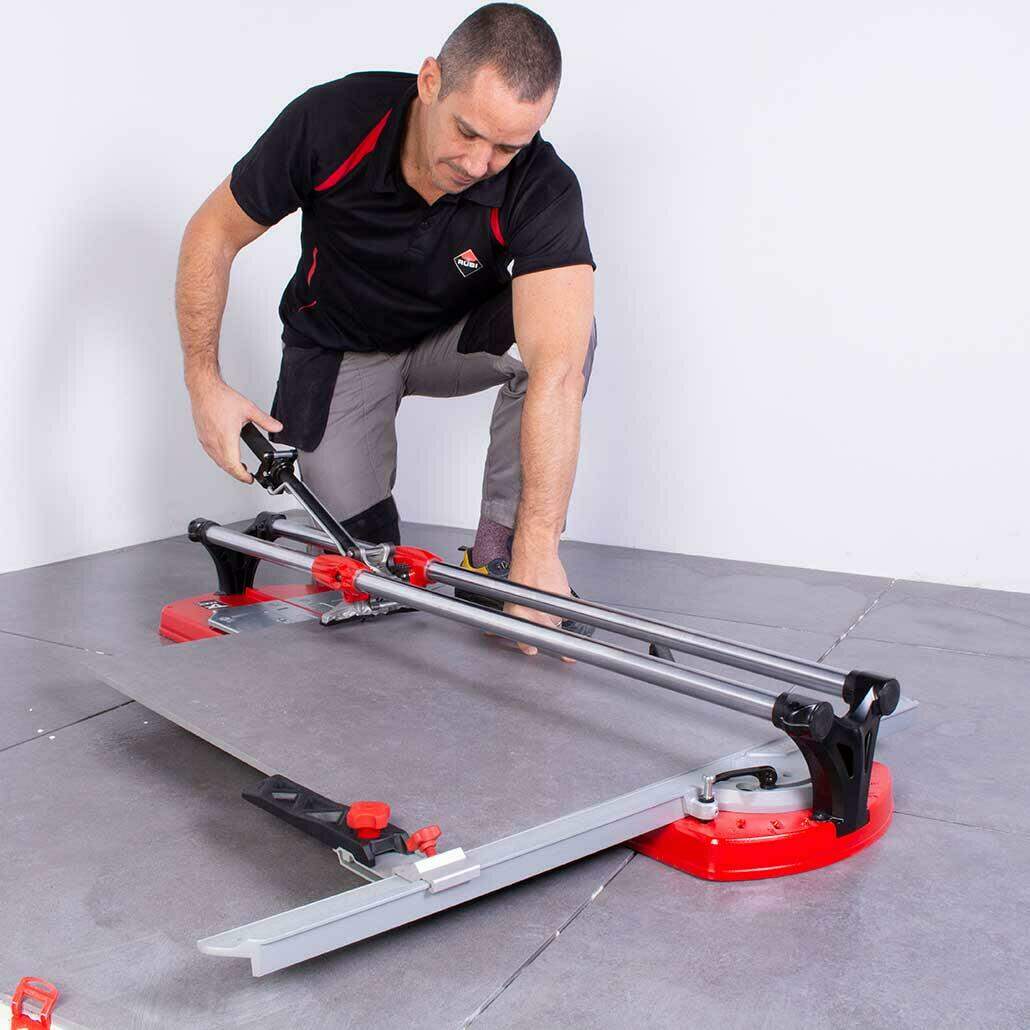 The TX-Max has a unique separator mechanism design, which enables use with one hand.
With a locking and unlocking multi-point breaking system by trigger, this increases the breaking pressure and performance of work, both in low and greater thickness materials. (from 3 to 21mm).
TZ Manual Cutter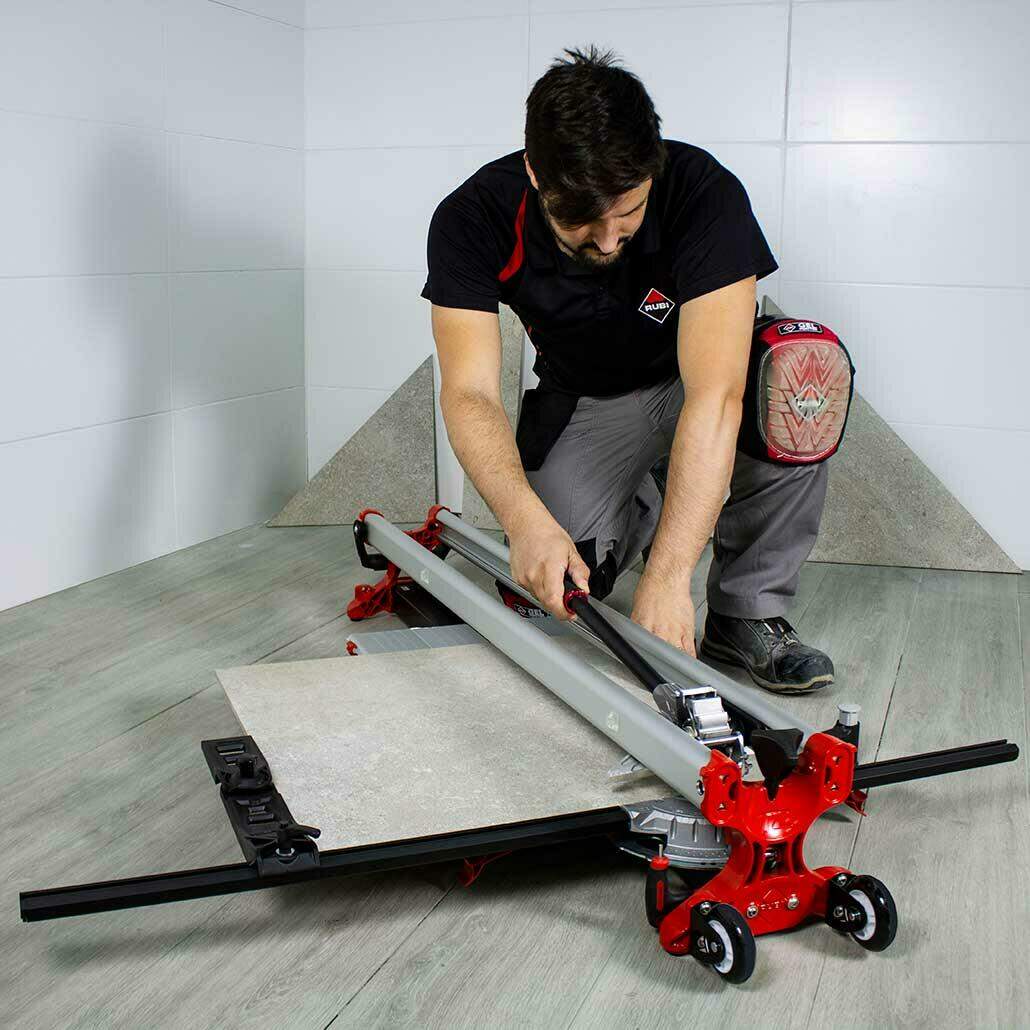 The TZ manual cutter is our largest manual tile cutter with 1500 kg of maximum breaking power.
Our TZ models have an exclusive and patented breaker mechanism and a patented 30 cm long lateral stop offers a large surface for performing repetitive cuts in large format tiles.
In conclusion, manual tile cutters will enable you to make great, efficient cuts with minimal effort, they are easy to use and require little experience to successfully operate. Electric cutters allow you to regularly cut natural stone and more extreme tiles, straight and at an angle with ease.
Depending on the type of projects and materials you use regularly, we would suggest choosing a machine that will allow you to cut that material. If you find you are regularly working with both standard tiles as well as extreme materials, then it may be best to choose both a manual and an electric cutter.