Here is a truth: Kitchen tile is one of the best ways to communicate your interior design style. And because of that, kitchen tile can transform your kitchen in a way that other elements cannot. So, do something unique with your tile! The ever-popular subway tile provides so many options to communicate your aesthetic. Here are some subway tile backsplash ideas you might love in the tile installations of your dream kitchen.
The Classic Stack
There's a reason the classics never go out of style. Chic and simple, the classic subway stack is a favorite for modern, farmhouse, and industrial designs. The flexibility means you can easily incorporate it into other designs as well.
A classic subway tile pattern is ideal if you have other elements you want to highlight in your kitchen.
Want to take the classic stack a step forward? Try a colored tile in black or blue for a little playful element.
Herringbone
The herringbone pattern is quickly growing as a favorite for interior design elements like flooring and tiles. This zig-zag design adds creativity and modernity to any room. Here are three ways to stack a herringbone tile design.
Classic
The classic herringbone design features the point of the arrows facing up. Aptly named, this style will stay in trend for a long time while still adding a stand-out accent to a kitchen backsplash.
You can make this chic with white tile and grout. Or make it a little more playful by adding color or texture.
45 Degrees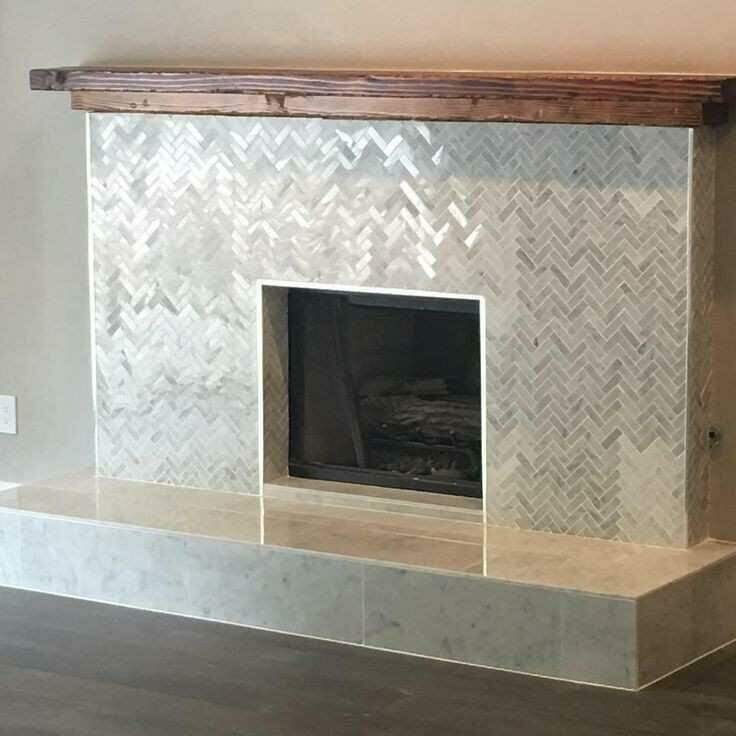 Take the classic herringbone pattern and rotate it. Herringbone at 45 degrees has the points facing to the lower-left corner. The tilt has more movement and interest, making the eyes dance around the room.
You can also use this design to draw attention to other elements in the room you want to highlight.
90 Degrees
Rotate the classic herringbone a little more and for the last design. The 90-degree herringbone is great for a counter to ceiling design. Because the arrows point upwards, this layout adds height, giving the illusion of more space.
Draw the eye up and show off an element on the ceiling like exposed beams, painted ceiling, or a stunning light fixture.
Double Herringbone
Take the classic herringbone pattern and double it. This design uses two rectangular tiles next to each other rather than one in the diagonal pattern.
Double herringbone creates a woven texture that adds a lot of interest to the room. But it's still subtle enough to use throughout the kitchen.
Step Ladder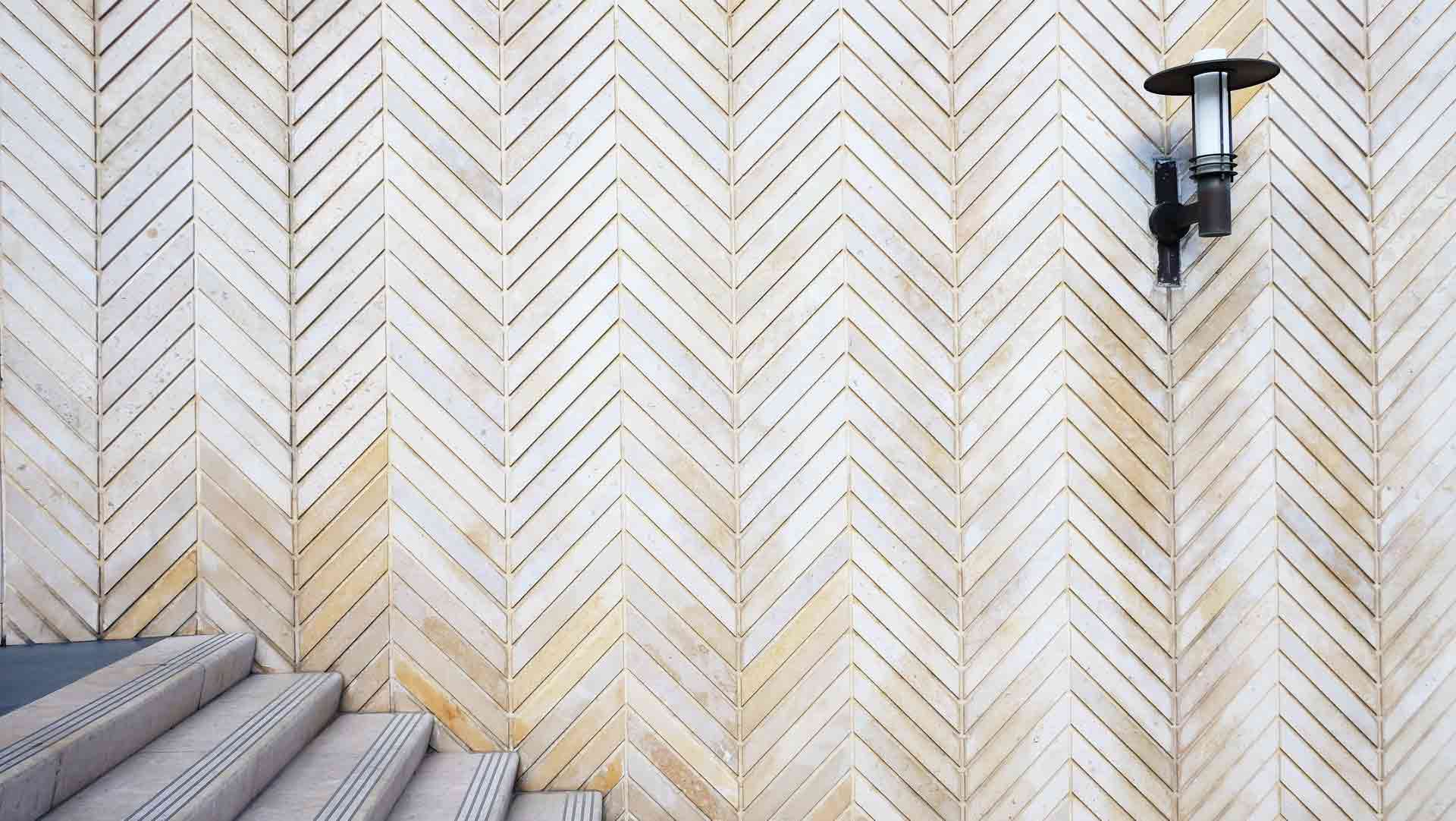 The step ladder pattern is similar to herringbone; however, this style has more stacking. Where herringbone leads to one peak, the step ladder has two peaks.
Ideal for large and open spaces, the step ladder will make a statement if you use it on a full accent wall. This pattern will create more movement and visual interest in your design.
Go Diagonal
Take the classic and give it a little twist! A diagonal subway tile design turns the classic 45-degrees. This is one of the more creative subway tile backsplash ideas because it's so unexpected and unique.
Long and Vertical
Drawing the eyes up makes your space appear bigger. So stack your subway tile straight and vertically to create lines that go all the way to the ceiling. Use this to give smaller spaces an enlarging effect or highlight already tall ceilings.
To get the most out of a vertical stack, keep the colors light and airy. Lighter colors like white and gray also make the room appear larger.
Horizontal Stack
Combine the horizontal style of the classic stack and straight lines of the vertical stack, and you have a horizontal subway tile pattern. These clean lines create an understated feature element that's sought after in modern design.
This style highlights other elements like open shelving and decorative objects. Clean, simple, and pleasing, this style fits well into any interior. Spotlight this pattern by using a colored tile like dark green or bright coral.
Add Color
Usually, you'll find classic subway tile in white. White subway tile with black or white grout isn't going out of style any time soon. The style is a classic that will last through the trends of each season.
But adding color can create a unique statement element in your home. If you don't want to commit to bold, bright colors, try a different neutral. Shades of gray can add some warmth, while black can be edgy and chic. But if you don't shy away from a few new hues, try a color that will complement your color palette. Blues, greens, and reds often fit well with a variety of decor. While pinks, oranges, and yellows add something special.
Try Texture
Most subway tiles come in a smooth, glossy finish. But sometimes, you need another element to make the design more dynamic.
Try a subway tile with a raised center or raised edges. There are also subway tiles with wave patterns across the face. Or try tiles with a brick-like texture.
This extra element can break up the neatness of a classic subway backsplash without going overboard on the design elements.
Play with Size
Lastly, don't be afraid to play with the size of your tiles. You can use a RUBI tile cutter to cut tile in half to create smaller or thinner tiles. Be careful if you decide to do this though. Normally the cut edges of tiles would go up against a wall where they are hidden from view, so if you are going to place cut tiles in the middle of a wall or floor where they are easily seen, you'll need to polish the cut edges a lot with a diamond pad to get a visually appealing finish. When possible, if you want to use smaller tiles in a certain area of your installation, it's best to just buy some tiles in a smaller size.
You can also try larger tiles that will give a maximized look to your tile design. Smaller tiles look great as accent pieces above a sink or cooktop. While larger tiles are better when you have a lot of wall space. Or try mixing sizes together to create a subway tile backsplash with accent designs.
Subway Tile Backsplash Ideas to Create Your Dream Kitchen
Your kitchen is one of the most-used spaces in your home. You cook, you entertain, and you spend time with your family all in this one room. So your kitchen should be as beautiful as it is useful.
Take inspiration from these subway tile backsplash ideas to create your dream kitchen. Add color, pattern, or a little bit of texture with stunning kitchen tiles and make your design pop.
Ready for a kitchen transformation? Use RUBI Tools—the favorites of professionals—for your next kitchen tiling project. If you have any questions or want to contact our team, complete the form on our website!