A recent study showed that 57% of Americans viewed their homes a "work in progress."
Millions of homeowners would love the comfort, sophistication, and cleanliness of a renovated kitchen or bathroom. A new floor will add a gleaming, polished touch to your home. The tile installation may not be as difficult as you think.
Porcelain and ceramic are materials that work beautifully for kitchen and bathroom floors. They are strong, durable, and can last for decades. The materials also hold up well when they are wet. Once you have chosen a shade, you should multiply the length by the width of your floor to find out how much tile you will need. Then add 10% to be safe.
Larger tiles can be easy to install (some times). If you are interested in purchasing smaller tiles, look for a pre-mounted mesh backing to make installation easier.  If possible, try to make sure all of your tiles have the same dye lot number, as well as the same model, tone and caliber.
In order for your new floor to remain durable, it needs to be installed over a subfloor that won't crack, loosen, or buckle.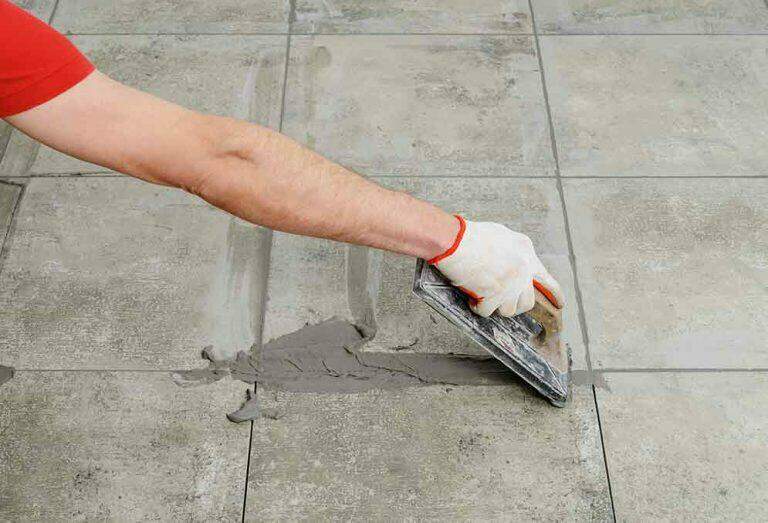 How can you prepare your subfloor for tile?
Preparing a Concrete Subfloor for Tile
Concrete is made up of water, an aggregate such as rock, sand or gravel, and Portland cement.
A subfloor is the bottom-most structural level of your floor. A good subfloor needs to be durable, level, at least 1 ⅛ inches thick, and free from residue. If it is not, it won't support tile well.
Even the smallest cracks or depressions in a concrete floor could cause your tile to break early. If it is uneven, breakage will be much more likely, so it is important to create a surface that is fully supportive.
A good concrete subfloor should be able to accept water penetration. To find out if your subfloor is sufficient, sprinkle some water in assorted places on the floor. If the water penetrates and leaves a water spot, chances are that it can form a strong bond with tile.
Concrete floor should have a coarse finish to bond with the thinnest for tile.
You should repair any cracks or uneven patches in your concrete floor, especially if you plan on bonding your tile directly to the subfloor. If a section has cracks, it should be removed and replaced with a more solid piece of floor.
If part of your subfloor needs to be replaced, it should be left to cure at least 28 days before tile installation.
Medium-sized cracks can be repaired with a concrete filler that can be found at your local hardware store. Use a trowel to smooth it down.
A dirty floor can cause unevenness that will cause tile breakage in a short amount of time.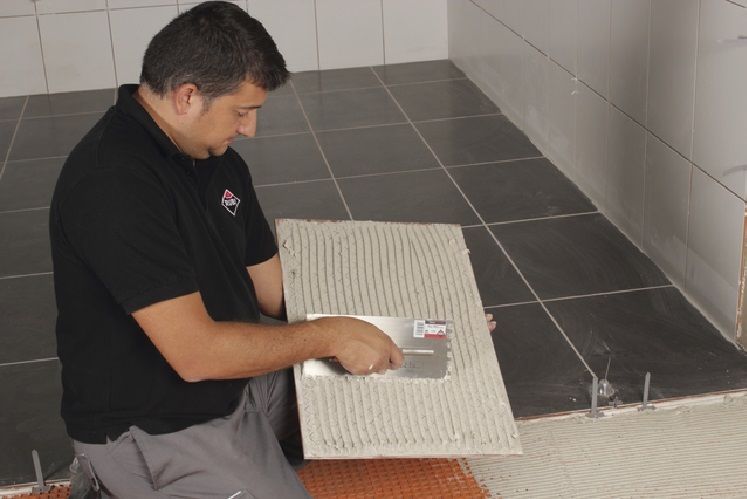 To clean your cement floor, wet a mop with plain water. Use warm water mixed with decreasing cleaner to scrub concrete thoroughly with a scrub brush. Then rinse completely.
An immaculate surface will ensure that your tile has a better bond with the subfloor. The floor should be blotted dry, and you should let it sit overnight before applying a sealer.
A concrete sealer creates a bond between the cement and mortar that keeps mold away. It should be applied in dry conditions in two thin coats to ensure a smooth, even finish. The second coat should be applied perpendicular to the first coat.
A sealer should take about three days to dry.
2. Preparing a Plywood Subfloor for Tile
Plywood is an engineered sheet of wood that is made up of fine layers of wood veneers attached together, placing the grains at right angles to each other.
A plywood subfloor should be structurally sound enough to support tile installation. If the plywood bends under the load of the tiles, they could dislodge or crack easily.
Some plywood subfloors, such as interior-grade plywood or particleboard, will not work as foundations for tile installation.
Before tiling, check your plywood floor from the ground below it to look for cracks around plumbing fixtures. Broken plumbing should be repaired, and stained areas should be replaced. Walk on your floor and listen for any squeaky or spongy areas. Mark them with a pencil or chalk.
Once you have identified weak areas, shims, also known as spacers, can be hammered in. Tap them in just enough so that the gap is filled.
Once you have inserted the shims, one-by-four floor floorboards can be set underneath the squeaky sections. Use a four-by-four held underneath the one-by-four to hammer it into the joist, and then remove the four-by-four. Repeat this process underneath all of the squeaky areas.
If your floor has low spots, you can use a wood filler, which can be purchased at a hardwood store and mixed with water to create a thick paste. Use a self-leveler, and smooth it with a sander.
A cement backer board can also be used to strengthen your hardwood floor. The joints in the backer should not line up with the joints in the subfloor. Use mortar to position the sheets.
Position the rest of the sheets so that the four corners won't meet. There should be a ¼ inch between the board and the wall, and ⅛ inch between the backer board sheets.
Drive screws in every 6-8 inches and around the perimeter. Apply mortar so that it extends 1 ½ inches on each side of the joints. Push fiberglass tape into the mortar, and scrape off any excess.
Finally, spread the mortar and feather the edges. The transition from board to board so that it is smooth.
Your plywood will need to be flat, so you can sand it down if necessary. Vacuum your subfloor when you are done to remove any remaining particles.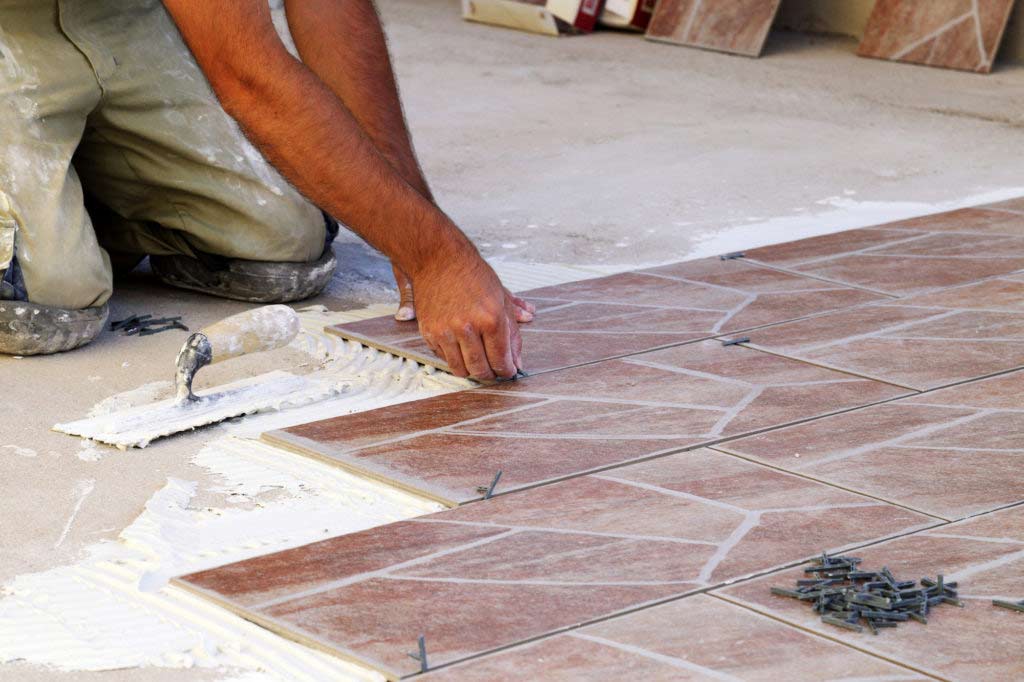 3. Preparing a Tile Subfloor For Tile
Floor tile can be manufactured from a variety of materials, including stone, quartz, metal, terrazzo, and clay. Recently, marble tile is increasing in popularity because of its beauty and durability. The granite trend is giving way to the stylish, open look of a lightly colored surface.
You have two options if you are preparing a tile subfloor for tile.
You can either leave it, and apply thinset directly over it, or you can remove the tile with a hammer and chisel. What you do will depend on the height of your floor relative to doors, toilets, and other elements.
If you are removing your tile, you will need to start by removing the base trim. If it is a bathroom floor, the toilet and vanity should be removed. Be sure to open your windows, and use a fan to blow the dust outside. Once you have pulled up a tile or two with your hammer and chisel, it will be easier to start removing other tiles. Once the tile has been removed, use a scraper to get rid of any old thinset.
If your tile is sitting directly on an old mortar bed, it may be difficult to remove the tile without taking out the mortar bed.
If you are installing directly over the old tile, be sure that the floor will not be so high that you cannot close the door, or that the toilets and bathtub will look disproportional.
Rough up your old tile with sandpaper before tiling over it. Clean it with a degreaser dissolved in warm water. Test a small area for bonding before beginning installation.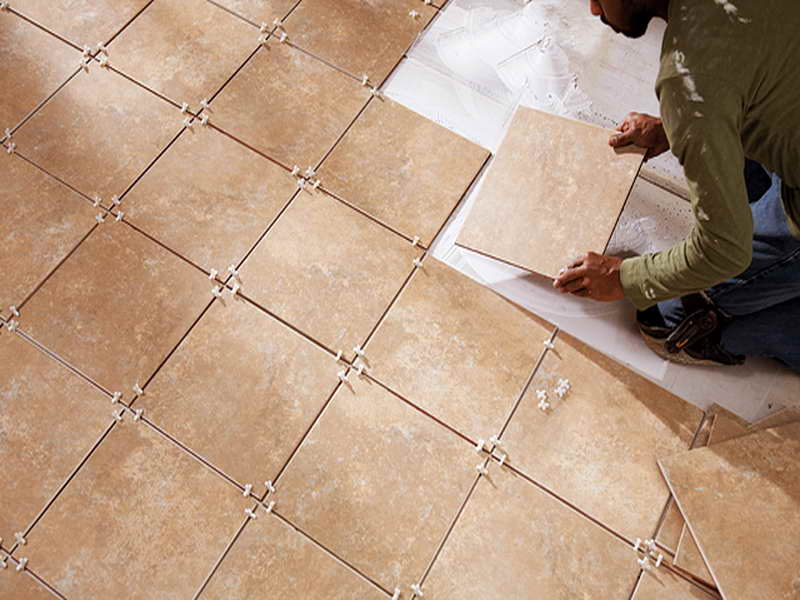 Subfloor No-Go's
Certain types of subfloor are not acceptable as a foundation for tile. Cushioned vinyl, for example, is not structurally strong enough to support ceramic or porcelain, and you will need to remove the floor before installing tile.
Non-cushioned vinyl that is thick enough and relatively free of cracks, however, can be used as a subfloor. It should not be squeaky or spongy when you walk on it.
When you remove the vinyl, you may have trouble removing the adhesive. If that is the case, use a backer board and the thinset recommended by the manufacturer.
Other materials, such as sheet metal, chipboard, and masonite, will not work as subfloors for your tile. They should be removed and replaced with something more substantial.

Get Tilin'
Once you have prepared your concrete, plywood, or tile subfloor for tile, you will be ready to install the tile that will improve the look and feel of your home. It may even immediately improve your resale value.