Trying to figure out tile laying patterns to add a pop of style to your upcoming flooring project? Choose a unique pattern to change things up and with hundreds of tile cuts, colors, sizes, and textures, the options are endless.
So, if the talk of tile patterns awakens your inner interior designer, keep reading to learn more about 5 tile laying patterns to choose from out there.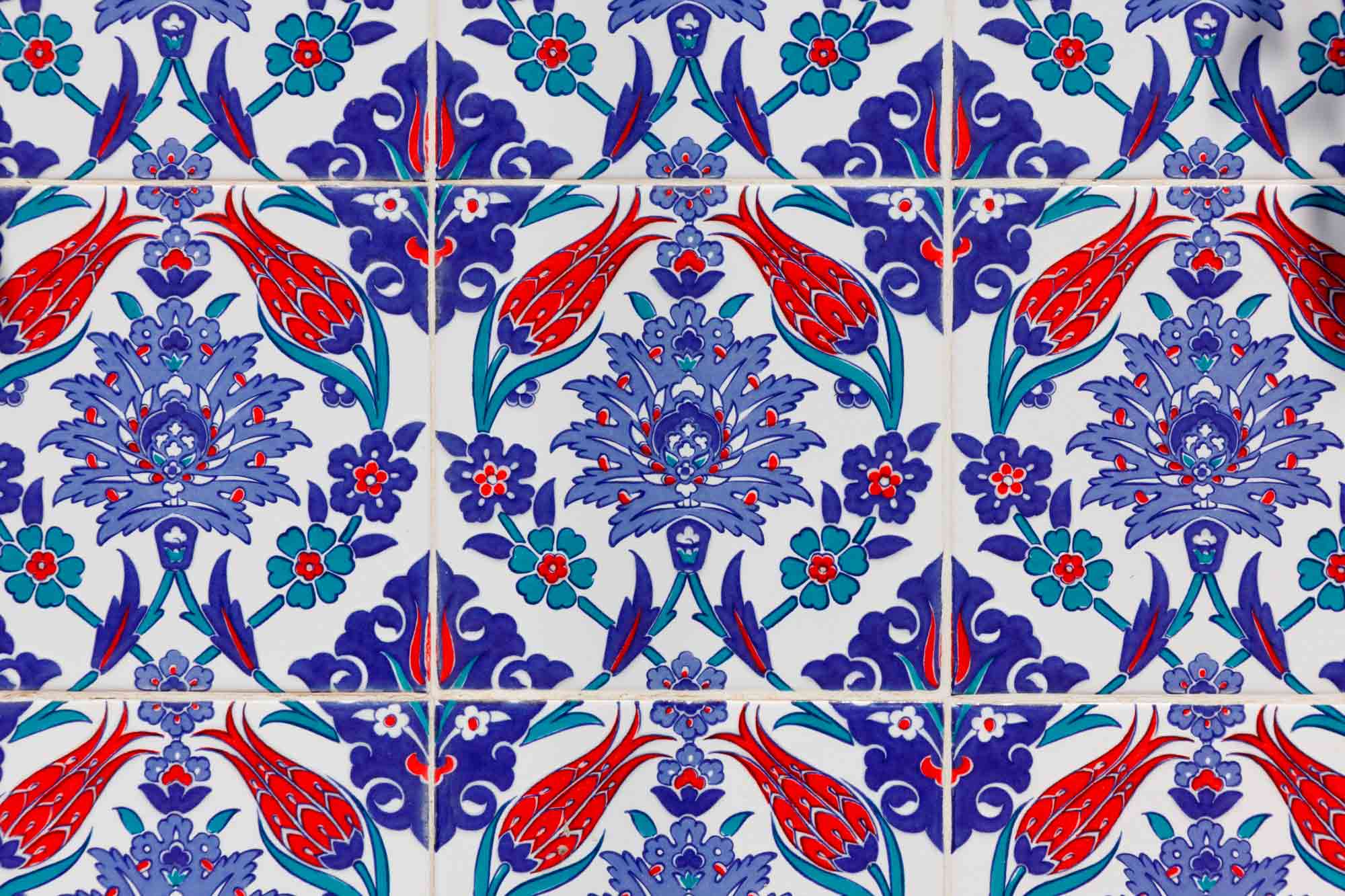 Tile Laying Pattern: Basketweave Pattern
The basketweave tile laying pattern has been popular for years. This is because its intricate pattern is so fascinating to look at and so easy to make.
This pattern is created by placing a tile vertically/horizontally and then laying another one at a ninety-degree angle below it. If you continue with this pattern, you will eventually create a design that looks like it has beenwoventogether.Similar to a basket.
This pattern can be used in any room of your house. It is also very easy to create and requires few tiling tools.
Tile Laying Pattern: Checkerboard Pattern
This tile laying pattern gives a presence of its own. Its classic and vibrant design is created by alternating between two different colored tiles.
The most known color pairing for this pattern is black and white. But it can also be done with blues, greys, oranges, and literally any other color of the rainbow. The possibilities are countless.
Not only can the colors be changes, but the size of the tile can be anywhere from a few inches to a few feet. This makes it perfect for not only tile flooring but tile backsplashes as well.
The checkerboard pattern is also easy to install since it doesn't require any custom cutting or designs. Once again, this is a pattern that doesn't require advanced tiling supplies.
Tile Laying Pattern: Versailles Pattern
Despite its arbitrary appearance, the tile laid in this pattern is actually very thought out. The Versailles pattern uses four different-sized tiles, either square or rectangular, to create a balanced puzzle-like design.
As confusing as it may sound, this pattern is very pleasing to the eye and looks amazing in kitchens, halls, or dining rooms.
Because this pattern requires extra thought and attention, a tile saw is needed to make sure all tiles align perfectly. It is not recommended as a DIY project because of this as well. It would be best to call a professional flooring team for help with this particular pattern.
Tile Laying Pattern: Diagonal Pattern
As simple as it may sound, this pattern is the perfect subtle addition to any room. It is very similar to the generic straight rows of tiling. But instead, the tiles are placed at a forty-five-degree angle. This makes the square tiles look more diamond-shaped instead.
Some interior designers argue that this tile laying pattern is great for making a room appear wider than it actually is.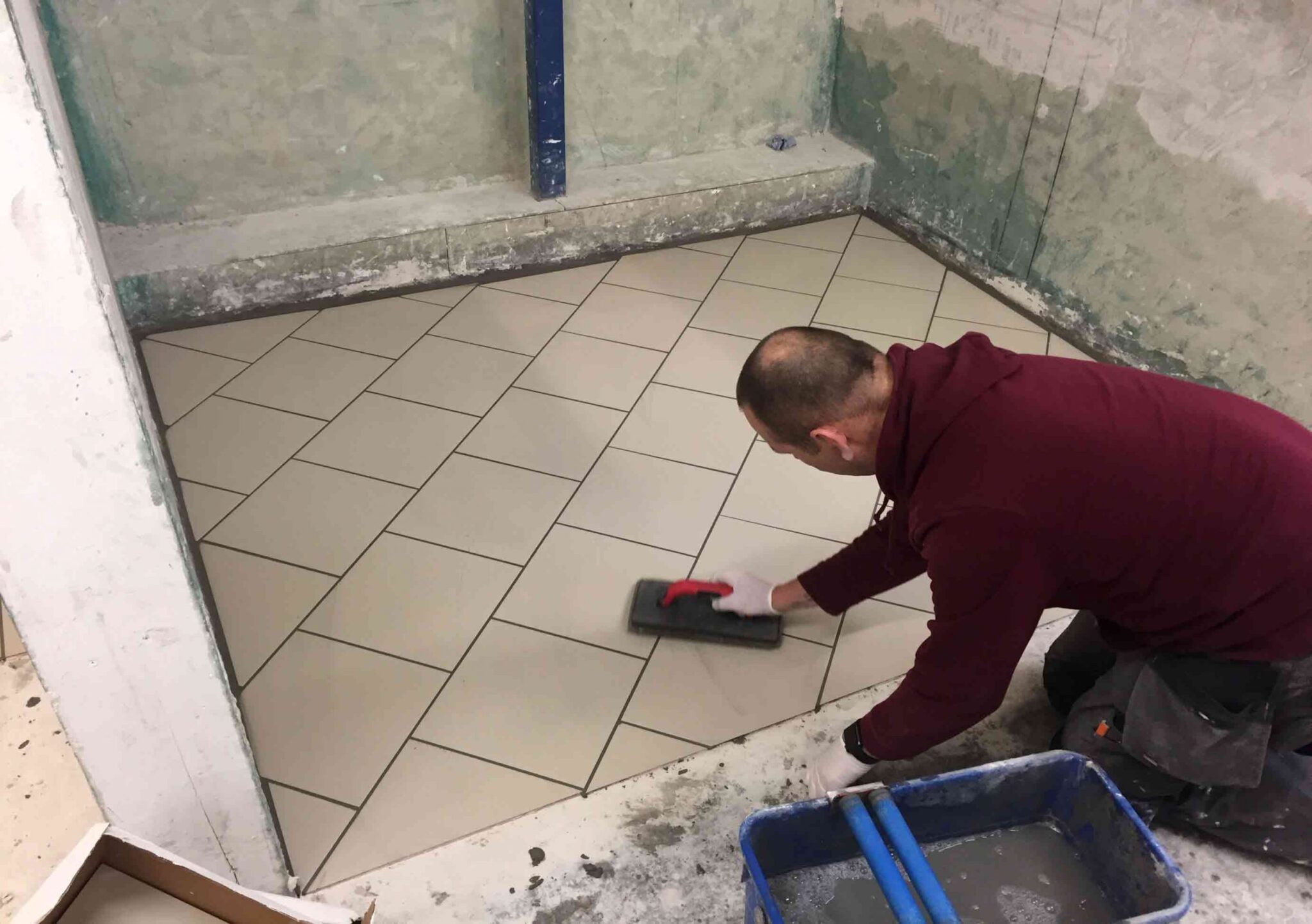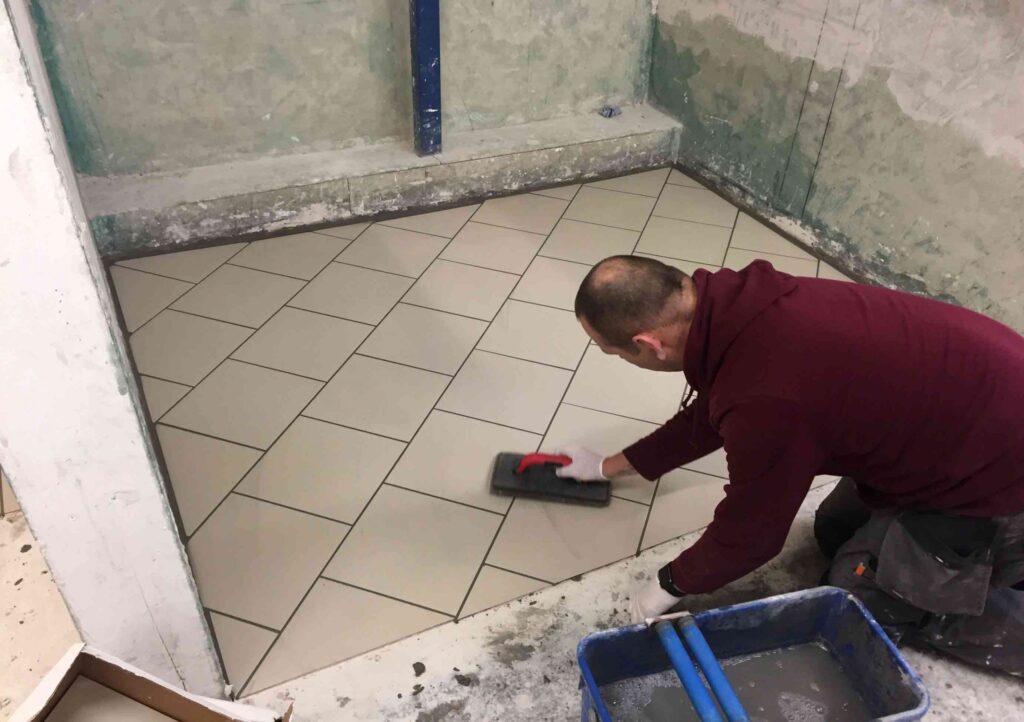 This would be great for small bathrooms, laundry rooms, or entryways that need a new look.
The simplicity of this design makes it relatively easy to install. Just make sure each tile is angled properly. Measuring out and drawing a chalk line before installation would be beneficial with this pattern. To make the floor look symmetrical and orderly, it's also good to find the center of the space you are tiling, so you can begin laying tiles there, moving outward towards the perimeter of the room.
Tile Laying Pattern: Herringbone Pattern
This popular European tile pattern is known for its intriguing design that resembles the skeleton of a herringbone fish.
Just like the diagonal pattern, this one is known for making a small room appear wider. So it would also look very nice in a small bathroom, laundry room, or entryway.
It is created by laying two rectangular tiles in a "V" shape. It may sound easy. But this pattern can actually be complicated to execute. The individual tiles need to be cut perfectly to make sure they all align and create this design.
So, if you are considering this pattern for an area in your house, it would be best to call a professional with a tile cutter and let them install it.
Tiling Tools
One thing to think about before deciding which pattern is best for you is what exactly you need to install your tile. Are you going to hire a professional, or is this a do-it-yourself project?
Either way, it is essential to know what you are walking into. Some tile laying patterns require more precision or cutting than others. This means that you will need some special tiling tools to get the job done.
If you are unsure of how to use them or do not want to spend money on them, maybe you should consider hiring professionals or choosing a simpler pattern.
Learn More
Now that you've read about some of the best tile laying patterns, you probably have questions regarding installation, grout, and so much more.
Our website will provide you with the knowledge you need to get the best tiling tools for your home. We have the best grout cleaning tools, levels, tile saws, and so much more.
If you are looking for more than tools, we have you covered there, too. Our blog covers everything from tips and tricks to the best way to use large bathroom tiles.
With all the information you need at your fingertips, our website is your one-stop shop for the information you need to get the most out of your tiling experience.
You can even take us anywhere with you through the newest addition to the RUBI family: we have an app!
Go Get the Tile of Your Dreams
Deciding on the perfect tile laying pattern can be hard. And figuring out how exactly to install it is harder. But it doesn't have to be.
All the information you need and so much more is one web search away. So take a look at our catalog, and we will be more than happy to answer any questions you may have.