A fireplace in a room is both a blessing and a curse. It's a unique and eye-catching piece, an opportunity to decorate with a tile installation, and an extra shelf to place attractive items on. But it can easily become an eyesore if it doesn't match the decor of the rest of your room. If you're ready to make some upgrades with fireplace tiles to transform the look of your room, you've come to the right place.
Take a look at some fireplace tile designs for inspiration before you go forward to making the fireplace of your dreams.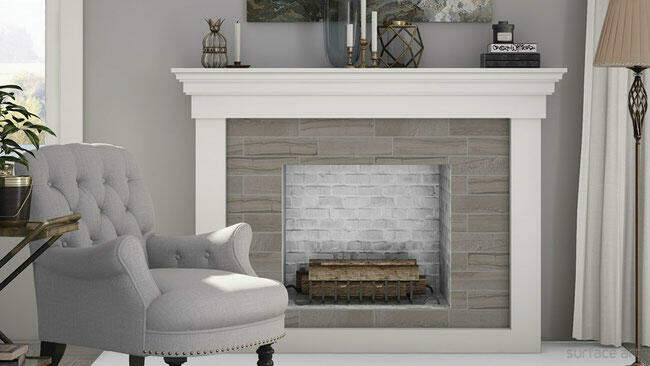 Ceramic Tiles
One of the easiest and most common tiles for fireplaces is ceramic tiles. They come in a variety of glazes and colors that work for every style. Many of the other tile designs on this list are ceramic, so it's a great place to start. When you've selected ceramic as your material, you can start narrowing down design options.
Marble
What could be more tasteful and elegant than a marble fireplace? For the best look, your marble fireplace tiles should be in the largest slabs possible. This maintains the natural beauty of the abstract pattern of the marble. When it gets chopped into smaller pieces, you lose that beautiful line.
If you can get a custom piece cut for the specific dimensions of your fireplace, all the better. If not, try to do it in as few pieces as possible.
Mix and Match
Don't get stuck assuming that all your tiles have to be the same. While it's generally a good idea to keep a single area the same kind of tile, you can mix and match different areas of the fireplace to have different tiling methods and materials.
Try a glass mosaic fireplace with a ceramic tile floor piece. Add tile to your previous wooden mantel. The only limitation is your personal taste.
Herringbone Pattern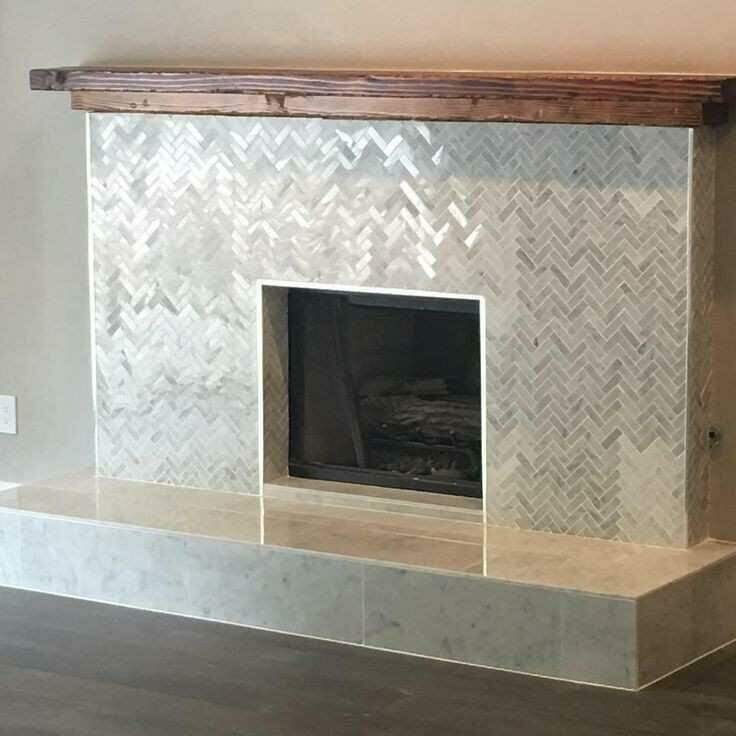 Herringbone pattern tiles have it all. Their minimalist yet intricate. Rustic yet modern. Clean yet playful. They go well with nearly any kind of decor but also have their own unique personality. Try white herringbone combined with a natural wood mantel.
Mediterranean Style
Mediterranean style includes natural colors, bright accents, and intricate tile patterns. It can be a difficult aesthetic to achieve, but using it for inspiration for fireplace ideas is a great place to start. Look for strong geometric patterns in colors that remind you of warmth and luxury.
Stained Glass
Stained glass isn't just for churches anymore. Though it has a strong history in religious art, stained glass is now used commonly in interior design. Don't picture intricate scenes on your fireplace though (unless you want to hire an artisan to make something truly special). Instead, picture what looks like fireplace tiles made of beautifully colored cut jewels glinting with the light of your room in a way that is both eye-catching and light.
Whimsical Sculpted Fireplace Tile Designs
If the interior of your room has a whimsical theme to it, such as a beach theme, you should have tiles that match. Look for tiles with sculpted figures built in them. Just a small three-dimensional aspect adds a lot of interest to the eye and fun to the room.
Look for tiles with seashell imprints, three-dimensional flowers, you name it!
Colored Back Panel
Looking for a way to add a pop of excitement to your fireplace? Why not add a colored back panel?
You can have a more toned-down color on the mantel while the interior of your fireplace can take the spotlight with a bright color. It will add depth and interest to the room as well as a feeling of playfulness.
Keep in mind that if you plan on burning real fires in your fireplace, this might not be the best option for you. You'll have to regularly clear off the soot to maintain the integrity of the color.
Tin Tile
Do you love the old world, coffee house aesthetic? Have you considered tin tiles for your fireplace?
These highly textured, artistic, three-dimensional tiles have such a bohemian charm. You can even paint over them to match the color scheme of the room and make their effect a little more subtle.
Brick Tiles
Some fireplaces come already bricked which presents a challenge to creating an adhesive surface for your tile when remodeling. If you love the look of brick, you still might not be off the hook. The old brick your fireplace is made out of might be worn looking and without the clean charm, you're looking for.
If that's the case, you can cover it with an imitation brick tile. You'll still get that classic farmhouse look. But updated!
Limestone Tile
It doesn't get more contemporary looking than limestone tile. Like marble, larger tiles work best for this material. When considering this fireplace tile, keep in mind that it can look dramatic and minimalist or natural and woody depending on the room it's in.
If anything, that's a good thing. This fireplace can adapt to your interior design needs as your taste changes. No matter what, it will always look sleek and clean.
Subway Tile
Subway tile in kitchens is one of the hottest interior design trends right now. You can create some cohesion in your home by bringing that trend to the living room and using subway tile in your fireplace renovation. We love how it brings an industrial look to the room without sacrificing the chance of a light and bright room.
The Best Fireplace Tile for You
These fireplace tile designs should spark some inspiration within you. A fireplace is truly the centerpiece of a room, and you shouldn't neglect it in your design plans. Think about the aesthetic you want – sleek, modern, bohemian, rustic, etc. – and then take a look at some of these fabulous tiles!
Ready to start your tiling project today? You'll need to take a look at some of our best tiling tools before you begin!